Connecticut's first aerial adventure park, The Adventure Park at the Discovery Museum in Bridgeport, CT, is the first of its kind in the NYC area. Open in the spring, summer, and fall, the park features five acres of aerial trails for many different skill levels, and this year it has added trails for children as young as 5 years old.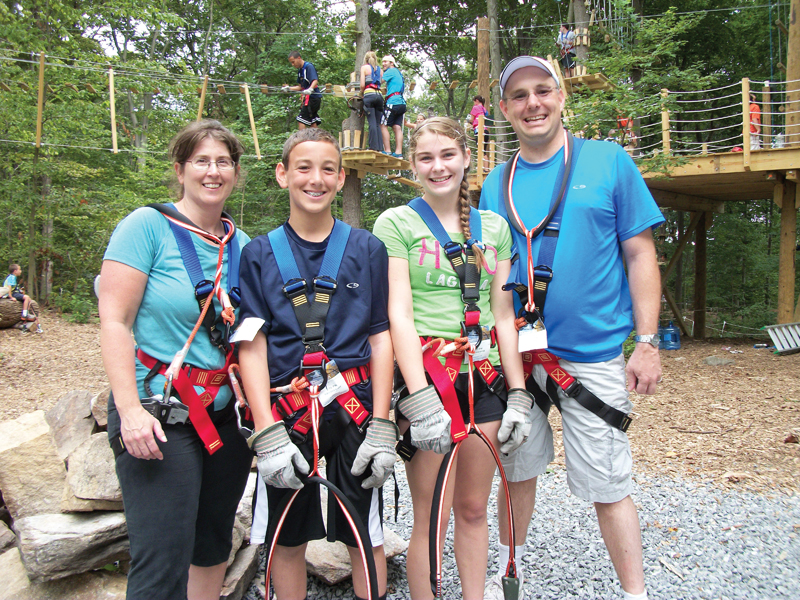 On five acres of forestland in Bridgeport, CT's Veterans Memorial Park, just behind the Discovery Museum & Planetarium, the trees are filled with hundreds of platforms, wooden and rope bridges, zip lines, and aerial trails. No, it's not a secret Ewok village—it's The Adventure Park at the Discovery Museum, Connecticut's first aerial adventure park and the only one of its kind in the New York metro area. The park had its grand opening last July and kicked off its first full season April 6.
Connecticut resident Bahman Azarm, president of Outdoor Ventures Group, brought the concept of the park to the U.S. after first seeing it in Europe.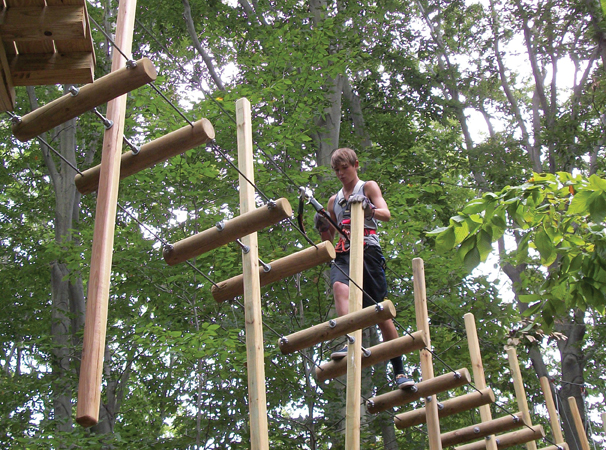 The Adventure Park at The Discovery Museum is more than just zip lines—it includes 150 elevated bridges and challenge elements for kids, teens, and adults.
Approximately 150 platforms are installed in the trees and connected by various configurations of cable, wood, and rope to form bridges and zip lines. Groups of bridges link together to form 11 separate trails, which range in difficulty level from "beginner" to "expert." The difficulty of each trail is designated by a purple, yellow, green, blue, black, or double black symbol, similar to ski trails. As you progress through the difficulty levels, the bridges become less stable under your feet, requiring more balance, agility, focus, and arm strength. In addition to physical skills, climbers must use strategy and problem solving to proceed from platform to platform.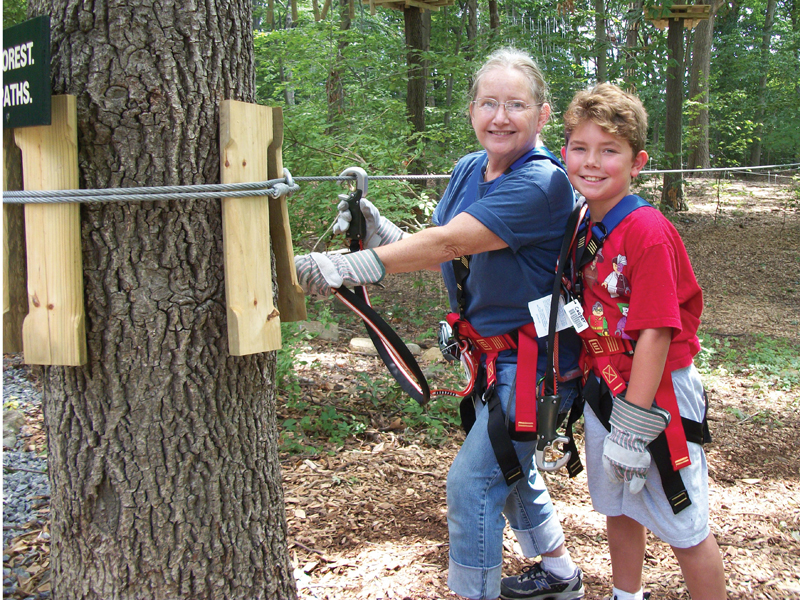 Dress the part! You'll receive a climbing harness and gloves with your ticket, but you should arrive wearing sneakers or hiking shoes and make sure to wear clothing that fits snugly to avoid snagging on the trails.
New this season are the two purple trails, which are designed for climbers as young as 5 (with an adult). All participants wear harnesses that are doubly secured to safety cables using the park's "always locked on" climbing system, and park-goers receive a thorough orientation before tackling the trails.
Water is provided to climbers, but no food service is available in the park. Visitors are welcome to bring their own coolers and non-alcoholic beverages (no glass bottles).
Parents who aren't inclined to climb: Don't worry! You're welcome to observe your little monkeys' exploits from the forest floor, where you'll find a variety of nature trails and benches scattered throughout the park.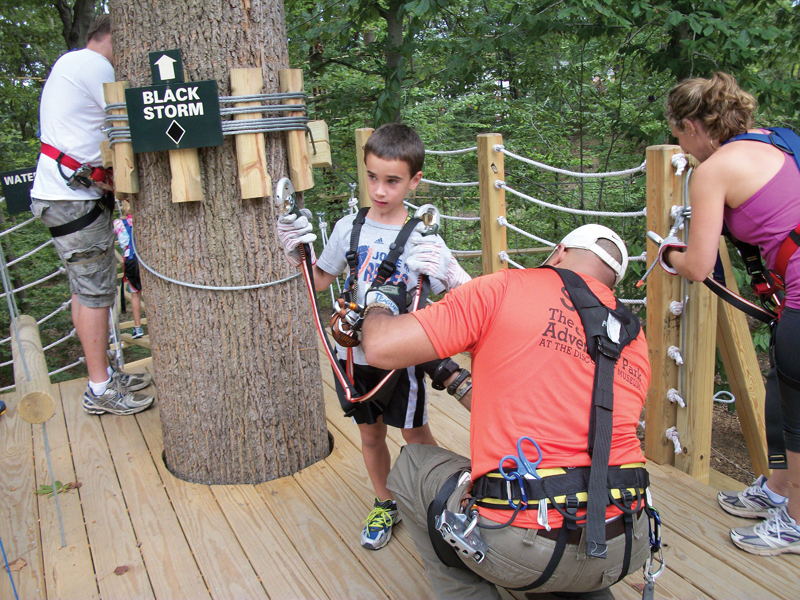 Because climbers are encouraged to create their own strategies when tackling the trails, lessons are not provided. But park staff members are always available to answer questions and provide assistance.
Address, Hours, Price, and Tips
Address: 4450 Park Ave., Bridgeport, CT
Hours: Spring and fall (April 6–June 16 and Sept. 7 – mid-November): Open weekends and certain holidays, 9am to dusk; open daily for scheduled groups of 10 or more, by reservation. Summer (June 17 – Labor Day Weekend): Open daily, 9am to dusk (about 7:30pm). Closed during severe weather.
Admission: $49; $44 children ages 10-11; $39 children ages 7-9; free for children ages 5-6 (with paying adult; one child per adult). A Twilight Special is offered for ages 7 and older during the last three hours of each day: $29 Monday-Thursday; $36 Friday-Sunday. Special rates for birthday parties and groups of 10 or more; call for more information.
Note: Tickets are valid for three hours of climbing time. Last tickets sold 90 minutes before closing. Tickets are not required for non-climbing observers.
Tip: Visit the website before your visit to fill out and print a registration/waiver for each climber in your group.
For more info: 203-690-1717 or discoveryadventurepark.org
More Fun
For fun and low-cost family activities in the NYC area, visit our full calendar of events