St. Vincent's Special Needs Services recently added a Hydroworx pool and now offers aqua therapy. St. Vincent's school has also expanded to offer services for children with autism spectrum disorder.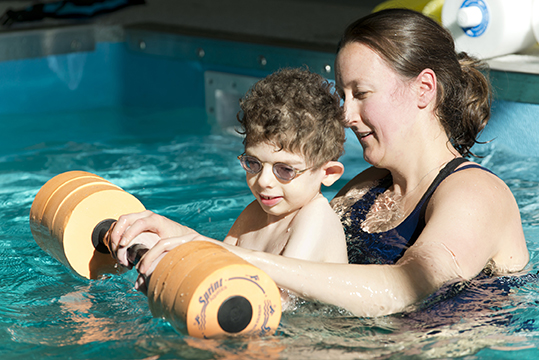 Emmett receives aquatic therapy as part of his therapeutic plan at St. Vincent's Special Needs Services in Trumbull where he attends the special education school program.
With the addition of its Hydroworx therapeutic pool in December, St. Vincent's Special Needs Services, a not-for-profit organization that provides programs and services to children and adults with special needs, now offers aquatic therapy. St. Vincent's was able to build the pool through a donation from the Fairfield Christmas Tree Festival in 2011, as well as generous donations from other donors.
The pool is 8-by-12 feet and is kept between 88-94 degrees, which is beneficial for children who require aquatic therapy. "A lot of our kids have cerebral palsy, which means that their muscles may be really tight or overly loose," says Patty Hornak, manager of rehabilitative services. "For the children that are very tight, the warmth of the water can help relax the muscles and make it easier for them to move their arms and legs. For the children with very loose muscles, we can work on resistance in the water and help them build strength."
The pool's floor has two unique qualities that Hornak says sold St. Vincent's on installing the pool. The floor can be raised to the pool's surface so a child in a wheelchair can be rolled onto the floor or a child can easily walk onto the floor, then be lowered to a depth that is appropriate, from just a few inches to the full 6-foot depth. The other unique feature is the entire floor can act as a treadmill so children can learn how to walk or improve their walking skills.
St. Vincent's Special Needs Services has also expanded its school program to include children with autism spectrum disorders. The Autism Suite at the school consists of four small group classrooms, including a community room and individual one-on-one learning areas that support daily living, communication, and functional skills.