Greenwich-based Sterline Care Home Staffing finds nannies, house cleaners, personal organizers, and elderly care for families. The application process ensures families are matched with a care provider based on the family's needs. Sterling Care Home Staffing also provides nanny training courses that teach first aid and early childhood education.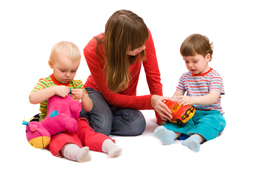 Sterling Care Home Staffing matches a
care provider to a family based on
the family's needs.
Sterling Care Home Staffing, which provides in-home support for child and elderly care, extended its services in May. Parents can now apply for nannies, baby-care tenants, house cleaners, and personal organizers to meet their specific needs.
"The goal of Sterling Care Home Staffing is to provide our services from cradle to the cane," says owner Steven Katz. "We want to provide care partners that will help families for life."
Sterling Care's application process consists of a family application, a family contract, and a service fee. Sterling staff then matches care providers with families based on their needs. Potential nannies are given a background check and drug test and must complete a nanny competency exam. Parents can enroll their nanny in a unique training course that teaches child safety, first aid, child psychology, early childhood education, and intellectual stimulation.
The personal organizing service helps parents organize and safe-proof areas of their home. Nutrition classes are available to families seeking advice and help with meal planning and education. In-home CPR and first aid training are also provided through Sterling Care, available to care givers and family members.