Looking for things to do with your kids on Earth Day in Connecticut? Our 2013 roundup of fun Earth Day events includes a zoo festival in Bridgeport, family volunteer project in Stamford, special story time at the aquarium in Norwalk, and Earth Day crafts in Westport and nearby in the Bronx.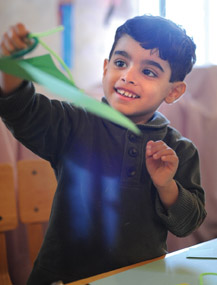 Everyone is entitled to a birthday, including Mother Earth. All she asks is that we take care of the planet for ourselves and for generations to come. Here are some activities around the county to help you celebrate Earth Day 2013 and give back to the community.
Party at the Beardsley Zoo
April 13-14: Visit the Beardsley Zoo in Bridgeport for Party for the Planet, where environmentally friendly vendors will demonstrate how green products can benefit the planet. Learn about online science projects your family can participate in at the citizen science corner.
Volunteer Together in Stamford

April 21: At Stamford Museum and Nature Center, volunteers get their hands in the dirt for Earth Day Family Volunteer Project. Families with children ages 11 and older join the center in weeding garlic mustard, an invasive species introduced to North American in the 1860's as a culinary herb. The herb will be harvested and delivered to local food banks to cook with. Advanced registration required. April 21. Contact Cathryn Oulighan at 203-977-6530. Stamford Museum and Nature Center, 39 Scofieldtown Road, Stamford. 203-322-1646. stamfordmuseum.org.
Go Green with Crafts in Westport/Bronx
April 20-21: Head to the Bronx for Family Art Project: Flags and Kites for Earth Day at Wave Hill. Visiting Artist Miwa Koizumi, who in her own work repurposes found plastic bottles, will show families how to make simple kites and festive flags out of colorful plastic bags.

April 22: Drop in to the Westport Library for Earth Day Creations and make a craft using only recycled materials. FREE!
Celebrate with Stories in Norwalk

April 20: The Maritime Aquarium in Norwalk offers Children's Authors Book Readings in celebration of Earth Day. Author Susan Hood of Southport reads from her book Spike: The Mixed-Up Monster about a Mexican species of salamander, and author Jay Walshon reads Eye See You Africa, which uses riddles and rhymes to introduce young readers to animals.
More Fun
For even more fun and low-cost family activities in Connecticut and the NYC area, search our full calendar of events