Meredith Milliken and Andrea Goldman of Weston, CT are not going to the 2014 Winter Olympics in Sochi. Milliken and Goldman had planned to travel to Russia to cheer on the U.S. teams, but the pair has decided instead to take a stand and boycott the Games in light of Russia's "anti-gay" laws.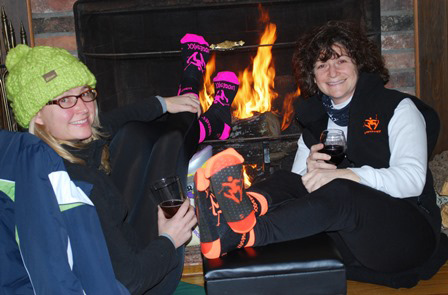 Milliken and Goldman are the owners of LODGESOXX, a GoldMill Enterprises brand that sells heavy-duty knitted socks with rubberized soles suited for walking around in a slippery ski lodge, jumping on a trampoline, and airline travel.
The pair (pictured at right) hoped to publicize their footwear outside of North America at the Olympics, which attracts skiers and winter sports enthusiasts. They canceled their plane and hotel reservations in October when Russian president Vladimir Putin signed into law a countrywide dictate allowing for the arrest, fining, and deportation of athletes and others who express or support "pro-gay" rights or release any statement encouraging anti-discriminatory activism.
Under pressure from world leaders and the International Olympic Committee, Putin later said the ban would not apply to the athletes or guests visiting Russia throughout the two-week Olympic Games period and that the intention of the law was misconstrued by the media.
But Milliken and Goldman were leery of Putin's remarks. "We wondered what would happen to the Russians who supported equal civil rights once the competition was over and the torch was extinguished," Milliken says.
The new law was like a shot heard around the world and prompted calls to boycott the Olympics. International rights groups described the situation in Russia as "the worst human rights climate" in the post-Soviet era, while Russian human rights activist Lyudmila Alexeyeva called passage of the law "a step toward the Middle Ages."
In light of the law, President Barack Obama and other world leaders announced they would not attend the games. In an overt gesture, President Obama appointed gay athletes Billie Jean King, Caitlin Cahow, and Brian Boitano to the U.S. delegation to attend the opening and closing Olympic ceremonies.
Milliken and Goldman, who are business and life partners, said they are upset and disappointed about canceling their trip, but they could not go to Russia in good conscience. "It's hurting us not to go, but we do not feel welcome," Milliken says. "Once the Olympics are gone, who knows what this regime will do?"
Boycotting the Olympics does not mean boycotting the athletes. As skiers themselves, Milliken and Goldman are active supporters of the U.S. Ski and Snowboard teams and have contributed to them financially through charity events.
The pair intends to watch the Olympics at home in Weston with family and friends. "We're going to cheer on the athletes from our couch wearing our LODGESOXX," Milliken says.
Plan on watching the Winter Olympics at home?
Get to know the U.S. athletes who hail from the NY metro area
Get the full rundown on the Games, including what sports to watch for and links to online activities for kids