Camp Pelican was established in 1965 to provide a safe and rewarding camp experience for everyone. After nearly a half-century, still family-owned and operated, we remain committed to that ideal. We're proud to be an accredited member of the American Camping Association and look forward to serving the latest generation of families in Fairfield & Westchester.
Door to door transportation is included in our camp fees. Campers are normally picked up between 8:15 and 8:45 with drop-offs scheduled for 4:00-4:30. We also offer reduced fees for campers providing their own transportation.
Flexible camping dates allow for a customized summer program that suits your particular needs. Campers can attend for 2,3,4,5,6 or 7 weeks and they don't even need to be consecutive. Start any Monday and feel free to mix and match weeks as needed for a summer schedule designed exclusively for your family.
An enthusiastic and experienced staff is our greatest asset. Group Counselors are all at least 21 years old and most have at least 5-10 years of experience at Camp Pelican. Many of our staff members have been with us for decades and started as campers themselves. Mostly parents and teachers, they bring this wealth of maturity and experience to every camping day.
Our thirty-two acre campus allows us to provide all of our diverse and exciting programs at one site. Indoor & outdoor pools, air-conditioned activity buildings, tennis courts and more are available every day. Our outstanding facilities ensure a safe and fun-filled setting for our campers regardless of the weather.
Come and see for yourself what makes us different. Fun, exciting and constantly changing programs make every week a new experience. Share some time with us this season and we're sure you'll agree. We look forward to seeing you family at Camp Pelican this summer!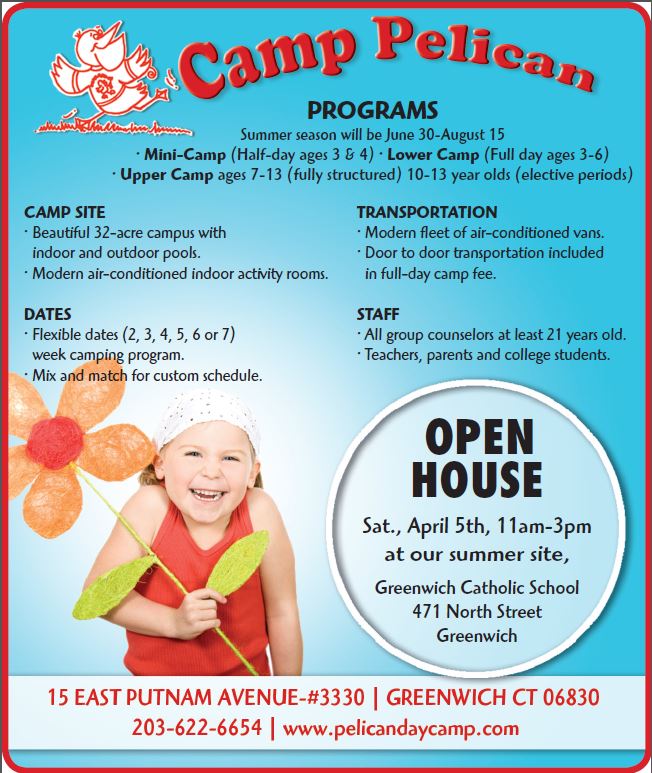 Want to learn more about this business? Send them a direct inquiry.
CAMPS-TRADITIONAL
Camp Pelican has been serving families in Westchester and Fairfield since 1965. Family owned and operated on a beautiful 32-acre campus in Greenwich. Campers ages 3–13 years enjoy indoor and outdoor pools, air-conditioned activity rooms and door to door transportation. We offer flexible dates, full and half day programs and a full range of activities. Our staff, with a minimum age of 21, ensures adult supervision for every camper. See all the details on our website.