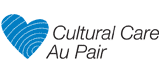 EF Education, a worldwide foreign-language organization, oversees this exchange program, which not only screens candidates thoroughly but also trains them at its own facility. Total cost for the program is $7,795 per year, plus the standard weekly stipend of $195.75 and an education allowance of up to $500.
Cultural Care Au Pair provides the following:
45 hours/week of live-in childcare, customized to your family's schedule
Childcare at an average weekly cost of only $355/week (per family, not per child)
Help with child-related household tasks including laundry, cooking, and tidying
Au pairs for up to one year, that live with your family and provide flexibility for your schedule.