The Five Mile River Nursery School was founded to provide this community with a resource for the care and nurture of its preschool children. It is a non-denominational non-profit weekday program operated by the Rowayton United Methodist Church.
Five Mile River Nursery School focuses on the development of the whole child: intellectual, social, emotional, spiritual, and physical. Our goal is to create a framework of materials and an atmosphere of love and acceptance in a partnership between families and staff that will set the stage for discovery and growth. We believe that when we allow a child to make appropriate choices, we are building a firm foundation for later learning and preparing the child for the ever-changing world.
We follow an evolving mix of Bank Street Method, Creative Curriculum and the Emergent Curriculum. By looking at the children individually, we hope to encourage autonomy and support them in all of their areas of development thereby achieving a positive self-image for each child.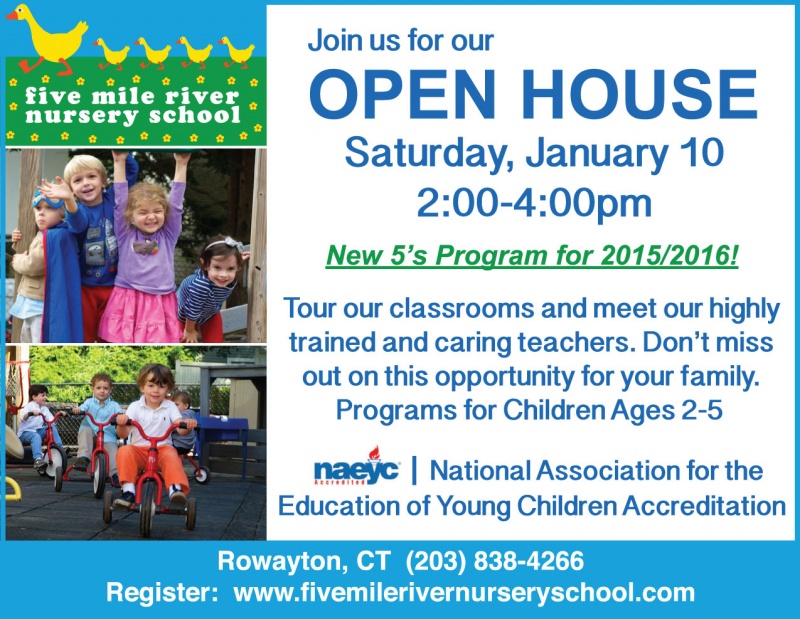 Want to learn more about this business? Send them a direct inquiry.
EDU - PRESCHOOLS
Five Mile River Nursery School offers pre-school and enrichment programs for children ages 2-5. FMRNS is the only nationally accredited, private preschool in the Norwalk and Darien areas. Our mission is to provide a warm, nurturing, and engaging atmosphere that allows children to be creative and adventurous learners. Highly qualified, experienced, caring teachers offer individualized attention, while focusing on the development of the whole child: intellectual, social, creative, and physical. Our goal is to inspire self confidence, curiosity, a love of learning, and a lifelong meaningful engagement with the world. NAEYC accredited.
Read More About Five Mile River Nursery School
How to Make the Most of Your Child's Preschool Years
An early childhood education expert shares preschool pointers, from assessing potential preschools and what makes a good preschool teacher to the advantages of preschool and how to prepare your child for the preschool setting.