Flash Pointe Dance was created to provide an environment where the art of dance and movement can be appreciated and shared. It is our intent to offer a supportive environment to discover the hottest new trends as well as the most pristine classics to all ages, pre-school through adult, dance and fitness. We offer classical ballet and story ballet, contemporary, jazz, hip-hop, break dance, Broadway and rhythm tap, lyrical, yoga, body sculpt, Itsy Bitsy Yoga, Pilates, Latin, musical theater, partnering.
Classes are offered for Preschool through Adult.
Recreational, Pre-Professional & Competitive
Types of Dance

Classical & Contemporary Ballet...

Beginning & Advanced Pointe...Lyrical Contemporary Jazz...Boys Only Hip Hop

Story Ballet/ Preschool...Bitty Break

Pre School Jazz/Tap & Ballet/Tap

Break Dance...Broadway & Rhythm Tap

Hip Hop...Jazz...Modern...Leaps & Turns

Technique and Combinations

Musical Theatre...Pointe

Broadway Jazz...Contemporary Lyrical

Adult Fitness/Adult Dance

Hip Hop...Ballet...Tap...

Musical Theater...

Jazz...Modern Core....

Fitness Xplosion...Zumba...

Dance Sculpt...Stretch & Strength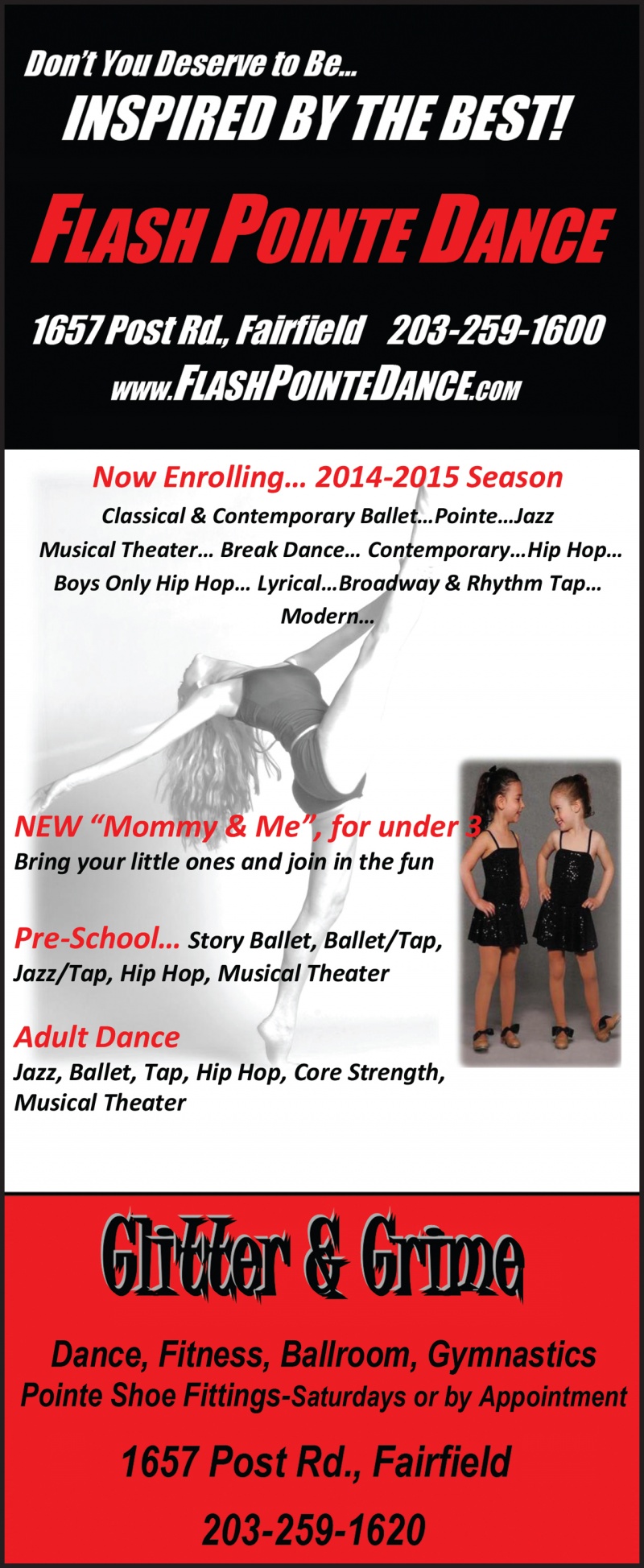 Want to learn more about this business? Send them a direct inquiry.
BIRTHDAY PARTIES
Turn on the party lights and dance your birthday off at Flash Pointe Dance in one of our five beautiful studios! Choose from hip-hop, jazz, musical theater, break dance, ballet, or any other dance style—if we don't offer it, we can find it! Select your choreographer, choose your favorite music, and your event will be complete. Preschool through adult, dance is a great way to celebrate any event. Don't you deserve to be inspired by the best? Now open in our new, state-of-the-art, environmentally friendly facility at 1657 Post Road in Fairfield.
Read More About Flash Pointe Dance
Summer Activities in Fairfield County, CT
Find fun summer activities for kids in Fairfield County, CT. Use our guide to find kids classes, Fairfield County summer camps, summer programs, activities near Fairfield County, and family excursions close by. Summer activities in Greenwich, Stamford, Westport, New Canaan and the rest of Fairfield County, CT are easy to find.
Fairfield Dance Studio Opens New Eco-Friendly Location
Flash Pointe Dance Studio, located in Fairfield, recently opened a new, eco-friendly location. The new studio re-used or donated existing materials from the original structure, as well as the previous facility. And, with the new studio, Flash Pointe Dance is able to offer more classes.