Want to learn more about this business? Send them a direct inquiry.
BACK TO SCHOOL
The Little Gym helps children build the confidence and skills needed at each stage of childhood. Each week, structured classes and our unique learning environment will create opportunities for your child to try new things and build self-confidence. As your child grows and develops new physical skills, you will see noticeable, positive differences with each achievement. But your child will simply see The Little Gym as a place to make new friends.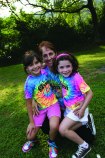 ?Out of the mouth of babes,? came the inspiration for Erica Newman to purchase a The Little Gym franchise. ?My kids went to The Little Gym in Scarsdale. Before they opened we had done several other kids programs-The Little Gym program simply blew the competition away!? Six years later my oldest daughter spends almost as much time walking on her hands as she does on her feet and the benefits of The Little Gym program continue to materialize in my children?s confidence and their coordination.?
Read More About Little Gym (The)
Gymnastics Classes and Programs in Fairfield County, CT
Find gymnastics classes for kids in Fairfield County, CT. Learn tumbling, balance beam, and elite gymnastic techniques from great kids gymnastics programs in Westport, Trumbull, Darien, and beyond in Fairfield County.
Featured Birthday Parties Listings for 6/13/2012
Discover children's birthday party planners, birthday party places and entertainers in the New York area. They also arrange parties in Westchester, Rockland, Fairfield Counties, and Long Island, both Nassau and Suffolk Counties. Many of these party resources will come to your home or serve as the host. If you are looking for a venue for your child's birthday party that will be exciting, safe, different and easy, check out the providers listed below or visit nymetroparents.com