Music Together classes are held in more than 2,000 communities around the world. Classes are currently offered in Fairfield, Westport, Bridgeport, New Canaan, Stamford, Wilton, Greenwich, Rowayton, and Kent by Music Together of Fairfield County. For more information, please visit www.ctmusictogether.com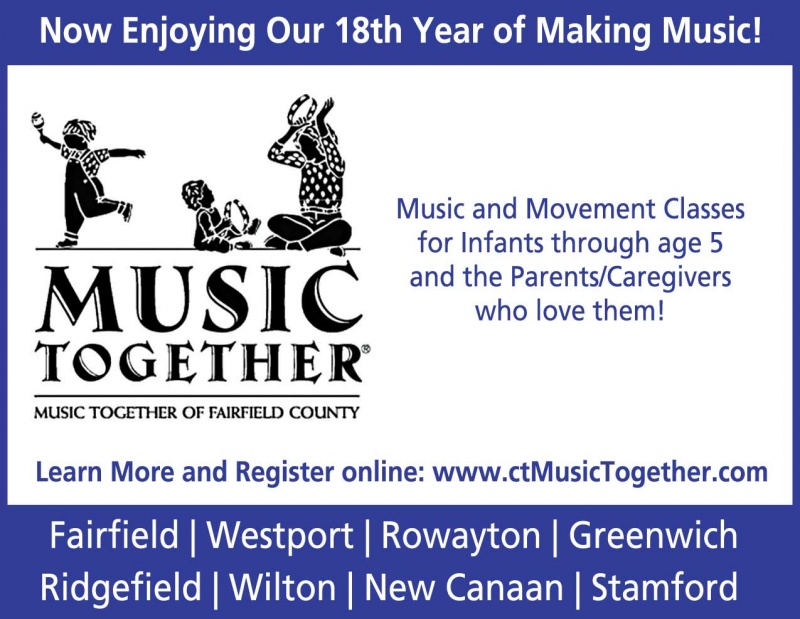 Want to learn more about this business? Send them a direct inquiry.
Hurricane Sandy News - Music Together of Fairfield County Posted: 11/12/2012

Music Together hosts its 25th Anniversary Celebration Event. New Canaan Methodist Church, located at 165 South Ave., New Canaan, CT, will host children (ages 0-5 years) and their families for singing, dancing, instrument making, and eating cake.

Please RSVP to 203-256-1656 or e-mail mtfcjj@optnline.net if you would like to join us. All proceeds will be donated to the American Red Cross. There is a suggested donation of $10.00 per family and we will also be holding a silent auction.
ctmusictogether.com
203-256-1656
BACK TO SCHOOL
Music Together is an international, award-winning program with over 2,000 locations in 40 countries. Nurture your child's natural enthusiasm for music and movement by registering for our classes! Music Together is a researched approach to music and movement, committed to helping families and caregivers discover the pleasure and educational value of informal musical experiences. Have fun singing, dancing, and playing instruments with your child ages 0-5 years, while you learn how to support their musical development. We offer Mixed-Age, Babies, and 3/4 's classes. Fall registration is open now.
Read More About Music Together of Fairfield County
Summer Activities in Fairfield County, CT
Find fun summer activities for kids in Fairfield County, CT. Use our guide to find kids classes, Fairfield County summer camps, summer programs, activities near Fairfield County, and family excursions close by. Summer activities in Greenwich, Stamford, Westport, New Canaan and the rest of Fairfield County, CT are easy to find.
UPDATE YOUR MICROSITE