The Temple Israel Early Childhood Center offers quality early care and education for children two to four/five years of age. The professional staff, including the Director and experienced teachers, is primarily responsible for ensuring that the physical arrangement and daily schedule and routines are designed to meet both individual and group needs. Within this environment, children are encouraged to make their own choices and participate in both self-directed and planned learning experiences.
The classroom environment is welcoming, stimulating and challenging. Problem solving, experimentation, and social relations are nourished through the use of developmentally appropriate materials and learning experiences. These are acted out in the following manner: blocks, dramatic play, water and sand, art, cooking, music and movement, small and large motor activities, science, social studies, outdoor play and language/literacy experiences. The professional staff applies its broad range of training and experience in early childhood education methods to promote the development of each child.
We feel that parent involvement is essential to ensure your child's success. The teachers and parents work together in a partnership for the child's best interests. Communication between these partnerships is very important and is emphasized throughout the school year through the parent bulletin board, weekly newsletter, conferences, email reminders and daily interactions.
Philosophy
In a caring and positive atmosphere, we create a warm and inviting place for preschoolers to learn. Social/emotional, physical, cognitive and creative skills are introduced through materials and learning experiences that are child-centered and teacher-framed. Work is planned that emphasizes "the process rather than the product", fostering a sense of accomplishment and pride.

Based on research that "children learn through play", classroom routines encourage active involvement, meaningful experimentation and reinforcement through repetition. Schedules are designed to balance structure and free choice, as well as active and quiet times.
Recognizing that children grow at different paces, we treat each child as an individual, working from the level he/she has attained and moving forward a step at a time. Each child's development differs by rate and style. We teach a love of learning by allowing children to experience their own stage of development and helping them to feel success without pressure. Information must be meaningful in the context of a child's own experience and development in order for the child to understand and fully remember. Children's responses to rote tasks do not reflect real understanding of information. If learning is relevant for a child, he/she is likely to persist with a task and to be motivated to learn more. Our program is both play based and developmentally appropriate in order to provide the best opportunity for all children to succeed.
Our objectives are to:
Provide a challenging environment with developmentally appropriate materials and supportive teachers who understand and facilitate the learning process.
Guide children's construction of knowledge through play and active exploration of the physical and social environment.
Maintain a quality preschool program that reflects the interests of the whole child, including social/emotional, physical, creative and cognitive development.
Establish and carry out a child-centered curriculum based upon observing, understanding and applying each child's individual skills and interests.
Respect and acknowledge that each child is unique with an individual pattern, pace of growth, personality, learning style and family background, which is reflected both in the curriculum and adult interactions with the child.
Encourage parent involvement and provide children and parents with appropriate support as needed.
Jewish Education and Culture
We reinforce the connection between your child and his/her Jewish heritage by integrating the unique traditions and values of the Jewish family into the curriculum. Each Friday the classes celebrate the coming of Shabbat together with the clergy in the Sanctuary.
Traditional holiday festivals are celebrated in ways that are meaningful to children. Art, cooking, books, puzzles and other materials are available to enhance Jewish learning experiences. Adding to our Jewish curriculum are weekly visits from our cantor. Our cantor gathers with the children in their classrooms or in our school lobby to sing and provide engaging music experiences. Our Rabbi's make regular visits in the classrooms to share stories and participate in learning experiences.
Parents are invited to participate in these special events as well as our weekly Shabbat celebrations.
For more information visit us at www.tiwestport.org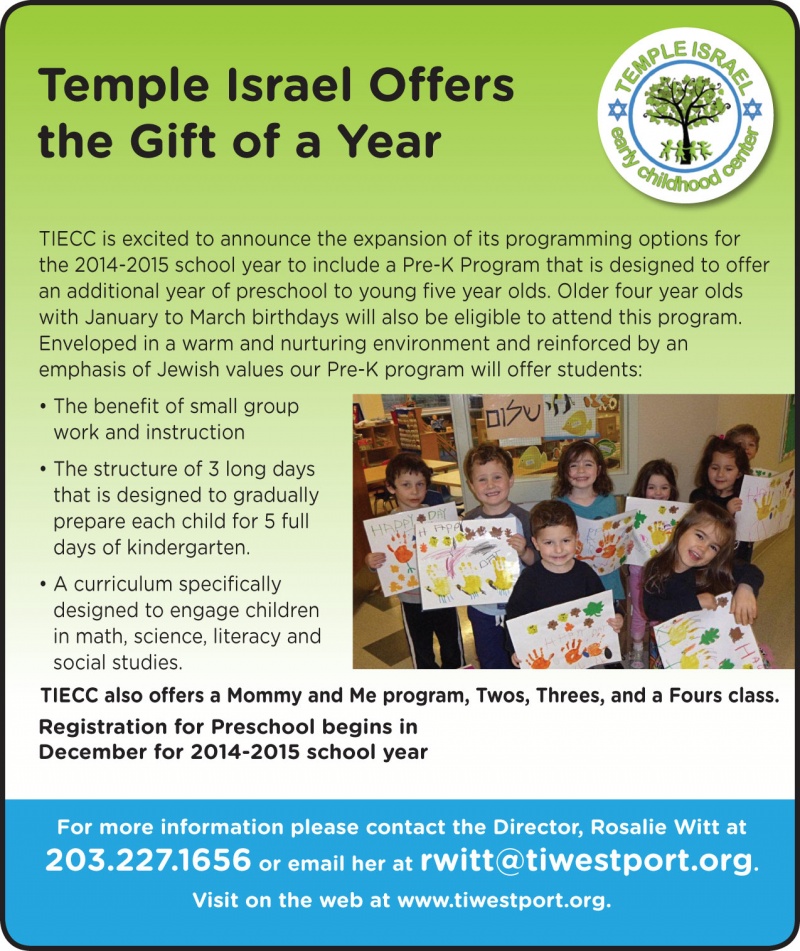 Want to learn more about this business? Send them a direct inquiry.
Read More About Temple Israel Early Childhood Center
Registration Now Open for Temple Israel Pre-K
Temple Israel Childhood Center is now accepting registrations for its new pre-K program. The Westport pre-K incorporates Jewish education and technology in the curriculum, as well as students working collaboratively.
Mompreneur Cindy Hartog's Culinary Venture
Mom and entrepreneur Cindy Hartog of Westport, CT, started Cindy's Sous Chefs after discovering her passion for the culinary arts. We sat down with Hartog to find out what inspires her, how she got the business started, and what advice she has for other creative moms.
UPDATE YOUR MICROSITE