Vermont's "family friendly" resort offers endless summer activities for everyone. Private beach, outdoor pool, pony rides, horseback riding, kayaking, pedal boats, pontoon boat rides, lawn games, hiking trails, movie room, kids camps. Choose from Vermont Adventure Summer Camp Package (ages 7 – 13) and Children's Summer Horsemanship Camp (ages 6 – 12). Camps create a fun and memorable summer vacation. Offered July and August. Advance reservations required. Affordable family fun packages. Casual dining. Kids menu. Pet friendly.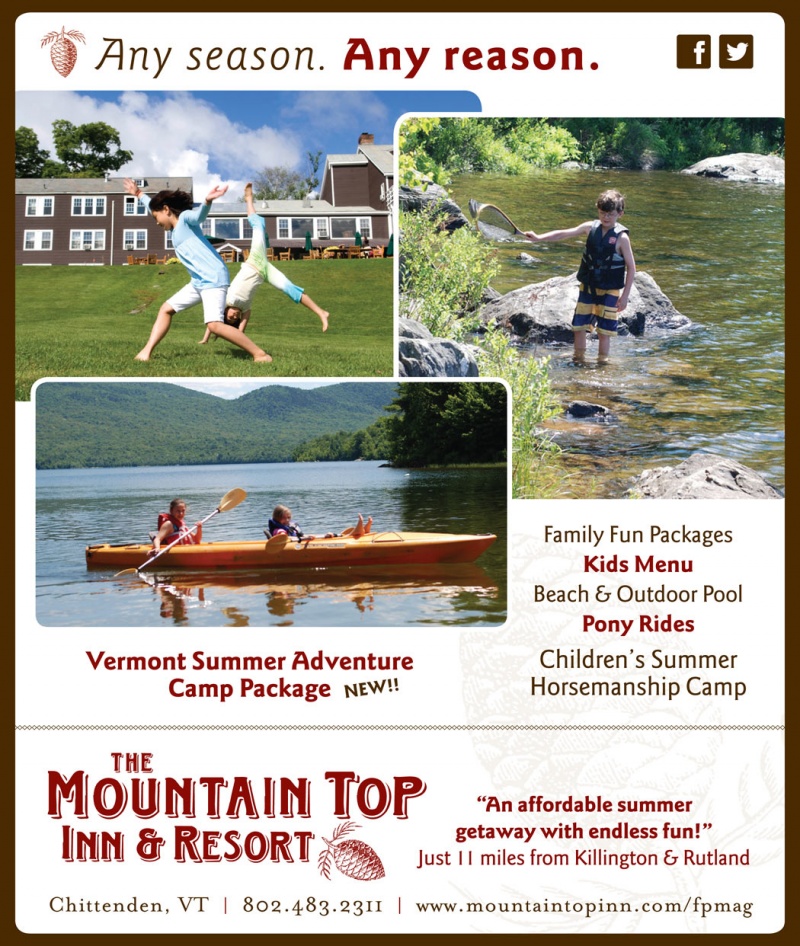 The Mountain Top Inn & Resort offers two fun options for children's summer camp: Vermont Summer Adventure Camp and Children's Summer Horsemanship Camp.
NEW this Summer!
Introducing our Vermont Summer Adventure Camp in partnership with Vermont Adventure Tours of Rutland, VT. This adventure camp can only be booked as part of our Vermont Summer Adventure Camp Package, offered during the following 4 weeks for ages 7 - 13:
July 7 – 12, 2013
July 14 – 19, 2013
July 28 – August 2, 2013
August 11 – 16, 2013

Camp is 4 ½ days with 2 overnights. All breakfasts, 4 lunches and two dinners for the children are included in the cost of camp. Ages 7 - 13.

Our Vermont Summer Adventure Camp is a great way to introduced youngsters to the outdoors or to help hone the skills of kids already experienced in outdoor adventure activities. Campers will experience indoor and outdoor rock-climbing, rappelling, caving, mountain biking, hiking, kayaking, swimming, team building activities and many other adventures and games! This is a co-ed camp for ages 7 – 13; for five days and two nights in the Green Mountains of Vermont.

The cost for our Vermont Summer Adventure Camp Package for 2 adults and 1 Camper is $1605. Additional camp can be added for the week at $550 per child. Space is limited so we recommend calling as soon as possible to reserve. 802.483.2311

Learn more about our business partners at Vermont Adventure Tours .


RETURNING this Summer!
Our Children's Summer Horsemanship Camp is very popular with our young guests. It is a fun learning experience and a memorable part of their summer vacation. Each year we create a program to meet the needs of our families. This year the program is offered July and August for children ages 6 - 12. Advance reservations are required. We strongly suggest booking when making your room reservations since space is limited.

At the Resort's Children's Summer Horsemanship Camp, children learn horsemanship and how to ride in a fun and safe environment. Professional, experienced instructors teach our campers control and handling skills as well as the essentials of grooming and saddling. Campers gain a basic understanding of horse care, safety around the horses and the responsibility involved in owning a horse. In addition, youngsters have the opportunity to experience nature hikes and to enjoy the resort's private lakefront beach. Campers need to arrive at the Activity Center at 9AM to allow time for parents to complete the necessary paperwork. Parents should return to the Activity Center promptly at 3:30PM to pick up the children.

Our Children's Summer Horsemanship Camp is for children ages 6 - 12 years and is available Monday through Friday 9:30 AM - 3:00PM in July and August. Space may be reserved on a daily or weekly basis. Weekly - $450.00 per child; Daily - $125.00 per child

Campers are requested to bring or wear jeans or other long pants, close toed shoes or riding boots. Helmets are required and will be provided. They should also bring swimsuits, towels, and beach type clothing, and shorts if weather permits. In the event of rain or if it is predicted campers should bring suitable rain gear, as we will ride in light rain and want them to be prepared.

When you bring the whole family we have plenty to keep the children entertained and "cool"
in the summer, while you relax and enjoy the solitude and beauty of the Resort.
• Private beach
• Boat rides, kayaking and canoeing
• Pony rides for children ages 2 & older
• Outdoor swimming pool
• Hiking Trails for all ages - Let the Chef pack a picnic lunch to bring along on the hike!
Want to learn more about this business? Send them a direct inquiry.
Read More About The Mountain Top Inn & Resort
Summer Activities in Fairfield County, CT
Find fun summer activities for kids in Fairfield County, CT. Use our guide to find kids classes, Fairfield County summer camps, summer programs, activities near Fairfield County, and family excursions close by. Summer activities in Greenwich, Stamford, Westport, New Canaan and the rest of Fairfield County, CT are easy to find.
UPDATE YOUR MICROSITE