Want to learn more about this business? Send them a direct inquiry.
HEALTH
Stay in shape by learning and playing the wonderful sport of tennis! SPORTIME now offers 16 beautiful indoor/outdoor soft surface tennis courts in lower Westchester within 15 minutes of each other. One low-priced membership provides access to both facilities and membership benefits. Enjoy lessons, leagues, and summer camp programs for juniors and adults, and USTA Inter-Club team play. Call for membership and program information, or visit us online at sportimeny.com/harbor-island or sportimeny.com/lake-isle.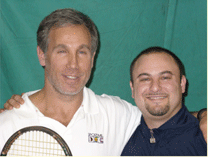 Eric Fromm, formerly ranked #38 in the world and a French Open semi-finalist, is Sportime's General Manager. Cesar Andrade, a former highly ranked eastern player and Sportime's Director of Tennis oversees our summer camp programs. Eric and Cesar lead a team of highly experienced tennis pros and counselors whose goal is to help children learn and improve their tennis skills while enjoying an exciting summer camp experience. Go to the website for more information.
Read More About SPORTIME Harbor Island Tennis Club
Summer Activities in Westchester County, NY Part 2
Do you need great summer activities for kids in Westchester County, NY? Use our guide to find kids classes, Westchester summer camps, summer programs, activities near Westchester County, and family excursions close by. Summer activities in Westchester are at your fingertips.