Want to learn more about this business? Send them a direct inquiry.
BACK TO SCHOOL
Two indoor/outdoor tennis facilities and 16 soft clay courts within 12 minutes of each other offer the finest in junior and adult lesson and league programs, seasonal and open court time, and summer camps. The newly renovated, $6.5 million SPORTIME Lake Isle is the Westchester home of the John McEnroe Tennis Academy for ranked and aspiring juniors. SPORTIME Harbor Island has been one of Westchester's most popular tennis clubs for more than a decade. For more information or to enroll, please call or visit our website.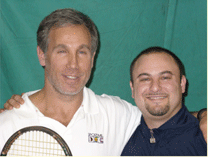 Eric Fromm, formerly ranked #38 in the world and a French Open semi-finalist, is Sportime's General Manager. Cesar Andrade, a former highly ranked eastern player and Sportime's Director of Tennis oversees our summer camp programs. Eric and Cesar lead a team of highly experienced tennis pros and counselors whose goal is to help children learn and improve their tennis skills while enjoying an exciting summer camp experience. Go to the website for more information.
Read More About SPORTIME Harbor Island Tennis Club
Summer Activities in Westchester County, NY Part 2
Do you need great summer activities for kids in Westchester County, NY? Use our guide to find kids classes, Westchester summer camps, summer programs, activities near Westchester County, and family excursions close by. Summer activities in Westchester are at your fingertips.
UPDATE YOUR MICROSITE