Want to learn more about this business? Send them a direct inquiry.
CAMPS-SPECIALTY
SPORTIME's 10 & Under Tennis, Tennis & Multi-Sport, and Excel Summer Tennis Camps are designed for youngsters who want to focus their camp days on playing and learning tennis. Every camp day includes tennis, field sports, and special events. Campers learn and perfect proper tennis technique, participate in competitive drills/games, learn match play/strategies, and receive individualized attention. Includes swimming at Harbor Island's beautiful beach and spray park and Lake Isle pool activities. Call today!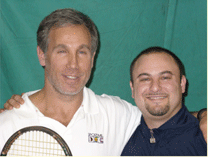 Eric Fromm, formerly ranked #38 in the world and a French Open semi-finalist, is Sportime's General Manager. Cesar Andrade, a former highly ranked eastern player and Sportime's Director of Tennis oversees our summer camp programs. Eric and Cesar lead a team of highly experienced tennis pros and counselors whose goal is to help children learn and improve their tennis skills while enjoying an exciting summer camp experience. Go to the website for more information.
Read More About SPORTIME Harbor Island Tennis Club
Summer Activities in Westchester County, NY Part 2
Do you need great summer activities for kids in Westchester County, NY? Use our guide to find kids classes, Westchester summer camps, summer programs, activities near Westchester County, and family excursions close by. Summer activities in Westchester are at your fingertips.
UPDATE YOUR MICROSITE