Search (e.g., camp, birthday parties in Brooklyn, tutors in Norwalk)


Since 1955, we?ve been proud to serve the world some of its favorite food.
The All Star is a unique venue that includes Food, Frames & Fun!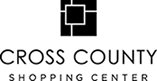 Cross County Shopping Center is Westchester County's first and largest outdoor shopping venue! We're located right off the New York State Thruway and Cross County Parkway in Yonkers and with more than 100 stores including Macy's, Sears, H&M, XXI Fore...
READ ABOUT FAMILY ACTIVITIES