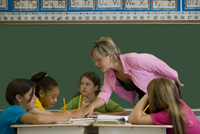 It's back to school time again! Consult our guide to find schools and tutors; after-school classes, programs, and activities in music and dance, art and theater, martial arts and various sports; tutors, and much more in Manhattan and the NY metro area.
And be sure to check out the Queens and Brooklyn guides too!
CONTINUED FROM SECTION 1

MANDELL SCHOOL
795 Columbus Ave
(212) 222-2925

The Mandell School is a co-educational institution for Toddlers through the Eighth Grade, located on the Upper West Side since 1939. We are committed to providing a nurturing educational environment for children and their families, which through intellectual stimulation and emotional support, enable them to become responsible, active citizens of the world. Mandell School curriculum is well balanced, exceptionally rigorous, yet flexible enough to allow for a range of learning styles. Mandell uses both traditional and progressive approaches to teaching, incorporating use of manipulatives, collaboration, and hands on experiential learning.

MORNINGSIDE MONTESSORI SCHOOL
251 W. 100th St
(212) 316-1555

Full-day, half-day, extended-day, and 6-week summer programs available for ages 2-5. MMS provides a warm, nurturing learning environment. Colorful, inviting Montessori materials are used in our three large, sunny classrooms. The curriculum is enriched with music, creative arts, movement, science, and physical exploration on our spacious rooftop playground. Small staff/student ratios allow staff to be receptive to individual needs. Now accepting applications for 2012-2013. Scholarships available.

MY LITTLE LANGUAGE SCHOOL
225 W. 99th St
(646) 389-7552

Give your child the gift of language. My Little Language School provides children with full immersion in the Spanish language, while simultaneously using the Montessori method to build self-discipline, confidence, and a love of learning. Within our unique learning environment, children are free to explore their individual interests. All our students learn to be global citizens by being introduced to different cultures, and learning to respect themselves, others, and our materials. Classes are taught entirely in Spanish. Currently accepting applications for the 2011-12 school year. Come see our bright, open classroom!

NEW AMSTERDAM EARLY CHILDHOOD CENTER
1 Avenue B (at Houston St)
(212) 982-1400

The New Amsterdam Early Childhood Center was founded in 2006 to bring the benefits of Waldorf education to families in downtown Manhattan. Our goal is to protect and preserve the precious childhood of all children. Teachers and parents work together to nurture our children's innate, individual capacities, while creating a wholesome educational environment that nurtures and cultivates their imaginations. The seeds we plant today will spring forth later as a life-long love of learning. We are an independent, nonsectarian school, a "Developing Member" of the Waldorf Early Childhood Association of North America (WECAN).

THE NEW YORK CITY CHILD CARE RESOURCE AND REFERRAL CONSORTIUM
(888) 469-5999

The New York City Child Care Resource and Referral Consortium offers free information to help you find child care and so much more. The Consortium works to improve and increase access to a range of early-learning programs, including child care, Head Start, and pre-K. Focused on improving the quality of services available, we provide training, technical assistance, and more for child-care programs and providers. We offer other free and low-cost services, including consultations and referrals for families, to support them in making appropriate choices for their children.

NYC DEPARTMENT OF EDUCATION
(718) 935-2000

Welcome back to SchoolFood. Breakfast is at no charge to all students, and lunch costs only $1.50. Your child may be eligible for free or reduced meals. To find out, complete the 2011/2012 Application for Free and Reduced-Price Meals in any of the 15 printed languages available at your child's school. Or, apply online at www.nyc.gov/accessnyc beginning August 15, 2011. The application will be sent electronically to the processing center, and the eligibility will be uploaded into the school database. Apply by paper, online, on time.

NYCHESSKIDS
(646) 807-9236
Email nychesskids@gmail.com

The NYChessKids Chess Camp has been running for many years, attracting students from all over the city, and even from other countries. Our goal is to foster an environment of learning and fun. A typical day can consist of puzzle-solving (tactics, endgames, studies, etc.), lessons with a multimedia projector, lessons with a demonstration board, and analysis sessions. During breaks, students can play various sports including pool and table tennis, jump in bouncy houses, play video games, watch movies, or play outdoor MEGA chess. Our camp dates are throughout the school year.

THE PARENTS LEAGUE OF NEW YORK
115 E. 82nd St
(212) 737-7385
Email info@parentsleague.org

The Parents League of New York is a member-supported non-profit association of parents and schools that has been a resource for families in New York City since 1913. The Parents League provides one-on-one advice to families applying to preschools and ongoing K-12th-grade day schools, boarding schools, special needs programs, and summer camps. Our advisors, who have years of experience within NYC private schools, and who regularly visit our affiliated school members, will guide you through the admissions process to help you find the school that best fits your child and your family.

PHILOSOPHY DAY SCHOOL
12 E. 79th St. (btw 5th and Madison avenues)
(212) 744-7300
Email secretary@philosophyday.org

Philosophy Day School is a co-educational independent Nursery-5th Grade school. Set in a historic brownstone on the Upper East Side, we are located just a half block from Central Park and the Metropolitan Museum of Art. The school provides a rich and engaging environment that ensures academic excellence and the development of good character. Students practice the virtues of honesty, generosity, consideration, and courage, which are integrated daily into school life. Our education bestows children with a love of knowledge, while simultaneously building good character that will last a lifetime.

PLANET HAN
2466 Broadway
(212) 724-2421

Mandarin for all kids! Planet Han provides a fresh approach to teaching children Mandarin. We use the novel 'Model.Action.Talk.' method to teach Mandarin to kids, from infants to 12 years old, through our group classes on Manhattan's Upper West Side, afterschool programs, and private tutoring. We send our parents MP3 files with "sneak previews" of the words kids can look forward to learning each week, as well as audio files that recap what the children have learned.

PLAYTOGETHER NYC — A PLAY SCHOOL
270 W. 84th St (Btw. Broadway and West End Ave)
917-842-2779
Email nylakamlet@yahoo.com

PlayTogether NYC is a diverse, secular, and inclusive play-based pre-school. Child therapist, Nyla Kamlet, developed a uniquely rich, play-based curriculum incorporating language, visual, sensory, musical, and mathematical activities to enhance the development of social skills, self-esteem, and confidence, all critical for success in school and in life. Children have fun doing Art projects for sensory integration and fine motor coordination, Drama for building creativity and confidence, Supervised Play for social awareness and emotional processing, Music for rhythmical movement, patterning and counting, all in an open and nurturing environment.

PLAYWRIGHTS HORIZONS PLAYTIME
(212) 564-1235 x3154

Playtime is creative, affordable, professional childcare while you watch a premier Off-Broadway show, so you'll never miss another great performance! Sign up this month for Free Childcare provided by Sitters Studio's working artist-sitters: your kids will learn songs, dances, theater games, and make crafts during the show so you both walk away with a new cultural experience. Use Playtime during select performances of "Love, Loss, and What I Wore" or "Voca People" at Playwrights Horizons. Playtime is for children ages 4-12, at the affordable cost of $15 per child.

PRESCHOOL OF AMERICA
345 42nd St
(212) 767-0606
Locations include Brooklyn, Queens, Upper East & West Sides, Midtown, and Downtown

The largest preschool system in New York encourages each child to shine! We provide an outstanding curriculum focusing on subjects such as math, science, reading, and writing, as well as cognitive, emotional, and social skills. We offer programs (for infants to kindergarteners) including after-school and camp, as well as a gifted and talented program. Our specialty programs include music, art, dance, yoga, and foreign language. You are welcome to come and visit any of our facilities for a guided tour and to meet our friendly and knowledgeable staff members.

PRIVATE SCHOOL ADMISSIONS ADVISORS (NEW YORK)
405 Lexington Ave, 26th Fl
212- 829-4341
245 Amity Road-Suite 203, Woodbridge, CT
203-387-1574
500 West Putnam Ave, Ste. 400, Greenwich, CT
(203) 542-7288

Private School Admissions advisors, a division of Pinnacle Educational Center, provides private school admissions counseling and placement to assist domestic, as well as international students and families, prepare for admission to US independent day and boarding schools. Pre-K through 12, and PG. PSAA is headquartered in Woodbridge, CT, with offices in Upper Fairfield County (Huntington), Lower Fairfield County (Greenwich), and New York (mid-town Manhattan).

RHINELANDER CHILDREN'S CENTER
350 E. 88th St
(212) 876-0500

For more than 20 years, the best beginnings start at Rhinelander. During the school year, Rhinelander offers toddler classes, enrichment workshop pre-school alternative, and Rhinelander Nursery School for young children. Working parents appreciate our Arts & Smarts After-School Clubs for elementary-school children in public schools throughout the Upper East Side. Stop in, call, or visit the website for more information.

RIVER PARK NURSERY SCHOOL
711 Amsterdam Ave (at 94th St)
(212) 663-1205
Email www.riverparkns@verizon.net

River Park Nursery School has been providing the West Side community with quality early-childhood education since 1967. River Park puts an emphasis on whole-child development, while a strong focus is placed on academics through creative play. River Park is open to children ages 2.8 to 5 years.

THE SCHOOL AT COLUMBIA UNIVERSITY
556 W.110th St
(212) 851-4216

The School at Columbia University is an independent K-8 school with a dynamic and diverse community drawn equally from the families of University employees and families in public school districts 3 and 5. Through the generosity of the University, the school's lottery-driven admissions process is entirely need-blind. The faculty is dedicated to fostering personal resourcefulness and integrity, a sense of social responsibility, and a life-long appreciation of learning through an innovative, socially and emotionally supportive, and academically challenging program tailored to the needs of the individual student.

SEWHO
415 W. Broadway, 6fl
(917) 715-8835
Email info@sewinginsoho.com

SewHo is a hands-on youth sewing program based in New York City, and taught by Conchi Vitale, a Soho-based fashion and accessories designer. At SewHo, students will learn skills like: basic sewing terms, sewing machine skills, how to properly read a pattern, how to lay out and cut pattern pieces, measuring techniques for pattern sizing, how to tell the difference between the right side and the wrong side of fabric, and proper garment assembly. There are various classes offered – an after-school program, birthday parties, summer sewing camp, and more.

SMARTER TODDLER
400 W 55th St,
W. 55th School (bet. 9th & 10th Aves)
(212) 757-2145
W. 89th School (bet. Columbus and Amsterdam)
(212) 721-4964

Smarter Toddler teaches children a love for music, art, and movement. In collaboration with Music Together, Art For Kids, and Creative Keys Yoga, children ages 3 months-5 years get an extensive arts curriculum. Smarter Toddler's uniqueness lies in their mission, which is an enhanced-quality childcare program through cultural experiences and the arts. Children at Smarter Toddler benefit from the many different cultures which make up its international student body. They will leave Smarter Toddler with a strong sense of self awareness, and a better understanding of the local and global community.

SPEECH ZONE
Eastside and Westside locations
(212) 799-1750
Email dkotlerslp@gmail.com

Speech Zone is a pediatric therapy center that provides speech, language, and occupational services for NYC Board of Education pre-school (CPSE) and grade-school (CSE) children, as well as private speech and language sessions. Our occupational therapist has experience in improving fine-motor skills, visual-motor skills (including handwriting), core and upper body strength, attention span, organization skills, coordination, and body/spatial awareness, as well as encouraging age-appropriate play skills, participation in activities of daily living, and addressing sensory integration. We are certified to provide The Listening Program. Blue Cross/Blue Shield is accepted.

THE SPEYER LEGACY SCHOOL
15 W. 86th St
(212) 581-4000

Speyer Legacy, a non-profit K-8 independent school founded in 2009, is designed to meet the unique needs of intellectually advanced learners, needs that are not addressed in the mainstream public or private classroom environment. The innovative educational approach and teacher training set this school apart as a model and demonstration school for best practices in gifted education. Our curriculum is designed to educate the mind, body, heart, and spirit of advanced learners with respect, responsibility, and rigor.

ST. LUKE'S SCHOOL
487 Hudson St
(212) 924-5960

Located on an historic garden block in the West Village, St. Luke's School offers a balanced, yet challenging, curriculum for children (JK through Grade 8), designed to educate a child intellectually, socially, and emotionally. The academic program balances basic skills and critical thinking through collaborative learning and interdisciplinary study. Science, art, foreign language, drama, physical education, and technology complement a core curriculum of reading, writing, and mathematics. Our commitment to diversity and global perspectives creates caring and responsible students. St. Luke's School graduates enroll in outstanding high schools.

STAR KIDZ - NYC
NYC (Upper East Side)
Westchester (White Plains)
(914) 921-0006

Star Kidz is a unique program combining singing, acting, hip-hop, and more, all in one class! Since 2004, we've helped hundreds of kids, ages 3-17, learn performance skills and build confidence through fun, motivating classes. Through a carefully designed curriculum, Star Kidz features a staff of New York City-trained instructors who teach technique, develop performance skills, and build confidence for every level and age group, from Broadway hopefuls to those on the shy side. View our online video: starkidzonline.com. Let your child shine!

SUTTON PLACE SYNAGOGUE
225 E. 51st St
(212) 593-3300

Sutton Place Synagogue's nursery and religious schools promote children's sense of Jewish integrity, self-esteem, and social, emotional, and intellectual growth. Our Jackson Religious School offers manageable class sizes, highly skilled instructors, Saturday class options, and one Bar- or Bat-Mitzvah per service. Our Kaplan Nursery School features structured and open-ended activities to help children become confident, joyful, life-long learners. This fall, we're introducing a new Toddler Program for children 12-24 months. For more information, please contact us at (212) 593-3300, or at mschneider@spsnyc.org.

THIRD STREET EARLY CHILDHOOD ARTS DAY CAMP 2011
Third Street Music School Settlement
235 E. 11th St
(212) 777-3240

Third Street offers weekly after-school and Saturday music instruction in most instruments, as well as a variety of dance classes. In addition to these programs, Third Street offers a range of early childhood activities, including a licensed pre-school program, pre-school musicianship and arts programs for children 18 months and up. The School also provides music instruction for adults of all ages and levels, and presents more than 200 free, public concerts and recitals by students, faculty, and guest artists every year.

VITAL CHILDREN'S THEATRE
2162 Broadway, 4th fl
(212) 579-0528

Angelina Ballerina The Musical: Angelina and her friends, Alice, Gracie, AZ, Viki, and even their teacher, Ms. Mimi, are all aflutter because a special guest is coming to visit Camembert Academy. Angelina and her friends will perform all types of dance, including hip-hop, modern dance, the Irish jig, and of course, ballet. They are excited to show off their skills to their famous visitor. Angelina is the most excited of all, but will she get the starring moment she hopes for?

WINSTON PREPARATORY SCHOOL
126 W. 17th St
(646) 638-2705
57 W. Rocks Rd, Norwalk, CT
(203) 229-0465


Winston Prep offers an individualized and responsive setting for middle and high school students with learning differences. The WPS program provides continuously modified instruction based on each student's dynamic learning profile, with curriculum designed to challenge each student's strengths, while developing both academic and life skills. The individualized instruction offered at WPS has successfully resulted in 94 percent of graduates going on to attend college or university.

WORLD CLASS LEARNING ACADEMY
44 E. 2nd St
(212) 600-2010
Email info@wclacademy.org

World Class Learning Academy, New York, is an international school for children ages 3-11, located in the East Village. Part of a successful network of schools in the US and abroad, WCLA has a rigorous, learning-focused curriculum that is used in over 1100 schools in 65 countries. Passionate, highly trained teachers personalize learning opportunities for each student, helping children gain the knowledge and skills they need to succeed in their local and global communities.