Related: World science festival, NYC, new york, ny, 2010, schedule, calendar, events, activities, kids, children, family, classes, presentations,




The annual World Science Festival comes to New York City June 2-6 this year. Check out a list of festival events especially for kids and families.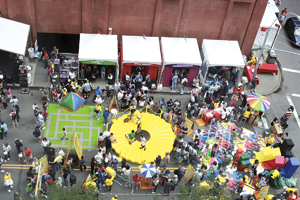 Budding Albert Einsteins and Marie Curies are in for a treat when the 2010 World Science Festival comes to town. Now in its third year, the festival will span five days, June 2-6, and include 40 events at more than a dozen venues throughout the city, all dedicated to taking science out of the laboratory and putting it into the hands of the public. Events, demonstrations, and workshops will celebrate the imagination, ingenuity, and inventiveness of the world's best and brightest scientific minds, and strive to cultivate a greater general knowledge and appreciation of the discipline.
Fun family events scheduled during the festival include:
June 5
11am - "Mathemagician and the Mathemagician's Apprentice:" Mathemagician Arthur Benjamin brings the best of math and magic together as he performs feats of mental mathematical gymnastics for ages 6 and up. $15. The New School, Tishman Auditorium, 66 West 12th Street.
1pm - "Einstein, Time and Cool Stuff:" With cool liquid nitrogen tricks, Nobel prize-winning physicist William Phillips demystifies physics for families and demonstrates what happens when ordinary objects are taken to the edge of absolute zero. $15. NYU Kimmel Center, Eisner and Lubin Auditorium, 60 Washington Square South (LaGuardia Place), 4th Floor.
5pm - "Cool Jobs:" Kids ages 8 and up can meet scientists with cool jobs like hunting for extraterrestrial life and building sophisticated robots. $15. NYU Kimmel Center, Eisner and Lubin Auditorium, 60 Washington Square South (LaGuardia Place), 4th Floor.
June 6
11:30am - "Astronaut Diary: Life in Space:" Astronauts who've lived on the International Space Station (ISS) tell all - what it's like to ride on a spaceship and to eat, sleep, exercise, do science, and "walk" in space. Plus, an astronaut currently aboard the ISS will answer questions via a downlink from space. Tickets required; may be picked up starting at 10am at Skirball Center box office. NYU Kimmel Center, Rosenthal Pavilion, 60 Washington Square South (LaGuardia Place), 10th Floor.
6pm - "Icarus at the Edge of Time:" This orchestral work is a "re-imagining" of the classic fable from Greek mythology and based on the children's book written by Columbia University physics professor Brian Greene. For ages 5 and up. $30; $15 children and students. NYU Skirball Center, 566 LaGuardia Place at Washington Square South.
10am-6pm - World Science Festival Youth and Family Street Fair: The festival culminates with a street fair in Washington Square Park. This free, day-long celebration for all ages will showcase the intrigue and pure fun of science with a non-stop program of interactive exhibits, experiments, games, and shows, all meant to entertain and inspire.
For more information and a complete schedule of events, visit www.worldsciencefestival.com.
More New York City Articles
2010 Nassau Coliseum Fair in Uniondale, NY
CG: SEEING AND BELIEVING Exhibit Concludes Today at St. Mary the Virgin
CG: The Gallery Players Announces MACBETH, Closes 7/31
CG: Artistic Director/Executive Producer of Hofstra Ent. Dons His Performer's Hat
CG: Summer Festival of Sacred Music Announces Free Events

Be a good fellow parent and share this with a friend who would be interested
Local New York City Sponsors
See Our New York City Directory