The 52nd Street Project theater collective gave 10 young kids from Hell's Kitchen the opportunity to write and direct their own original plays, which were performed by professional actors on an NYC stage.
The 52nd Street Project theater collective welcomed 10 new students to its ranks this spring: Kwaku Abangan, Steven Anthony Baez-Padilla, Sabrina Caldona, Ricardo Currin, Allyssia Feliciano, Bryan Lopez, Makice Love Pacheco, Tiniah Renee Powell, Tyleek Powel, and Fallyn Vega. The group of 10- and 11-year-olds, all hailing from Hell's Kitchen, participated in the Playmaking Program and were responsible for writing and directing the series of 10-minute plays that made up Jumping Off The Page: Plays in 3-D, performed March 30 – April 1 at Five Angels Theater.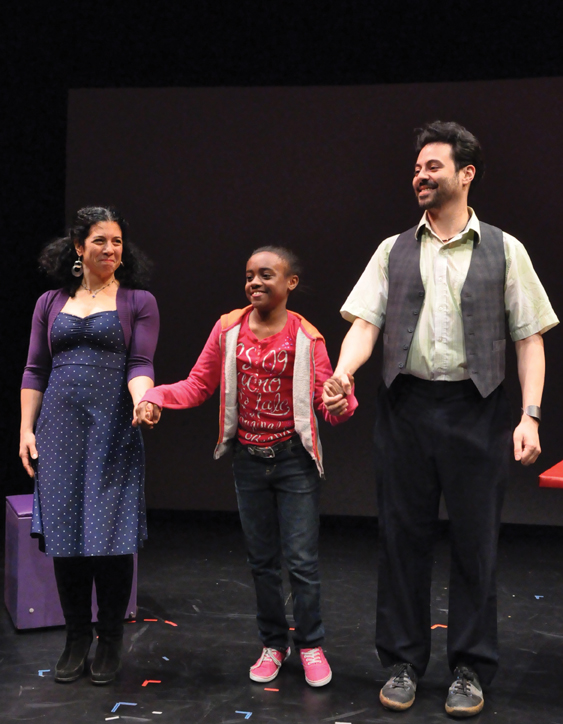 Actress Cecilia Arana, playwright Tiniah Renee Powell, and actor Juan Francisco Villa take a bow after an April 1 performance of "Pretend Friends," produced by The 52nd Street Project.
Twice a year, The 52nd Street Project accepts 10 students (five boys and five girls) into its Playmaking Program, a nine-week beginner class where students write their own plays and direct adult theater professionals to perform them for the public. The class concludes with a "writer's retreat" in the countryside and a weekend of free public performances. Afterward, the students are eligible to participate in a range of related programming that extends through high school. Kids can stay with the program for up to eight years, and the Project currently has about 160 participating students.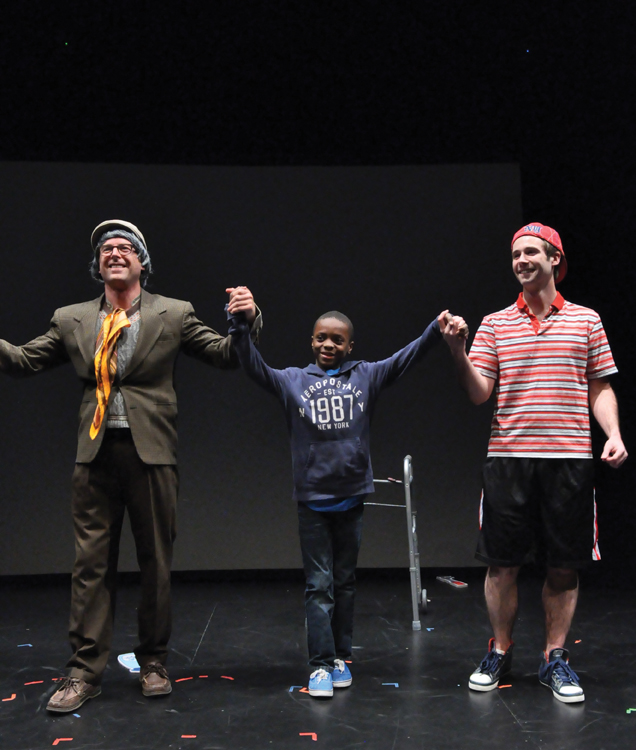 Left to right: Actor Lucas Near-Verbrugghe, playwright Tyleek Mark Powell, and actor Todd Bartels enjoy a round of applause after the last performance of Tyleek's "I'm With A Dummy" at Five Angels Theater on April 1.
The Project was founded in 1981 by actor/playwright Willie Reale, in an effort to improve the quality of life for kids growing up in Hell's Kitchen. The Project still offers its core theater programs—age-specific endeavors that progress strategically as the students grow up, granting them more responsibility as they mature and progress. But now, after-school activities incorporate many other art forms and homework help is also offered every day after school.
The requirements to participate are simple: one must be from Hell's Kitchen, and preference is given to both legacies and students who attend PS 111 (located across the street from the Project). "We want to give children an opportunity…to discover their own potential, which is vast," says Gus Rogerson, the program's artistic director. "The 52nd Street Project allows them to discover a place to belong—a place where they can be part of a group of people who do creative work on a regular basis."
For more information about The 52nd Street Project, visit 52project.org.