As always at a Children's Museum of Manhattan (CMOM) exhibit, computers facilitate the learning.  But the most compelling machine at the new
Gods, Myths and Mortals: Discover Ancient Greece
exhibit has no CD-ROM drive or monitor, no operating system; it's an Antikythera Mechanism, the 'world's first computer'.  The artifact, behind glass, dates from 150-100 B.C.E., and was found over 100 years ago at the bottom of the ocean. The mechanical box was used in navigation — you can still see the gears.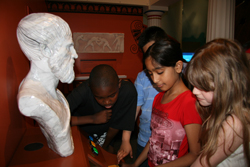 Fun with Aristotle Animatronic at the new CMOM exhibit
Photo: Courtesy, CMOM

   While there are plenty of buttons for toddlers to push, older kids will get more out of this show; at a preview, 4th–6th graders were engaged in the activities.  The museum says the exhibit is for kids 6 and older; if you can convince your 10-year-old that he isn't too old for a children's museum, he will have a great time. Kids can use modern computers to examine X-rays of shipwreck finds or to reconstruct the Temple of Zeus.  They can play a variation of 20 Questions with an animatronic Aristotle, or follow "Hero Stations", answering questions to complete Odysseus' journey.
   But there is much more than playing via keyboard.  Kids can learn about the Trojan horse, and climb through a wooden reproduction.  There is also a siren's cave, with the Greek version of
American Idol
; kids can sing along to songs like "We Will Rock You" and "We are Family".  Cyclops' cave has life-size sheep. There is no nude wrestling in the gymnasium, but kids can tackle mechanical arms.
   The multi-sensory experience includes Greek clothing so youngsters can dress like the ancients, and decoding sheets so they can try writing the Greek alphabet. There are Greek words along one wall, along with their English derivations and their roots, and another panel where kids can match modern images to their Greek inspirations.  There are blocks to build the Temple of Zeus, and a book area filled with books on myths and ancient Greece.  There is a short video on weaving; a large loom where kids can try it out; and a computer game, a weaving contest with Athena.
   When the activities are integrated into the myths, kids can learn that when Odysseus returned home, his wife, Penelope, wasn't sure of his identity, so she tested him. Kids can play in twos, testing each other on such kid-friendly topics as favorite color and chocolate/vanilla preference. 
Two years in the making, Gods, Myths and Mortals, the most expensive exhibit ever at CMOM, remains until December 2008.
Info:
Where:
212 West 83rd Street
When: Tuesday–Sunday, 10am–5pm
How much: 
$9, children and adults; $6, seniors; free, under age one.
For more information: www.cmom.org
or (212) 721-1234