UPDATED AUGUST 2014: Whether you live uptown or downtown, east or west, from SoHo to Murray Hill, NYMetroParents guides you to finding the best after-school programs in Manhattan for kids. Our guide provides listings for tons of activities, from academic enrichment and tutoring, to foreign language coaching, sports and fitness, music, dance, and theatre arts, and religious schools in Manhattan. And find even more after-school classes and programs in Brooklyn and Queens.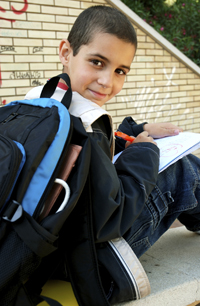 ACADEMICS WEST: TUTORING, COACHING & COGNITIVE REMEDIATION
124 W. 79th St., Suite 1B
212-580-0080
[email protected]
[email protected]
We teach, remediate, and coach students based on their learning styles. Using our metacognitive-driven techniques, specialists support students in ways that help them learn and retain information more easily and effectively. Each student has a collaborative team, comprised of a learning specialist and an educational psychologist, that creates individualized learning strategies. Our method, Clinically Informed Tutoring™, is designed to help students improve beyond what traditional methods can achieve. We tutor students from kindergarten through graduate school, in all content areas, and with standardized testing.
Lower East Side: 112 Ridge St.
Queens: Forest Hills, Jamaica Estates, Kew Garden Hills, Rego Park
Brooklyn: Crown Heights
718-902-2325
At All My Children Day Care, we provide a place for your child to grow, both emotionally and intellectually. Our staff is certified, with extensive backgrounds in early childhood development and education. Our eco-friendly program includes theater, nature, music, dance, technology, and field trips. We serve organic meals and are open Monday-Friday, 7:30am-6pm, for children ages 6 months through 5 years. Register now.
419 E. 91st St.
212-410-3117
The Art Farm in The City is a unique learning experience. Our pre-school program for 2s and 3s will foster independence in a play-based setting. Our indoor petting zoo connects children with nature and animals. Children cook fresh, organic dishes in our Farm Foodies class, care for animals in our after-school Animal Care class, sing along with friends and create art in adult-and-me classes such as Rocks, Smocks, and Animals, or join Laurie Berkner's The Music in Me class. You can even host your child's birthday! All-inclusive packages create lasting memories without the hassle.
76 Ninth Ave., Suite 537
212-691-5919
[email protected]
The after-school program is a great introduction to storytelling, writing, acting, and improvisation. The Atlantic philosophy of ensemble, and our commitment to creating your own work, is deeply rooted in the creative acting experience for all age groups. Younger children create characters and stories through creative play and improvisational exercises, while older children are introduced to the Atlantic Technique as they approach their first scene work and monologues. All classes culminate in a workshop performance at the end of each semester. Fall workshops begin Sept. 15.
1651 Third Ave.
212-410-9140 x12
Ballet Academy East offers classes to children and adults of all ages and levels. The Pre-Professional Division for ages 7-19 trains dancers for professional careers in ballet. Enrichment classes are open to students ages 7 and older who wish to study ballet less intensively. The Young Dancers Division offers pre-ballet, tap, and modern to ages 3-6. In BAE's Petit Dancers Program, children 18 months to 2 years, along with their parents or caregivers, share the joy of music and dance. Adult classes for all levels are available in ballet, tap, Pilates, ZUMBA, and yoga.
Astor Place Theatre
434 Lafayette St.
800-BLUEMAN (258-3626)
Bring the kids! Finally a show that can be fully enjoyed by both parents and kids. Ninety minutes with no intermission, packed with insane music, art, color, and humor. The Blue Men don't speak—they use non-verbal means, such as music and actions, to communicate. Free "Meet and Greet" in the lobby after the show—take photos with the Blue Men and their incredible musicians. Fun packages include Family VIP, Birthday Parties, and group discounts. Weekend day time shows for the fall. Fantastic fun for back-to-school time. Recommended for kids ages 3 and older.
167 W. 81st St. (Amsterdam and Columbus avenues)
212-873-BOOK (2665)
[email protected]
Book Nook has a creatively designed, inviting, and warm atmosphere that offers both a home and school setting for children age 1½-5 years. The warm colors and literacy-rich environment create an ideal environment for reading and learning success. The program builds vital skills needed for kindergarten acceptance through a whole-child literacy approach. Classes run 90 minutes once a week, from mid-September to mid-June. It's the perfect transitional, supplemental, or tutoring program.
250 E. 61st St.
646-281-0244
[email protected]
At Bridge Community Playschool children, 2.6-4 years, are guided in play-based, experiential learning by passionate teachers who understand the developmental ranges of preschoolers. We offer a four-day morning program with small class size and a 4-to-1 student-to-teacher ratio that enables our teachers to give each child the individual attention needed during these essential early years. We are fully licensed and in compliance with staff regulations and certification requirements. Located in the heart of the city, we embrace the cultural and religious differences of our vibrant community.
Capezio 51st Street
1650 Broadway (at 51st Street), 2nd Floor
212-245-2130
Capezio 69th Street
201 Amsterdam Ave. (at 69th Street)
212-586-5140
Capezio at Peridance
126 E. 13th St., Lower Level
212-388-0876
Capezio New York retail stores are the one-stop location for all dance dress code needs. The stores are conveniently located throughout Manhattan, making them the destination shops for dozens of dance studios, schools, and performing arts centers. All Capezio retail locations stock an extensive collection of ballet slippers, pointe shoes, tap shoes, jazz shoes, leotards, tights, legwarmers, and more. Make sure to check out the stores' extensive line of accessories and fashion items to coordinate with your basic selections. Experience the rich, 127-year history that defines Capezio as the "Icon of Dance."
CHELSEA PIERS SPORTS AND ENTERTAINMENT COMPLEX
West 23rd Street and Hudson River Park
212-336-6500
Chelsea Piers is a 28-acre sports village located on three historic Hudson River piers, offering the city's best sports programming for children ages 12 months to 17 years. Easily accessible by bus, subway, or car (on-site parking available), Chelsea Piers features state-of-the-art facilities offering a wide range of sports including gymnastics, basketball, soccer, baseball, rock climbing, golf, ice-skating, and hockey. Youth sports programs are available year-round, including after-school specialty classes, Saturday camps, holiday camps during school breaks, and an extensive summer camp. For more information, call or visit the website.
146 W. 13th St.
212-242-7802
City and Country is a coeducational school for children ages 2-13. Founded in 1914, C&C is one of the oldest and most celebrated progressive schools in the country. Housed in seven brownstones including adjacent courtyards, C&C enjoys a lovely campus with abundant outdoor space, character, and natural light. Encouraged to question, problem-solve, and approach life's challenges with optimism, City and Country graduates are confident, creative, resourceful, and compassionate. After-school programs give children of different ages the chance to work together on projects that may fall outside their usual classroom routines.
1556 Third Ave., Suite 603
212-427-7770
collinaitaliana.com
[email protected]
Set in the Upper East Side, our Italian classes allow children to benefit from a comprehensive approach in an age-appropriate and inviting atmosphere. Classes for children, which consist of three to eight students, include Giardino dei Bambini (drop off on Tuesdays and Thursdays, 9am-12pm), and Create, Act & Draw. Children gather around to share learned words and expressions through playful, skill-building activities such as games, songs, dances, and stories. For all the bellissimi details on Collina Italiana, call our Italian instructors today!

CONGREGATION HABONIM
44 W. 66th St.
212-787-5347
[email protected]
Congregation Habonim is a neighborhood congregation that offers diverse programming serving adults, preschool- and school-age children and families. Under the leadership of our clergy, Rabbi Joshua Katzan and Cantor Bruce Halev, along with an involved and committed lay leadership and staff, Congregation Habonim brings the values, legacy, and celebrations of Judaism to life as part of a quality Jewish education for your children that engages, challenges, and excites both children and families. The preschool offers opportunity for growth, stimulation, and socialization within a nurturing environment.
CORBIN'S CRUSADERS SPORTS CLUB AND DAY CAMP
New York City - Main Office
351 E. 74th St., 5th Floor
212-875-8174
Summer Day Camp
175 W. Clarkstown Road, New City
212-875-8174
Excel with the fastest-growing after-school athletic program in New York! Join in football, lacrosse, baseball, soccer, basketball, fencing, golf, and swimming programs. Door-to-door transportation provided from school to sports, and home.
THE DILLER-QUAILE SCHOOL OF MUSIC

24 E. 95th St.
212-369-1484
[email protected]
Since 1920, Diller-Quaile has been developing the innate musicality in each individual, inspiring participation for a lifetime. Diller-Quaile offers early childhood classes (ages 3 months to 6 years); instrument and voice lessons; classes and ensembles; adult programs; and teacher training and Dalcroze courses. Rug concerts for young children, master classes, and faculty concerts occur throughout the year. Curricula emanate primarily from international folk music and classical music. The school annually enrolls 1,100 students of all ages. Fall classes begin in September; visit diller-quaile.org to apply online. Accredited by the Accrediting Commission for Community and Precollegiate Arts Schools.
291 Central Park West
212-724-7524
[email protected]
Founded in 1872, Dwight School is dedicated to igniting the "spark of genius" in every child. A Dwight education rests on three pillars: personalized learning, community, and global vision. Dwight was the first school in the U.S. to offer the comprehensive International Baccalaureate curriculum for students from preschool to 12th grade. A new 40,000-square-foot Athletic Center features an indoor pool, gym, and rooftop tennis courts. Graduates attend some of the finest colleges and universities, including Harvard, Yale, MIT, Princeton, Stanford, and Oxford. Register for an open house at dwight.edu/admissions.
38 Delancey St., 2nd Floor (entrance Forsyth Street)
212-375-9500
[email protected]
Evolution Enrichment Center is a new, state-of-the-art, 15,000-square-foot facility on the Lower East Side, designed to offer a unique, exceptional array of enrichment programs to children ages 2-14. EEC offers signature classes with multiple levels for the mind, body, and soul. EEC takes an all-inclusive approach to teaching children the skills they need to lay the foundation for success. We believe in teaching with fun, humor, and love. Some of our unique offerings include Rhythmic Gymnastics, Flexibility Training, Classical Ballet, Dance, Art, Fusion Yoga and Acting, and Chinese Culture Immersion.
GAN EDEN PRESCHOOL
The American-Israeli Preschool of Manhattan
131 W. 86th St.
212-579-3096
[email protected]
Gan Eden Preschool is a unique American-Israeli program combining the nurturing environment of the Jewish home and tradition with widely recognized methodologies for early childhood development. Gan Eden employs educators who are well versed in the latest U.S. and Israeli Early Childhood Educational programming as well as elements of the Reggio Emilia and Montessori schools. All areas of your child's development—emotional, social, and cognitive—are important. Gan Eden takes a holistic approach, providing a clean, safe, and welcoming environment in which your child can realize his or her personal potential.
GERMAN-AMERICAN SCHOOL: WHERE KIDS LEARN GERMAN
212-787-7543
German-American School offers a unique after-school language and culture program. Parents from diverse ethnic backgrounds send their children to our New York state-accredited German language program, in which children can learn German beginning at age 4. Classes are small and taught by native German speakers. The didactic approach stresses interactive learning. Singing, drawing, and German games are popular in the playgroup. In the upper grades, we stress memorization, reading, writing, culture, and grammar. No prior German required. Adult beginners program is also available.
27 Barrow St.
46 Barrow St.
16 Jones St.
212-991-0003 x400
Join Greenwich House in the heart of Greenwich Village for loads of fun and creative children's programming for kids ages 6 months to 14 years. There's early childhood enrichment, private and group music, Suzuki Violin, ballet and jazz, basketball, science lab, architecture and design, ceramics, and much more! Greenwich House has it all for every age! Registration is ongoing. Walk over and late pick-up options are available for after-school programming. For more information, please visit greenwichhouse.org or call 212-991-0003 x402.
HARLEM HEBREW LANGUAGE ACADEMY CHARTER SCHOOL
147 St. Nicholas Ave.
646-801-2427
Harlem Hebrew Language Academy Charter School is a free public charter school in Manhattan's CSD 3 providing students with the foundation to pursue advanced studies and achieve personal growth as global citizens. Our nurturing, rigorous curriculum features intensive instruction in modern Hebrew language, and two to three teachers in each class. Our diverse student body develops social and civic responsibility through service learning. Our social studies curriculum explores Israeli history and culture, and Harlem's history as a focal point of migration and immigration. Like all public schools, we are non-sectarian and do not teach religion. All are welcome!
1800 Watermark Drive
P.O. Box 269, Columbus, OH
800-255-9517
For more than 65 years, Highlights for Children has been dedicated to helping kids become their best selves—creative, curious, caring, and confident. With Highlights Hello™ for ages newborn to 2, High Five™ for ages 2-6, and Highlights® for ages 6-12, our magazines are perfect for sharing with little ones, or for encouraging big kids to explore on their own. Inspire a love of reading and learning in children of every age, and make memories that last a lifetime, with magazines from Highlights.
HUDSON RIVER PARK'S PIER 62 CAROUSEL
Hudson River Park's Pier 62 @ West 23rd Street and the Hudson River
The Hudson River Park's Pier 62 Carousel has been created using 33 hand-carved wood figures of Hudson River Valley animals and one chariot, allowing for up to 36 passengers per ride. The carousel building was designed with a green roof, and opens out to a large sprawling lawn and tree-lined pathways. Hours are 11am-7pm, weather permitting. The cost is $2 per ride. One supervising adult accompanying a child under 42 inches may ride for free.
INNOVATE MANHATTAN CHARTER SCHOOL
38 Delancey St., Floor 3
212-432-4310
IMCS is about educating tomorrow's global citizens. Networked to schools across the world, we are a goal-focused, socially, and emotionally supportive middle school. We believe that for our students to be high school-ready, we must provide a highly personalized and intellectually rich environment where students learn to self-manage, self-reflect, and manage time. Through clubs and extracurricular programs, students are encouraged to take an active role in the school and community. We offer opportunities for student enrichment through community service, the arts, cultural outings, and international exchange with our sister schools across the world.
244 E. 84th St.
212-772-7633
25 Hubbels Drive, Mount Kisco
914-244-8811
Jodi's Gym has been providing New York kids the highest level of fun, friends, and fitness for 33 years! Its step-by-step, no-fail approach ensures that every child feels a sense of accomplishment. From the tiniest tumblers to advanced gymnasts (9 months to 12 years), there is something for everyone. They offer parent/child gym classes, pre-school gymnastics, pre-school alternative, school-age gymnastics (kindergarten-seventh grade), Music Together, special-needs gymnastics, summer and holiday-break camps, free playtime and extra perks for members, play groups, private lessons, and the best birthday parties ever.
KATHLEEN SCARBOROUGH
14 Jumel Terrace, #3, New York
240-277-8540
Email [email protected]

Kathleen Scarborough is a professional violinist and violist who has taught children (and adults!) of all ages for more than 20 years. She has just moved to New York from metro Washington, D.C., where she had a large private studio of violin and viola students. Kathleen offers music lessons for students of all ages and ability levels, beginner through advanced. Call or email to register for fall classes.
247 W. 24th St.
212-229-9340
[email protected]
Chelsea's best-kept secret, The Kid's Korner Preschool, is a NAEYC-accredited preschool and nursery school, whose intimate, small classrooms are designed to provide a sense of warmth and acceptance for children. A backyard brings the country to the city, "paved" with fake grass so that children can take off their shoes, lie down, and look at the clouds. The calm, quiet space is decorated with birds, butterflies, and sunflowers.
1420 Second Ave. (at East 74th Street)
212-744-4900
[email protected]
Since 1999, Kids in Sports has been offering specialized sports programs for children ages 12 months to 12 years. Our mission is to teach children the fundamentals of sports in a safe, fun, friendly, and supportive environment emphasizing sportsmanship, teamwork, respect, and communication. We instruct children in multi or sport-specific classes, focusing on baseball, basketball, flag football, floor hockey, lacrosse, soccer, and volleyball. We offer preschool alternative and after-school programs, in addition to hosting holiday and summer camps, and birthday parties throughout the year.
KIDS MUSICROUND AT SMALL WORLD CONNECT
Manhattan and Manhasset Locations,
347-604-6004

Award-winning Kids MusicRound has been offering music and movement programs for ages newborn to 4 years since 1999. Early music study builds lifelong critical thinking skills. That's why Kids MusicRound trains teachers to focus on developing primary musical competence, such as singing in tune, hearing rhythm, and keeping a beat, and applies classic tenets of music education. Best of all, Kids MusicRound's songs, melodies, lyrics, and materials are firmly rooted in professional experience and recognized music theory. Every session offers fresh, original material. Call for a free demo class today.

LANGUAGE WORKSHOP FOR CHILDREN
Manhattan, Upper East Side, and Manhasset, LI
212-628-2700
Email [email protected]

CNN called LWFC director François Thibaut "one of a very few experts in teaching languages to small children." Since 1973 his classes, camps, and preschools have introduced French, Spanish, and Chinese to ages 6 months to 9 years by capturing the "critical years," when children possess their strongest capacity to absorb languages. Each session children receive a brand-new, glossy, full-color workbook and CD, jam-packed with original, language-rich songs (and ages 3 and older get an LWFC storybook, too). The LWFC's Professor Toto materials have won six awards. Parents magazine named the LWFC one of "6 Classes Worth the $$."

THE LITTLE GYM
777 White Plains Road, Scarsdale
914-722-0072
2121 Broadway, 2nd Floor (between 74th and 75th streets)
Upper West Side, Manhattan
212-799-1225
207 E. 94th St. (between Second and Third avenues)
Upper East Side, Manhattan
212-787-1124
28 Franklin Turnpike Waldwick, NJ
201-445-4444

The Little Gym is an exercise and motor development center for children, offering gymnastic classes, sports skills development, dance, cheerleading, and karate classes for children ages 4 months to 12 years, in a loving, non-competitive environment. Qualified instructors implement programs designed to build self-esteem and confidence. An emphasis on music and fun encourages both physical and emotional growth. The Little Gym also offers summer camp, holiday camp, Parent Survival Night, and Awesome Birthday Bashes.

LOOSE CHANGE SERVICES COLLEGE ADMISSION VIDEOS
347-225-5711

Loose Change Services—a subsidiary of Penny Lane Pictures—recognizes that pre-screen and highlight videos have become a significant part of the college admissions process for athletes and performing artists. It's more important than ever to be certain about the quality of your submission. With a 100-percent acceptance rate, LCS provides custom highlight reels, audition, and scholarship videos for high school students. The LCS team boasts a combined 20 years of experience working alongside global leaders, pop-culture fixtures, and production juggernauts such as Sony Pictures Television and famed talent agency, CAA.

MORNINGSIDE MONTESSORI SCHOOL
251 W. 100th St., New York
212-316-1555
Email [email protected]

Morningside Montessori School is a preschool for children ages 2-5 years offering a small, nurturing environment where children can explore their love of learning and take their first steps towards independence. Morningside blends traditional Montessori materials with non-Montessori elements of early childhood education such as blocks and fantasy play. An after-school program is available for children ages 3-5. Morningside loves and welcomes families of all diversities. Visit our web site to apply. Call for information about applications for the 2015-2016 school year.

MUSIC FOR AARDVARKS - MANHATTAN
800-507-2080
Email [email protected]

Music for Aardvarks is a "must" music class for every baby and toddler growing up in Manhattan. Ask thousands of parents who sing our original "Taxi, Taxi" song three times a day, year after year, along with many other original city kids hits. Almost all the editors, staff, and owners of parenting magazines, bring their children to Music for Aardvarks. People who know cool music and the best kids' classes out there rock out with us in Music for Aardvarks class!

POLARIS PRODUCTIONS
Classes meet at CAP21 Studios, 18 W. 18th St., Room 603, New York
917-658-9538
Email [email protected]

Polaris Productions offers a nine-month musical theater education program for young people ages 8 through 19. This is a comprehensive program of dance, music, and acting instruction, which will culminate in a fully staged production of Beauty and the Beast in mid-May. Classes meet once weekly, on Sunday afternoons, beginning in September. Enrollment is ongoing and an audition is NOT required. Kids love it! Creating great theater together is a deeply rewarding experience, and our young actors will hold these memories very close to their hearts for years to come.

PRESCHOOL OF AMERICA
345 42nd St., New York
212-767-0606
Locations include Brooklyn, Queens, Upper East & West Sides, Midtown, and Downtown

The largest pre-school system in New York encourages each child to shine. We provide an outstanding curriculum focusing on subjects such as math, science, reading, and writing, as well as cognitive, emotional, and social skills. We offer programs for children ages infant to 6 years. Our specialty programs include music, art, dance, yoga, martial arts, and Mandarin. Preschool of America offers a safe, convenient program for after-school hours, school holidays, and other school closings. Visit any of our facilities for a guided tour, and meet our friendly and knowledgeable staff members.

RIVER PARK NURSERY SCHOOL
711 Amsterdam Ave. (at 94th Street), New York
212-663-1205

River Park Nursery School has been providing the Upper West Side community with quality early childhood education since 1967. The school puts an emphasis on whole-child development, while a strong focus is placed on academics through creative play. River Park is open to children ages 2.8-5 years.

ROBOFUN
2672 Broadway (at 102nd Street), New York
212-245-0444

Registration is now open for Fall 2014 after-school and weekend programs! Your junior engineer will build and design their own Lego® robots (kindergarten-sixth grade), video games (first-sixth grades), and stop-motion animation films (third-sixth grades). Children work in groups of up to 12, with one of our trained lead mentors who love children and work hard to make sure each of our students has a fun time learning and building their own projects. After-school programming begins the week of Sept. 8! Register at robofun.org.

THE SCHOOL AT STEPS
2121 Broadway at 74th Street, New York
212-874-3678
Email [email protected]

The School at Steps cultivates young dancers, ages 3 months to 18 years, from their first step in a dance studio through their pre-professional training. Students discover their individual artistic voices in a creative environment with the guidance of an internationally recognized faculty. The personal attention the school provides encourages students to mature as dancers, grow as individuals, and enrich their passion for the art form. School at Steps graduates go on to dance with professional companies, study at top college dance programs, and perform on Broadway.

SELMA MAISEL NURSERY SCHOOL OF TEMPLE SHOLOM
300 E. Putnam Ave., Greenwich
203-622-8121
Email [email protected]

We offer 2-, 3-, and 4-year-old half-day programs, as well "Itsy Bitsy" and "Little Explorers" infant and non-separating programs, a hands-on Discovery Room with live animals, and a new, state-of-the-art playground, as well as after-school enrichment programs. Limited spaces are still available for the 2014-2015 school year. Call today to schedule a tour! Contact Phyllis Lyons at 203-622-8121.

SOKOL NEW YORK
420 E. 71st St.,
212-861-8206
Email [email protected]

Come grow with us! At any age or stage, Sokol has a class for you: Baby Gym for our little explorers and a fully equipped gym for the tot ready to jump, hang, and swing. In our Pre-K and K Gym, we nurture our 3-year-olds, encourage our 4-year-olds, and challenge our 5-year-olds. Sokol offers Tot Fitness (cardio and conditioning fun), StoryMotion (story, craft, and movement), and Open Gym (unstructured playtime). Come sample a class Sept. 9, 10, or 11.

STAR AMERICA PRESCHOOL
780 Eighth Ave., New York
212-262-4896

Star America Preschool is committed to offering a welcoming, educational full- or half-day program for children ages 6 weeks to 5 years. With the support of qualified, loving teachers, students will reach and surpass their social, emotional, physical, and cognitive milestones through an array of different teaching techniques. Through the use of creative curriculum, children's imaginations have no limits, and they are encouraged to soar beyond their potential. Enrichment classes, an indoor gym, and field trip opportunities complete our program. We offer nursery, pre-K and after-school programs. Visit our Open House Aug. 22, 9am-5pm.

TADA! YOUTH THEATER
15 W. 28th St. (at Broadway), New York
212-252-1619 x4

TADA! fall classes meet weekly from Sept. 22-Dec. 17, and are team-taught by two professional theater artists, experienced and trained in arts education. Classes culminate with a sharing in the last session. In keeping with our philosophy, each class is based on ensemble-building techniques that facilitate an equitable and active learning environment for a range of ages and abilities. TADA! works to build self-confidence, and challenges each child to be the very best they can be! Visit TADA! Youth Theater at tadatheater.com.