Whether you live uptown or downtown, east or west, from SoHo to Murray Hill, NYMetroParents guides you to finding the best after-school programs in Manhattan for kids. Our guide provides listings for tons of activities, from academic enrichment and tutoring, to foreign language coaching, sports and fitness, music, dance, and theatre arts, and religious schools in Manhattan. And find even more after-school classes and programs in Brooklyn and Queens.
For more activities and events after school as well as family weekend events, go to our
online calendar
.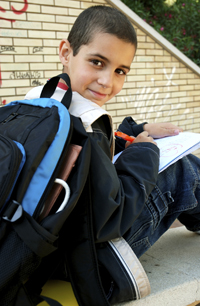 ATLANTIC ACTING SCHOOL
76 Ninth Ave., Suite 537, New York
212-691-5919
Email hbaird@atlantictheater.org

The After-School Program is a great introduction to storytelling, writing, acting, and improvisation. The young children will create stories through creative play and improvisational exercises, while older children will be introduced to the Atlantic Technique called Practical Aesthetics. All of the children will have a performance during their final class. Our other programs for ages Pre-K to Teen teach the Atlantic Technique, physical and vocal warm-up, physical improvisation, theater games, assigned monologue, scene work, music, story and character creation.

BALLET ACADEMY EAST
1651 Third Ave.
212-410-9140

Ballet Academy East offers classes to children and adults of all ages and levels. The Pre-Professional Division for ages 7-18 trains dancers for professional careers in ballet. Enrichment classes are open to students ages 7 and older who wish to study ballet less intensively. The Young Dancers Division offers pre-ballet, tap, and modern to ages 3-6. In BAE's Petit Dancers Program, children 18 mos.-2 years, along with their parents/caregivers, share the joy of music and dance. Adult classes for all levels are available in ballet, tap, Pilates, Zumba, and yoga.

BOOK NOOK
167 W. 81st St. (Amsterdam & Columbus), New York
212-873-BOOK (2665)

Book Nook has a creatively designed, inviting, and warm atmosphere that offers both a home and school setting for children age 1½-7 years. The warm colors and literacy-rich environment create an ideal setting for reading and learning success. The program builds vital skills needed for kindergarten acceptance through a whole-child literacy approach. Classes run 90 minutes, once a week from mid-September-mid-June. It's the perfect transitional, supplemental, or tutoring program.

CHELSEA PIERS SPORTS AND ENTERTAINMENT COMPLEX
23rd Street & Hudson River Park, NYC
212-336-6500

Chelsea Piers is a 28-acre sports village located on three historic Hudson River piers, offering the city's best sports programming for children ages 12 mos.-17 years. Easily accessible by bus, subway, or car (on-site parking available), Chelsea Piers features state-of-the-art facilities offering a wide range of sports including gymnastics, basketball, soccer, baseball, rock climbing, golf, ice-skating, hockey, and more. Youth sports programs are available year-round, including after-school specialty classes, Saturday camps, holiday camps during school breaks, and an extensive summer camp. For more information, call or visit the website.

CITY AND COUNTRY SCHOOL
146 W. 13th St.
212-242-7802

City and Country is a co-educational school for children ages 2-13. Founded in 1914 by pioneer educator Caroline Pratt, C & C is one of the oldest and most celebrated progressive schools in the country. Housed in seven brownstones, including the adjacent courtyards, City and Country enjoys a lovely campus with abundant outdoor space, character, and natural light. Hallmarks of the program include a widely admired block program and a unique jobs program. Encouraged to question, problem-solve, and approach life's challenges with optimism, City and Country graduates are confident, creative, and compassionate.

THE CITY CONGREGATION FOR HUMANISTIC JUDAISM
15 W. 86th St., New York
212-213-1002
Sunday KidSchool, Adult Ed: SAJ, 15 W. 86th St.
Shabbat programs: 14th Street Y, 344 E. 14th St. (1st and 2nd Avenues)
High Holiday services: Holiday Inn, 440 W. 57th St.
212-213-1002

The Sunday KidSchool, PreSchool, and Bar/Bat Mitzvah programs at The City Congregation for Humanistic Judaism connect youngsters to their Jewish heritage from a secular, cultural perspective. Two Sundays a month, tots to teens explore Jewish history, traditions, holidays, ethics, stories, music, and art. The highly regarded Bar/Bat Mitzvah program includes classes and individual, mentored discoveries of roots, connections, and values. Open House with Classroom Visits: Sundays, Sep. 8 and 22, at 1:30pm. Learn more at citycongregation.org.

COLLINA ITALIANA
1556 Third Ave. (at 87th Street), Suite 603, New York
212-427-7770
Collina Italiana Mini Summer Camp 2013
Email info@collinaitaliana.com

Collina Italiana's Italian Fall and Winter in the City program is for children of all ages who want to learn and practice Italian, meet new friends, absorb the warm and lively culture of Italy, and have fun Italian-style right here in New York City! Giardino dei Bambini, a morning drop-off playgroup for ages 2-5, is offered year-round. Other programs, including comprehensive language learning, and hands-on instruction in the arts, are Girotondo ("Circle"), and Teatro Italiano.

THE DILLER-QUAILE SCHOOL OF MUSIC
24 E. 95th St., New York
212-369-1484

Since 1920, Diller-Quaile has been developing the innate musicality in each individual, inspiring participation for a lifetime. Diller-Quaile offers early childhood classes, instrument and voice lessons, classes and ensembles, adult programs, and teacher training/Dalcroze courses. Rug concerts for young children, master classes, and faculty concerts occur throughout the year. Classes begin Sept. 23 and run through June 9, 2014. Accredited by the Accrediting Commission for Community and Precollegiate Arts Schools. Call 212-369-1484 or visit diller-quaile.org.

DWIGHT SCHOOL
291 Central Park West, New York
212-724-7524

Founded in 1872, Dwight School is dedicated to igniting the "spark of genius" in every child. A Dwight education rests on three pillars: personalized learning, community, and global vision. Dwight was the first school in the US to offer the comprehensive International Baccalaureate curriculum for students from preschool–grade 12. A 40,000-square-foot Athletic Center features an indoor pool, gym, and roof-top tennis courts. Extensive after-school programs span every possible option in the visual and performing arts, sports, foreign languages, and much more. Register for an open house at dwight.edu/admissions.

EBL COACHING
17 E. 89th St., Suite 1D, New York
212-249-0147

EBL Coaching offers individualized one-on-one tutoring and three-week, intensive academic summer programs for students in grades pre-K to 12. EBL specializes in reading, writing, reading comprehension, math, and study skills tutoring, using Orton-Gillingham and other multi-sensory techniques. Individualized programs for students with dyslexia and attention deficit disorder are available. All programs begin with an assessment and are custom-tailored to the needs of each student. EBL also offers strategy coaches, organizational tutors, and content area enrichment.

FIRST PRESBYTERIAN CHURCH NURSERY SCHOOL
12 W. 12th St., New York
212-691-3432

Founded in 1952, FPCNS welcomes children ages 2.3-5 years of diverse backgrounds and religions. We believe that young children learn primarily through interaction and relationships. Students are encouraged to explore materials and the environment, and to express their feelings, thoughts, and ideas through the languages of speech, the arts, and other media. There are four large bright classrooms, a rooftop playground with climbing equipment, big blocks, riding toys, a garden, and indoor play space. Teachers are chosen for their creativity, warmth, knowledge, and expertise. Specialists lead music, movement, and studio.

GELSEY KIRKLAND ACADEMY OF CLASSICAL BALLET
355 Broadway, 2nd Fl., New York
212-600-0047 x26
Email rachel@gelseykirklandballet.org

Under the direction of Gelsey Kirkland and Michael Chernov, Gelsey Kirkland Academy (GKA) offers multiple ballet training programs. Our Children's Program is for students, ages 3-11, who want to experience the joy that comes from dancing. Our Pre-Professional program is for students (ages 11 and older) who wish to advance in the art of ballet with professional training, while taking traditional academic classes during the day. Our Professional Training Program is for students (ages 12 and older) looking to pursue a career as a professional ballet dancer. Multiple performance opportunities for all levels!

GERMAN-AMERICAN SCHOOL: WHERE KIDS LEARN GERMAN
212-787-7543

German-American School offers a unique after-school language and culture program. Parents from diverse ethnic backgrounds send their children to our New York-state-accredited German language program in which children can learn German starting at age 4. Classes are small and taught by native German speakers. The didactic approach stresses interactive learning; singing, drawing, and German games are popular in the playgroup. In the upper grades, we stress memorization, reading, writing, culture, and grammar. No prior German required. Adult beginners program is also available.

GREENWICH HOUSE KIDS
27 Barrow St./46 Barrow St./16 Jones St., New York
212-991-0003 x400

Greenwich House offers a rich, arts-focused curriculum for students ages 3-17 at its After-School, Pottery and Music School programs. Expert instructors guide children in music, art, dance, and other creative classes, providing a safe, fun environment for learning and growing. Opportunities range from private and group music instruction to pottery, cartoon art, Music Together, and digital photography; select from more than 40 different weekly after-school classes, even Super Soccer Stars. The Music School is also excited to introduce the Suzuki Method for violin to its curriculum beginning this fall.

HARLEM HEBREW LANGUAGE ACADEMY CHARTER SCHOOL
153 St. Nicholas Ave., New York
646-801-2427

Harlem Hebrew Language Academy Charter School is a free public charter school in Manhattan's Community School District 3 that provides students with the foundation to successfully pursue advanced studies and achieve continued personal growth as global citizens. Harlem Hebrew offers a rigorous K-5 curriculum featuring intensive instruction in the modern Hebrew language. Students in our diverse student body develop social and civic responsibility through service learning and community service. All are welcome!

HUDSON RIVER PARK'S PIER 62 CAROUSEL
Hudson River Park's Pier 62 @ 23rd St. and the Hudson River,

The Hudson River Park's Pier 62 Carousel has been created using 33 hand-carved wood figures of Hudson River Valley animals and one chariot, allowing for up to 36 passengers per ride. The carousel building has been designed with a green roof, and opens out to a large sprawling lawn and tree-lined pathways. Summer hours are 11am-8pm, other seasons are 11am-7pm, weather permitting. The cost is $2 per ride. One supervising adult accompanying a child under 42 inches may ride for free.

JODI'S GYM
244 E. 84th St.,
212-772-7633
25 Hubbels Drive, Mount Kisco
914-244-8811
Email jodgym@aol.com

Jodi's Gym has been providing New York kids the highest level of fun, friends, and fitness for 32 years! Their step-by-step, no-fail approach ensures that every child feels a sense of accomplishment. From the tiniest tumblers to advanced gymnasts (9 mos.-12 yrs), there is something for everyone. They offer parent/child gym and music classes, pre-school gymnastics, school-age gymnastics (K-7th grade), Mad Science, special-needs gymnastics, summer and holiday-break camps, free member perks, free open playtime, play groups, private lessons, and the best birthday parties ever.

JOFFREY BALLET SCHOOL
434 Sixth Ave., 3rd, 4th, & 5th Floors, New York
212-254-8520

The Joffrey Ballet School is the home of Baby Ballerinas, Hip-Hoppin' Street Jazz, Demi Soloists, and so much more. The world-renowned program is also a world-renowned good time for you and your child. We have 60 years of excellence to share with your family. Dance classes begin at the age of two, with live music and performances that will create memories to last a lifetime. Our theme-based birthday parties are fantastic, with cakes by the "Cake Boss," and sprinkles of joy from the school faculty. Come grow with us...joffreyballetschool.com.

KATE TEMPESTA'S URBAN GOLF ACADEMY
Various indoor and outdoor locations in Manhattan, Brooklyn, and the Hamptons,
917-270-7257
Brooklyn, Queens, Fairfield and Long Island.

Using a combination of child-friendly, modified and traditional equipment, UGA teaches the four basic shots, various golf fundamentals including posture, set-up, aim, and alignment, and the rules and etiquette of golf. Our unique program lets children explore the game of golf via a mixture of fun, creative golf drills, and games. We offer customized, hour-long birthday parties too!

THE KID'S KORNER PRESCHOOL
247 W. 24th St., New York
212-229-9340
Email kidskornernyc@gmail.com

Chelsea's best-kept secret, The Kid's Korner Preschool, is a NAEYC-accredited pre-school/nursery school, whose intimate, small classrooms are designed to provide a sense of warmth and acceptance for children. A backyard brings the country to the city, "paved" with fake grass so that children can take off their shoes, lie down, and look at the clouds. The calm, quiet space is decorated with birds, butterflies, and sunflowers.

LA SCUOLA D'ITALIA
12 E. 96th St., New York
212-369-3290
Email secretary@lascuoladitalia.org

A private, coeducational, English/Italian bilingual school, Pre-K to 12th grade, offering an international education with a strong foundation in liberal arts, mathematics, and science; total immersion in foreign languages; and in-depth study and appreciation of American, European, and Italian civilizations and cultures. Chartered by the Board of Regents of the University of the State of New York, by the Ministry of Education of the Republic of Italy, and a member of the New York State Association of Independent Schools. Graduates attend North American, Italian, and European Union colleges and universities.

THE LANGUAGE WORKSHOP FOR CHILDREN
888 Lexington Ave. (at 66th Street), New York
212-628-2700
Manhattan: Upper East Side, NJ & LI

This year marks The Language Workshop for Children's 40th Anniversary. To celebrate, they're offering families who enroll in August 40% OFF THE TUITION of any program (including preschool). Parents Magazine named the LWFC one of "Six Classes Worth the $$." LWFC - Manhattan offers preschools, classes, and camps to teach French, Spanish, Italian, and Mandarin Chinese to ages 6 mos.-9 years through immersive songs, stories, activities, and more. That's why CNN called Director Thibaut "one of a very few experts in teaching languages to small children.

LENOX HILL NEIGHBORHOOD HOUSE
331 E. 70 St., New York
212-744-5022 x1256
Email afterschool@lenoxhill.org

Our weekday afterschool program has an emphasis on arts education and aquatics, and is for children ages 5-13. From 3-6pm, we offer: escort services from PS 158, 183, 267, and 290, Ella Baker, and St. Stephen's of Hungary; comprehensive programming taught by artists, musicians, and aquatics instructors; dance; music; theatre arts; visual and digital arts, swimming, recreation, and a light, healthy snack. We also offer full- and half-day activities on days of public school closure. Fees start at $25/day.

THE LITTLE GYM
777 White Plains Road, Scarsdale
914-722-0072
2121 Broadway, 2nd Floor (between 74th and 75th streets)
Upper West Side, Manhattan
212-799-1225
207 E. 94th St. (between Second and Third avenues)
Upper East Side, Manhattan
212-787-1124
28 Franklin Turnpike Waldwick, NJ
201-445-4444

The Little Gym is an exercise and motor development center for children, offering gymnastic classes, sports skills development, dance, cheerleading, and karate classes for children ages 4 mos.-12 years, in a loving, non-competitive environment. Qualified instructors implement programs designed to build self-esteem and confidence. An emphasis on music and fun encourages both physical and emotional growth. The Little Gym also offers summer camp, holiday camp, Parent Survival Night, and Awesome Birthday Bashes.

LONG ISLAND AQUARIUM & EXHIBITION CENTER
431 E. Main St., Riverhead
631-208-9200 xH20 (426)

Two great attractions in one fin-tastic destination - with more than 100 exhibits and interactive experiences, including Shark Dive, Penguin Encounter, Pirate Snorkel, the all-new Shark Keeper program, and more, the Aquarium and Exhibition Center is a great place to visit anytime of the year. Add to the fun with an overnight stay at the Hyatt Place East End & Resort Marina located adjacent to the property. A great school trip destination!

MADE4KIDS - JUNIOR BALLROOM DANCING AT DANCESPORT
22 W. 34TH St. (bet. 5th & 6th Avenues, East Entrance ), New York
212-307-1111

Learn the elements and fundamentals of ballroom dance in a nurturing, supportive, and stimulating environment. MADE4Kids is designed to teach partner dancing to kids while building self-esteem, teamwork, confidence, and more. With experience in partner dancing for over 25 years, we incorporate music, cultures of each dance, and partner and free-style dances to create a safe, fun environment for kids to explore the world around them. Keep your kids active and fit while the have fun.

MANDARIN SEEDS
100 Reade St. (Ground floor), New York
646-580-4769

Founded by native speakers who are passionate about their own children's Mandarin education, Mandarin Seeds' mission is to inspire children to love and learn Chinese (Mandarin), with a child-centered and progressive approach in a fun-filled immersion environment. After-school Preschool (previously known as Mini Preschool) is an intensive 90-minute version of our Ya-Ya Preschool program designed for mature preschoolers, ages 2-4 years, who are comfortable with separation and potty-trained. Sprouts summer campers (ages 5-7) enjoy studying world classic stories, and learning Mandarin through games, music, dramatic play, and arts. Read testimonials on our website.

MORNINGSIDE MONTESSORI SCHOOL
251 W. 100th St., New York
212-316-1555

Morningside Montessori School is a preschool for children ages 2-5 years offering a small, nurturing environment where children can explore their love of learning and take their first steps towards independence. Morningside blends traditional Montessori materials with non-Montessori elements of early childhood education such as blocks and fantasy play. An after-school program is available for children ages 3-5. Morningside loves and welcomes families of all diversities. Visit our web site to apply. Accepting applications for 2014-2015 school year on September 1.

MY GYM CHILDREN'S FITNESS CENTER - LINCOLN CENTER AND HARLEM LOCATIONS
22 W. 66th St. and 258 Saint Nicholas Ave.,
212-724-3400
22 W. 66th St., (bet. W. Central Park & 65th Street Transverse)
258 St. Nicholas Ave.
212-724-3400
Email lc@mygym.com
harlem@mygym.com

My Gym has spent over 30 years building children's self-esteem and nurturing a love of fitness and activity. A variety of age-appropriate programming including gym, yoga, martial arts, theatre, and dance, is offered in our clean, safe, and fun environment for children ages 6 weeks-10 years (programs vary by location). Member benefits include unlimited practice and plays, as well as exclusive savings on parents' night out and birthday parties! With a new program every week, children are constantly challenged and stimulated in new and exciting ways!

NEW YORK CAPOEIRA CENTER
107 Suffolk St., New York
212-677-2209
Email caqmembers@gmail.com

Fun! Fitness! Community! Your child will LOVE capoeira at the New York Capoeira Center! Capoeira, Brazilian "Karate," combines acrobatics, self-defense, dance...and so much more! Join our growing community of young people who develop FDR - focus, discipline, and respect through capoeira -- while having fun! Mestre Ombrinho, the head instructor, has over 32 years experience practicing and teaching capoeira to children and adults. First class free!

NYC DEPARTMENT OF EDUCATION, OFFICE OF SCHOOLFOOD

School is out and free summer meals are in from June 27-August 30, 2013. Any child ages 18 and younger can enjoy a free, healthy, and great-tasting meal at hundreds of schools, pools, parks, New York City Housing Authority complexes, and other locations around the city. No registration, documentation, or ID is required. Finding a summer meals site is easy, call 311 or *text "NYCMEALS" to 877-877 for information about the free breakfast and lunch summer meals program, and to locate a convenient site near you. (*Standard text messaging rates apply.)

PLANET HAN
401 West End Ave. (at 79th Street), New York
212-724-2421

Mandarin for all! Planet Han provides a fresh, fun approach to teaching Mandarin. We use the novel 'Model.Action.Talk.' method to teach Mandarin to kids and adults, regardless of ethnicity, through our group classes, after-school programs, and private tutoring. Enroll today!

RUTGERS COMMUNITY PROGRAMS
236 W. 73rd St. (at Broadway), New York
212-877-8227 x212
Email jmoore@rutgerschurch.org

RCP offers great after-school classes for toddlers, preschoolers, and school-aged kids: the Ready, Set, Go! preschool alternative for kids aged 3-5; Mandarin; art; dance; soccer; and Curtains Up Playhouse, the musical theater program where kids ages 5-10 act, sing, dance, and design sets for the spring production of "Sort of Into the Woods." Attend our Open House on September 7, from 9:30am-12:30pm to learn more. RSVP required.

SCITECH KIDS
130 E. 80th St., New York
212-804-7055

SciTech Kids sparks a child's innate curiosity about science through rich, hands-on, captivating experiences. Designed for children ages 3-12, SciTech Kids After-School programs inspire kids to think like scientists and inventors. Children learn scientific concepts by "doing science" that is connected to everyday life. Classes meet once a week for 55 minutes and consist of small multiage groups, which promote peer-to-peer learning and leadership. To learn more, visit sci-techkids.com.

TADA! YOUTH THEATER
15 W. 28th St at Broadway, New York
212-252-1619 x4

TADA! Fall Classes meet weekly from Sep. 23-Dec. 14, and are team-taught by two professional Theater Artists, experienced and trained in arts education. Fall and winter classes culminate with a Sharing in the last session. In keeping with our philosophy, each class is based on ensemble-building techniques that facilitate an equitable and active learning environment for a range of ages and abilities. TADA! works to build self-confidence and challenges each child to be the very best they can be! TADA! Youth Theater, tadatheater.com.

TWIN PARKS MONTESSORI SCHOOLS
Twin Parks Montessori Schools
Central Park Montessori School
1 W. 91st St.
212-595-2000
enroll@twinparks.org
Park West Montessori
435 Central Park West
212-678-6072
pwadmissions@twinparks.org
Riverside Montessori School
202 Riverside Drive
212-665-1600
admissions@twinparks.org

One School. Three Campuses. Twin Parks Montessori Schools are accredited by the American Montessori Society and the Middle States Commission on Elementary Education, are members of NYSAIS, the Parents League, and ISAAGNY, and are affiliate schools of Columbia University. Twin Parks Montessori Schools provide nurturing, child-centered settings for children ages 3 mos.-6 years. Twin Parks Montessori Schools offer age-appropriate enrichment classes to enrolled, early-childhood-aged students. Classes vary, and have included creative movement, music, cooking, sports and games, science, art, Spanish, and nature.

WORLD CLASS LEARNING ACADEMY, NEW YORK
44 E. 2nd St., New York
212-600-2010
Email info@wclacademy.org

World Class Learning Academy is a diverse, internationally-focused learning community dedicated to developing a broad world view in students. The Academy offers benchmarked, highly personalized learning in an academically rigorous setting. World Class Learning Academy is a member of the World Class Learning Group (WCL), a learning leader for over 25 years. At WCLA's comprehensive after-school program, children may explore a wide variety of classes and private lessons not limited to Languages, Art, Sports, Music, Drama, and Movement, in a fun-filled, social environment designed to expand horizons and build confidence.