How do you talk to your kids about food, and all the complicated things that go along with it? The American Museum of Natural History, a great museum for kids in Manhattan, has a new exhibition called Our Global Kitchen that will help you talk about food, history, and tradition with your kids.
About 414 pounds (188 kg) of food
is discarded for each person in the
United States each year. That's 1,656
pounds (751 kg) for a family of four—
the amount in this sculpture.
Our Global Kitchen: Food, Nature, Culture, an exhibition in which food, nature, culture, health, history, and tradition intersect, opens at the American Museum of Nautral History on Nov. 17, 2012 and will run through August 2013. For parents looking to find a way to talk to their kids about food and nutrition, this exhibition provides the perfect starting point.
The food system is explored from "farm to fork." Food is the one thing that unites every culture, race, and generation as over one billion people work in agriculture and every person eats; it is regarded as a social ritual, a holiday tradition, a symbol of comfort, a gift, and an excuse to catch up with friends.
"We hope visitors will look at something that they all do every day – eat – and think about the legacy of centuries of farmers that have shaped our foods, the wisdom of cooks to create cuisines, the celebrations and traditions woven across generations and geographies, and how the natural environment supports the foods that we rely on now and in the future," says Eleanor Sterling, curator of the exhibition.
Many serious issues are addressed including the scarcity of food predicted for the future and alternatives to avoid this shortage, including overlooked plant and animal species for food sustainability: algae, insects, and quinoa. It also introduces a model of a vertical growing system, suggested to allow farming in cities. A "waste sculpture" is used to represent the amount of food wasted in the average American family of four per year, and the result is absolutely disturbing: 1,656 pounds. Childhood obesity is addressed as it has become an ever-increasing problem in America. Research at the exhibit proves that though food is constantly produced to feed people around the world, the distribution is highly unequal; while some are obese, others are starving, and sometimes the hungry and the overfed live side-by-side in one community.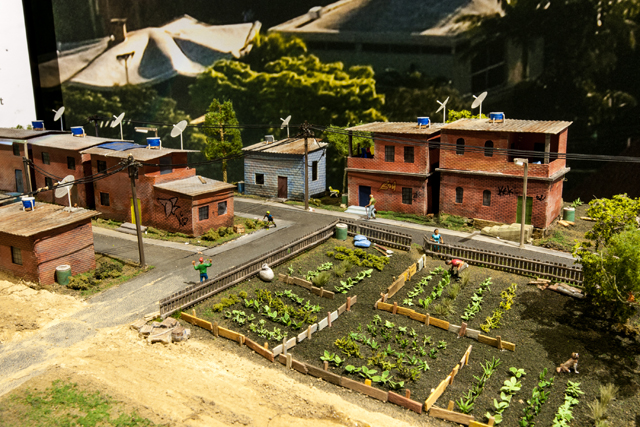 This diorama shows a neighborhood on the outskirts
of Belo Horizonte, Brazil, where city farming became
a necessity and has thrived since the 1990s.
Cookbooks, utensils, farming methods, and food groups are studied and compared, portraying the many ways that food has evolved over time and across cultures. Visitors will be able to take a peek at the kitchens of author Jane Austen, Empress Livia of Rome, and Mongolian ruler Kublai Khan. Interactive cooking tables, a life-size recreation of a 16th Century Aztec marketplace, and smelling stations allow students and visitors to take a hands-on approach to the foods studied in the exhibit. Bitter strip and jelly bean tests will be passed out to children, teaching them everything they need to know about taste buds. Local farmers, nutrition experts, and chefs are on staff to offer advice and samples from the kitchen. Beginning with apples for Fall, the theme of the kitchen will change every two weeks with new recipes and tasty treats from bread to chocolate, and even grilled favorites. "Usually we are fighting to keep food and drinks out of the museum. For the first time in its history, we are the ones bringing food in," Sterling says.
Our Global Kitchen shows the evolution of food and its contribution to society, culture, and history and the way that it defines humanity. It's a delicious exhibition for both adults and kids to experience, chock-full of information that's good for you set up in a way that makes it tasty, too.
Details
What: Our Global Kitchen
Where: American Museum of Natural History, 200 Central Park West, Upper West Side, Manhattan
When: Nov. 17, 2012 - August 2013
How much: $19 adults; $14.50 students and seniors; $10.50 kids 2-12; free for children younger than 2
For more info: 212-769-5606 or amnh.org
Also see: Our Online Calendar, for even more upcoming family events in Manhattan and the New York metro area