BEST HALLOWEEN EVENTS FOR KIDS IN MANHATTAN
Related:
best halloween events for kids in manhattan
,
nyc halloween events
,
nyc haunted house
,
halloween activities for kids in nyc
,
Find the top things to do this month with kids in the NYC area in our Calendar of Events


Find the best Halloween events and activities for kids in Manhattan. Here, we've rounded up the biggest family events so there's something fun for everyone, from a Night at the Museum and Halloween Murder Mystery to spooky concerts and trick-or-treating.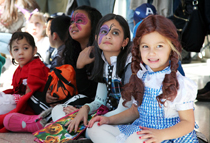 'Hansel & Gretel's Halloween Adventure'
Swedish Cottage Marionette Theatre, Upper West Side
Oct. 1 - Nov. 1
Hansel and Gretel's Halloween Adventure picks up where the original Swedish Cottage Marionette Theatre production leaves off; with the pair's pet swan Samantha flying the children back to their humble home after their wild escapade in the forest. Safely back at home during the Halloween season; Hansel and Gretel experience the most vivid dreams where Central Park and the Belvedere Castle serve as the backdrop for a magical explosion of music, dance and exciting encounters with a host of lovable characters. The brother and sister team once again embark on an adventure where beautiful mermaids, adorable monsters, swashbuckling pirates, charming vampires and a fabulous witch all intertwine for one unforgettable Halloween night in NYC.
Watson Adventures' Ghosts of Greenwich Village Family Scavenger Hunt
Washington Square Park, Greenwich Village
Oct. 18, 25
Adults and kids ages 7 and older work together to uncover the stories of creepy places and the ghosts that have haunted them. Explore secret cemeteries in search of looming skeletons, bats on buildings, Dickensian door knockers, Harry Potter's nemesis, and a gorilla in a window. Advance purchase is required online. Not recommended for children under the age of 7. Kids must be accompanied by an adult, and vice versa—teams with only adults are not permitted on this hunt.
Halloween Murder Mystery
Mount Vernon Hotel Museum & Garden, Upper East Side
Oct. 24-25
Become a detective in an interactive mystery game. In this fictional drama, loosely based on an historic newspaper account, an unidentified skeleton has been discovered under the floorboards of the Mount Vernon Hotel. Who was killed? By whom? With what? Explore the Museum by candlelight, and collect clues to unravel the mystery and solve the case. All new for 2014!
Little Club Heads Halloween Party
Broad Street Ballroom, Financial District
Oct. 26
Little Club Heads Halloween costume party will feature 8-year-old twin DJs Amira & Kayla, Little Club Heads host Mr. Blue, Little Club Heads mascots DJ Nubby & Bubby, dancing, face painting, balloon twisting, photo booth, games, costume contest, magic show, live performances, goodie bags, and great family fun!
PS 166's Haunted Halloween and Fall Festival
PS 166 Richard Rodgers School of Arts and Technology, Upper West Side
Oct. 26
Join this annual block party with bouncy houses, a cake walk, a Gaga center, bake sale, crafts, a famous haunted house, and more! This annual street fair and community event features food, inflatable rides, obstacle courses, face-painting, pumpkin decorating, tote bag decorating, a Gaga center, a haunted house, free coloring stations, cupcake decorating, tattoos and nail art, and spin art tables.
Halloween Celebration
74th St. MAGIC, Upper East Side
Oct. 29
Enjoy not-so-spooky shenanigans in this special Halloween edition of MAGIC Makers Clubhouse where art, music, dramatic play, cooking and science meet for a ton of collaborative fun.
Halloween at CMA
Children's Museum of the Arts, Soho
Oct. 30-31
Join in a Halloween parade around the museum. Costumes are highly encouraged! Design your own monster mask, create your own gorey story, make a creepy monster pop-up card, build spooky sets, create creepy creatures at the Clay Bar, participate in blacklight animation and much more!
NYMetroParents Halloween Night at the Big Apple Circus
Lincoln Center
Oct. 31
Join NYMetroParents at a Halloween night performance of Big Apple Circus' latest show, Metamorphosis. Arrive early to claim a goodie bag (limited availability), have your picture taken at the photo booth, and mingle with two Circus-to-Go clown performers who will be strolling the rotunda providing entertainment and merriment. Kids who arrive in costume will receive a voucher for a free cotton candy. After the show, there will be a "selfie party," where all patrons are invited into the ring post-show to take selfies with some of the performers.
Asphalt Screams
Asphalt Green, Upper East Side
Oct. 31
Join the annual spooky sports celebration! This active Halloween event will feature games like Zombie Freeze Tag, Spooktacular Soccer Shootout, and much more! Wear your best costume and bring the whole family for a ghoulishly good time. The first 400 kids to arrive will receive a goody bag so don't be late for the fun!
New-York Haunted Society...Enter at Your Own Risk!
New-York Historical Society, Upper West Side
Oct. 31
George and Martha Washington are back in New York for the first time since 1790... as zombies! Sit for a spooky portrait with a "spirit" photographer, get your fortune told, grab some historic candy treats, create Victorian mourning jewelry, and more.
19th Annual Halloween Celebration at AMNH
American Museum of Natural History, Upper West Side
Oct. 31
Curious George,Clifford the Big Red Dog, Miffy, and Cookie Mouse (from the book "If You Give a Mouse a Cookie") are among the characters who will greet thousands of costumed children as they arrive at the American Museum of Natural History to celebrate Halloween. With more than 30 museum halls open for the evening, guests are invited to wander among "dangerous" dinosaurs, "eerie" elephants, and the "uncanny" universe for trick-or-treating, arts and crafts, and fun with roaming cartoon characters. There will also be live performances by David Grover and the Big Bear Band, Louie & Subanda, The Spectacular Magic of Robert Austin, the Big Apple Circus "Dr. Finklestein's Zombie Show," and a special appearance by the Big Nazo Lab.
Circle Line Kids Halloween Sightseeing Cruise
Pier 83, New York Harbor
Oct. 25
Kids and their parental units should get ready for some rockin' Halloween action, as award winning kindie band Baze and His Silly Friends presents two high-energy, all-ages, get-up-and-dance shows on board a special Circle Line Kids Halloween Sightseeing Cruise around the Statue of Liberty.
Head to the Bronx for…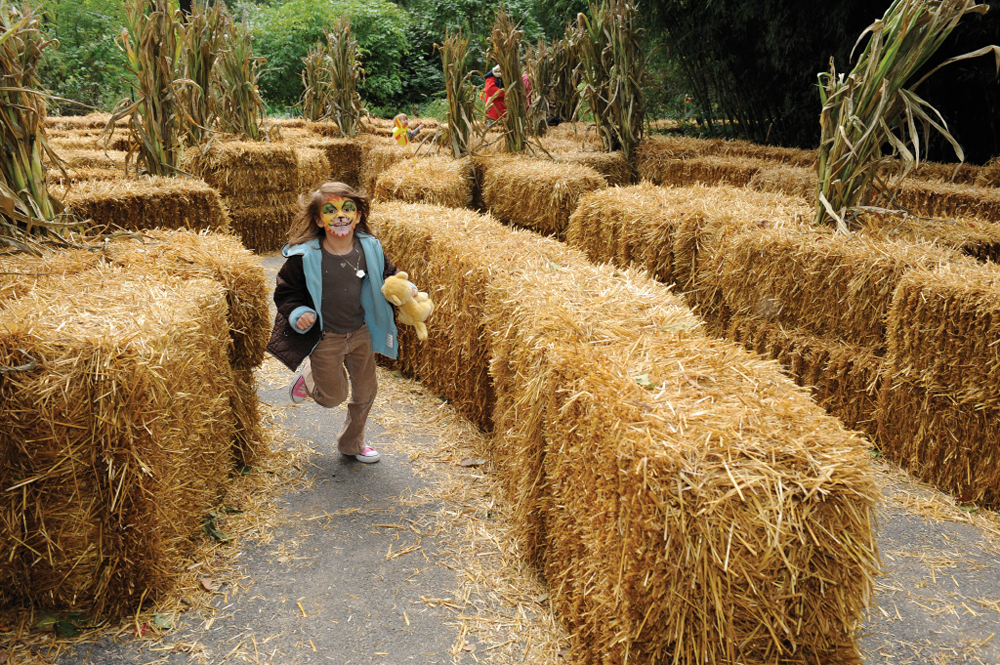 Boo at the Zoo
Bronx Zoo
Oct. 4 - Nov. 2
Celebrate a New York Halloween tradition with safe, family-friendly activities. Annual favorites include jack-o'-lantern illumination, Creatures of the Night walkthrough experience; 3-D pumpkin carving demos and displays, hay maze, broadway cast member appearances, costume parade, music, magic, crafts, and more, with some additional Halloween surprises! An eerie walk-through experience - Jack-O'-Lantern Illumination - Creatures of the Night will take over the exhibits in the former World of Darkness, creating a one-of-a-kind, illuminated Halloween display. Broadway cast members from plays including Pippin, Motown, Cinderella, On the Town, and the Lion, Witch and the Wardrobe will make special appearances. Entertainment will include original musical revue Carnival of Extraordinary Animals and encore performances from magician David Levitan, and the musical group, Gigi and the Lend me a Hand Band
The Haunted Pumpkin Garden
New York Botanical Garden
Sept. 20 - Oct. 31
Pumpkin sculptures of spooky scarecrows, frightening spiders, sneaky snakes, and more await discovery at every turn in the Everett Children's Adventure Garden. The display includes more than 500 intricately carved pumpkins that are sure to capture imagination. Special events run throughout the month.
More Fun

Find even more fun Halloween events in NYC, including Luna Park at Coney Island's annual Halloween Harvest.
Find the top things to do this month with kids in the NYC area in our Calendar of Events


---
Get Your FREE Indoor Activity eGuide!
---
More Halloween Articles Articles
7 Tips for Trick-or-Treating with Your Toddler
New Book Encourages Kids to Give Up Halloween Candy
Halloween Activities in Bucks County, PA
DIY Alien Monster Egg Halloween Decoration
Toddler-Friendly Halloween Events in Fairfield County, CT