BEST HALLOWEEN EVENTS FOR KIDS IN MANHATTAN
Related:
best halloween events for kids in manhattan
,
nyc halloween events
,
nyc haunted house
,
halloween activities for kids in nyc
,
Find the top things to do this month with kids in the NYC area in our Calendar of Events


Find the best Halloween events and activities for kids in Manhattan. Here, we've rounded up the biggest family events so there's something fun for everyone, from a Night at the Museum and Halloween Murder Mystery to spooky concerts and trick-or-treating.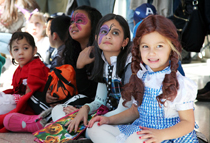 October is jam-packed with spooky concerts, haunted cruises, and pumpkin-filled fairs. Here's a select sampling of the silly, scary fun the city is offering up. Check out our full calendar for even more events, and make sure to head to nymetroparents.com/halloween for more Halloween fun, including tons of giveaways and our annual photo contest!
'Hansel & Gretel's Halloween Adventure'
Swedish Cottage Marionette Theatre, Upper West Side
Oct. 1 - Nov. 2
Hansel and Gretel's Halloween Adventure picks up where the original Swedish Cottage Marionette Theatre production leaves off; with the pair's pet swan Samantha flying the children back to their humble home after their wild escapade in the forest. Safely back at home during the Halloween season; Hansel and Gretel experience the most vivid dreams where Central Park and the Belvedere Castle serve as the backdrop for a magical explosion of music, dance and exciting encounters with a host of lovable characters. The brother and sister team once again embark on an adventure where beautiful mermaids, adorable monsters, swashbuckling pirates, charming vampires and a fabulous witch all intertwine for one unforgettable Halloween night in NYC.
Jack-O-Lantern Storytime
Mount Vernon Hotel Museum & Garden, Upper East Side
Oct. 18
Get ready for Halloween with monthly storytime. Listen to stories about pumpkins and jack-o-lanterns, and visit the museum's kitchen to see the pie-making display. Afterward, make a jack-o-lantern ball and cup toy to take home. An optional brief tour of the period rooms will follow. For children ages 6 and younger.
Watson Adventures' Ghosts of Greenwich Village Family Scavenger Hunt
Washington Square Park, Greenwich Village
Oct. 19, 26
Join Watson Adventures on a ghostly scavenger hunt for kids and adults. Kids and adults work together to uncover the stories of creepy places and the ghosts that have haunted them. Starring secret cemeteries, looming skeletons, the haunted homes of Edgar Allen Poe and Mark Twain, bats on a building, Dickensian door knockers, Harry Potter's nemesis, and a gorilla in a window. Not recommended for children younger than 7. Kids must be accompanied by an adult, and vice versa—teams with only adults are not permitted on this hunt.
PhilharMONSTER!
Symphony Space, Upper West Side
Oct. 20
Gear up for Halloween as the young goblins and ghouls of the InterSchool Orchestras of New York's Carnegie Hill Orchestra (ages 8-12) and ISO Symphonic Band (ages 12-19) perform spooky orchestral classics for the whole family.
Baby Loves Disco
Le Poisson Rouge, Greenwich Village
Oct. 20
Featuring DJs, MCs, dancers, music, crafts, food, unlimited drink boxes, cash bar for non-driving mamas & papas, and of course lots of dancing. Halloween-themed for the month of October.
Halloween Murder Mystery
Mount Vernon Hotel Museum & Garden, Upper East Side
Oct. 25-26
In this fictional mystery game, loosely based on an historic newspaper account, an unidentified skeleton has been discovered under the floorboards of the Mount Vernon Hotel. Who was killed? By whom? With what? Explore the museum by candlelight, and collect clues to unravel the mystery and solve the case. All-new mystery for 2013. Appropriate for adults and families with children ages 8 and older.
Circle Line Kids Halloween Sightseeing Cruise
Pier 83, New York Harbor
Oct. 26
Kids and their parental units should get ready for some rockin' Halloween action, as award winning kindie band Baze and His Silly Friends presents two high-energy, all-ages, get-up-and-dance shows on board a special Circle Line Kids Halloween Sightseeing Cruise around the Statue of Liberty.
Little Club Heads Halloween Costume Party
Broad Street Ballroom, Lower Manhattan
Oct. 26
Little Club Heads Halloween Costume Party! The party features Little Club Heads Mascots DJ, Nubby and Bubby, dancing, music, face painting, balloons, games, crafts, photo booth, live performances, costume contest, goodie bags, and overall family fun!
Spooktacular Halloween Celebration
Top of the Rock Observation Deck at Rockefeller Center
Oct. 26
Children can enjoy face painting, magic shows, and sweet treats, while the whole family takes in the stunning, 360-degree panoramic views of New York City.
Madame Tussauds Halloween Weekend
Madame Tussauds New York, Times Square
Oct. 26-27
Trick-or-treat with the stars, snagging Smarties from Albert Einstein and chopping Hog Dog Gummies in the Spirit of New York-themed section. Take full advantage of Scream, the live haunted experience. Create a ghoulish wax hand with fake blood and Halloween colors. Complete your costume with free Halloween face-painting.
Morningside Montessori Fall Festival
West 100th Street, Upper West Side
Oct. 27
Kids are invited to Morningside Montessori School's annual bash befitting the school's scholarship fund. Along with live music, the street fair will include tricks and treats such as ghost and goblin bowling, biting doughnuts on a string, pumpkin decorating, face painting and a Haunted House tour. There also will be ghoulishly good eats at Cafe Morningside, a bouncy castle, Bialas' Farmer's Market, a Bargain Boutique and much more. FREE!
Erin Lee and the Up Past Bedtime Band Not-So-Spooky Halloween Concert
City Treehouse, Chelsea
Oct. 27
This is a seriously silly, slightly spooky family concert. Erin Lee and the Up Past Bedtime Band are returning to City Treehouse for their annual Not-So-Spooky Halloween Concert. With songs about dancing werewolves, falling leaves, hooting owls and monsters in the bubble bath, it's a wonderful way to celebrate Halloween without the shivers. Costumes are always welcome and grownups are always free.
Halloween Bash at apple seeds
apple seeds, Upper West Side
Oct. 27
apple seeds Upper West Side will be hosting a Halloween Bash featuring free play in the indoor playground, a songs for seeds performance, glow-in-the-dark activities, a Halloween puppet making workshop by The New Victory Theater, free dental hygiene kits by Dr. Adam Silevitch, DMD, snacks from GoGo SqueeZ and Wave Bar, Pizza and more!
Halloween Costume Monster Mash
74th St. MAGIC, Upper East Side
Oct. 28
Come in costume to MAGIC's Halloween Dance Party, followed by cookie decorating and a trick or treat art project. Goodie bags will be provided for all.
Spooky Yoga Storytime
Karma Kids Yoga, West Village
Oct. 30
In celebration of Halloween, you'll emphasize Wolf, Bat, Spider, Goblin, Pumpkin, Witch, Wizard, Ghost, Cat and other fun holiday poses. Be sure to wear your costume and expect some Halloween surprises, including glow-in-the-dark.
Spirits of Halloweens Past
New-York Historical Society, Upper West Side
Oct. 31
Dress up like your favorite historical character and come to where curious kids celebrate Halloween. Meet the headless horseman, listen to Gilded Age ghost stories, visit a fortune teller, and taste test historic candy. Special guests The Hudson River Ramblers will also entertain families throughout the museum with haunted history songs and tales.
Halloween Celebration
American Museum of Natural History, Upper West Side
Oct. 31
More than 30 of the museum's popular halls will be open for trick-or-treating, arts and crafts, fun with roaming cartoon characters, and live performances. Past performers and characters have included Curious George, Winnie-the-Pooh, Clifford the Big Red Dog, Miffy, Peter RabbitTM, David Grover and the Big Bear Band, Louie & Subanda, performers from the Big Apple Circus, a magician, and stilt walkers.
Head to the Bronx for…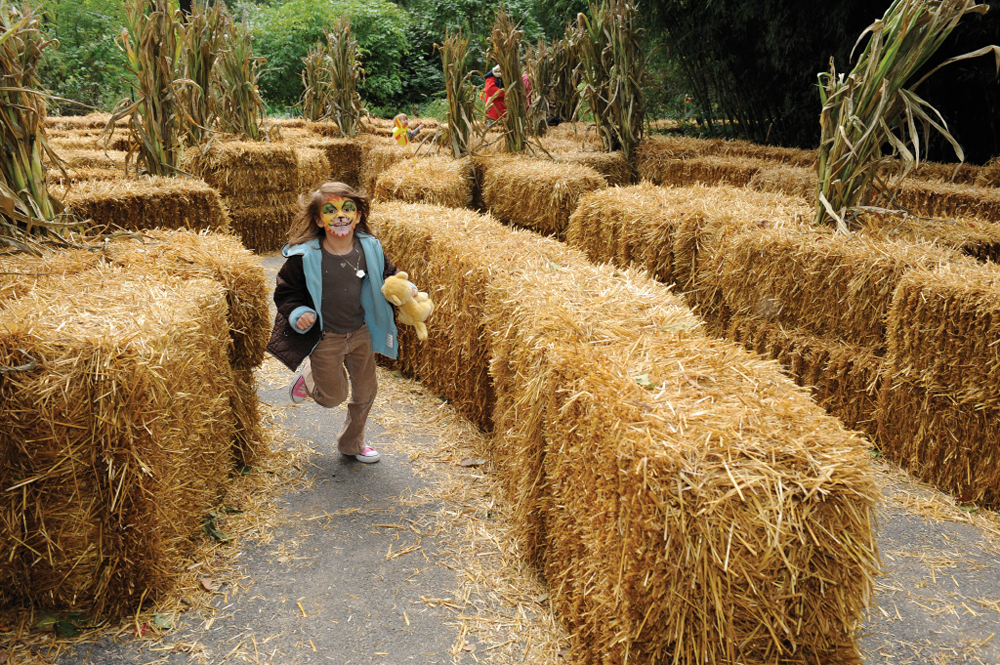 Boo at the Zoo
Bronx Zoo
Oct. 5 - Nov. 3
Celebrate a New York Halloween tradition with safe, family-friendly activities. Annual favorites including a haunted walk-through adventure - The Museum of UnNatural Mysteries - headline the festivities and have been enhanced for this year's Dragons and Dinosaurs theme. Visitors will enjoy magic shows, musical performances, and costume parades in addition to traditional guest favorites including the hay maze, extinction graveyard, carved pumpkin demonstrations, treat stations, and seasonal craft workshops.
The Haunted Pumpkin Garden
New York Botanical Garden
Sept. 21 - Oct. 31
Pumpkin sculptures of spooky scarecrows, frightening spiders, sneaky snakes, and more await discovery at every turn in the Everett Children's Adventure Garden. The display includes more than 500 intricately carved pumpkins that are sure to capture imagination. Special events run throughout the month.
More Fun

Get Halloween recipes, costume ideas, and enter to win some awesome prizes at nymetroparents.com/halloween!
Find the top things to do this month with kids in the NYC area in our Calendar of Events


---
Get Your FREE Indoor Activity eGuide!
---
More Regional Highlights Articles
Top 10 Holiday Shows in NYC for Families
38 Fun Holiday Events in Connecticut
23 Fun Holiday Events in Rockland this December
21 Fun Things to Do in Westchester this December
10 Performances of 'The Nutcracker' on Long Island This Year