Related: children. kids, new york city, black history, tour, church, harlem,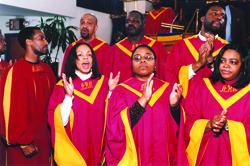 Families can learn what life was like for African-Americans living in New York during the 17th century. In celebration of Black History Month, Harlem Spirituals is offering guided African-American Heritage Tours throughout February. Families will visit the sites of the Wall Street slave market; the African-American burial grounds in Tribeca and Greenwich Village; the famous Five Points District, inhabited by free blacks prior to 1820; and New York City's oldest church, Mother Zion A.M.E. Church in lower Manhattan. All ages. Call in advance for pricing and tickets. Offered on Saturdays, February 7, 14, 21, and 28. 9:30am-4:30pm. Lunch included. A Harlem tour is also offered 9:30am-2:30pm, and includes a soul food brunch. Harlem Spirituals, 690 Eighth Avenue between 43rd and 44th Streets. 212-391-0900.
www.harlemspirituals.com
.
---
Get Your FREE Indoor Activity eGuide!
---
More Education Articles
How to Prevent a Homework Meltdown
Literacy Resources in the New York Metro Area
Literacy Resources in Nassau County, Long Island
Literacy Resources in Suffolk County, Long Island
Literacy Resources in Queens

Be a good fellow parent and share this with a friend who would be interested
Local Education Sponsors
See Our Education Directory