MANHATTAN

Victory is Ours!

Break-dancers, aerialists and a heroic hunchback are lined up to take the stage this fall at The New Victory Theater, NYC's premiere importer of family-oriented entertainment. First up is Rewind (October 3-19), a fearsome "new school" break dance/hip-hop show starring the award-winning B-Boys of the Las Vegas troupe, Knucklehead Zoo. This is followed by Hunchback (October 24-November 9), a mesmerizing new version of Victor Hugo's The Hunchback of Notre Dame created by Chicago's Redmoon Theatre using puppets and masks. Finally, from November 14 through December 14, Cirque Mechanics kicks off the holiday season with a whimsical, high-flying funfest set in an eye-popping birdhouse factory.

Prices for New Vic shows vary (regular season prices are $12.50-$35), but if you buy tickets for three or more productions, you automatically qualify for free membership benefits, including a 30 percent savings. Tickets for renewing members start as low as $8.75. Also offered in conjunction with select performances throughout the season are daytime school performances ($2 per student), family workshops, Interactive lobby activities, FYIs (performance-related exhibits) and talkbacks with the artists.

The New Victory Theater is located at 209 West 42nd Street just west of Broadway. For additional info and/or tickets visit www.NewVictory.org or call 646-223-3010.

CiRcUs cIrCuS CircUS

It's that time of year — when the Big Apple Circus swings, bounces, catapults and juggles its way back to Lincoln Center's Damrosch Park for its annual fall engagement. This year's show, aptly titled Play On!, is big in the buzz department, boasting an eclectic score (soul, rock and classical), along with a whole bunch of totally awesome acts from around the world including — but certainly not limited to — comics, jugglers, trapeze artists, equine and canine performers, and a tight-wire diva to be reckoned with. And (natch) Grandma the Clown (aka Barry Lubin), the show's designated off-the-wall ambassador. Performances run October 23 through January 18 under the Big Top. For tickets, call 212-962-5471 or 888-541-3750 or visit www.bigapplecircus.org. And don't worry, the Big Top is heated in the cold weather.

Saturdays @ Symphony Space

Upper West Side parents are known for their ability to sniff out first-rate kid activities, and not surprisingly, Symphony Space is at the top of their list. Their versatile roster of Saturday activities includes Just Kidding, Thalia Kids' Book Club (ages 9-12), and Kids' Films, all designed to tap into your kids' passion for music, theater, books, dance and cinema.

October offerings include Father Goose (October 4), a Caribbean music and dance party; Music for a Green Planet with Hayes Greenfield (October 11), a jazz-infused intro to saving the earth; Cornelia Funke's Inkdeath (October 19), a Book Club event led by the bestselling author; and a selection from The York International Children's Film Festival (October 25). November's programs are: folk-singer Elizabeth Mitchell (November 15); Randy Kaplan performing Broadway showstoppers, Tin Pan Alley classics, and Delta blues (November 22); and another feature from The International Children's Film Festival (November 29).

Symphony Space is located at 2537 Broadway on the corner of 95th Street. Prices vary, but generally clock in around $12 for kids and under $20 for adults. Just Kidding Club membership cuts the price for children to $8. 212-864-1414; www.symphonyspace.org.

Broadway Welcomes Shrek

If your fantasy antennae are up, get ready to book your next family trip to "Far Far Away." Shrek the Musical, based on William Steig's classic book and the DreamWorks film that brought grumpy, groovy, gloriously gross Shrek to animated life, begins previews at the Broadway Theatre on November 8 (official opening: December 14). Brian d'Arcy James, last seen on Broadway in The Apple Tree, has the title role leading a cast custom-made for this irreverent fairytale: Tony winner Sutton Foster, fresh from Young Frankenstein, as Fiona, the princess with a big secret; Chester Gregory (Hairspray, Tarzan, Cry Baby) as Donkey (the role voiced by Eddie Murphy onscreen); and Christopher Sieber, who originated the role of Sir Dennis Galahad in Spamalot, as pint-sized villain Lord Farquaad.

Insider info: Your kids can be among the first to preview the new ogre-centric musical by logging onto www.shrekthemusical.com, where they can also sign up for the show's official newsletter.

Reservations can be made on the website or by phone: 212-239-6200. The Broadway Theatre is located at 1681 Broadway between West 52nd and 53rd Streets. Caveat: children under age 4 are not permitted in the theater.

Billy Elliot Leaps onto the Great White Way

What kid can resist identifying with a brilliantly talented fish-out-of-water youngster whose love of dancing takes him out of a working class neighborhood – and boxing lessons – and into a world of self-expression and self-discovery? If you've seen the glorious Brit film on which the Elton John musical is based, you have some idea of the excitement the musical version of Billy Elliot can generate. This much anticipated London import arrived on Broadway with three newly discovered young actors alternating in the role of Billy. Previews began October 1 at the Imperial Theatre, 249 W. 45th Street; official opening is November 13, and trust us, tickets — even at high-end Broadway prices — will be a hot commodity for audiences of all ages. 212-239-6200; www.billyelliotbroadway.com.

13: Not Just an Age, a New Broadway Musical

Fans of High School Musical — tweens, young teens and parents who "get it" — will want to check out 13, A New Musical, the new show that opens October 5 at the Bernard B. Jacobs Theatre (242 W. 45th Street). It features a cast (and a band!) made up of real live teenagers and a storyline that transplants a sophisticated New York kid (know any of those?) into a small town in Indiana, where he must step up to the challenge of "fitting in." 212-239-6200; www.13themusical.com.

BROOKLYN

Kid Lit With Strings Attached
When it comes to bringing fairytales to life, you can't beat Puppetworks, the one-of-a-kind theater company in Park Slope that delights in charming the socks off little ones with puppet productions starring handcrafted wooden marionettes. On tap now — and running through December 21 — is the group's "kinder/gentler" version of the Brothers Grimm favorite Hansel & Gretel, in which Rosina Sweettooth is a more silly than sinister witch who meets her comeuppance when she tries to change the famous siblings into gingerbread and ends up as a cookie herself. Additional (musical) oomph comes from the show's liberal use of children's folksongs adapted from Engelbert Humperdinck's 1893 opera. Performances take place every Saturday and Sunday (and Columbus Day, Monday, October 13) at 12:30 and 2:30pm. Puppetworks is located at 338 Sixth Avenue at 4th Street and tickets are a true bargain at $8 adults, $7 kids, and a mere $5 per head if you're bringing a group of 20 or more (birthday bashes are a specialty). 718-965-3391; www.puppetworks.org.

Haunted Halloween Under the Sea

Out of the pumpkin patch and into Davy Jones's Locker — The New York Aquarium is turning into an A-Scarium for Halloween. It's not overly spooky, but there are plenty of underwater creepy crawlers. This "haunted house" event runs October 25-26, and is free with general admission ($13; seniors $10; kids 3-12 $9; or free for kids in costume with a paying adult), and runs 12-4pm both days. Among the many cool things to experience are "Alien Stingers" (an eerie look at sea jellies), a new Haunted Mine 3D Ride, and a face painting extravaganza guaranteed to change the most cherubic tyke into a super-weird denizen of the deep. Additional fun stuff includes a tantalizingly scary look at the ocean (for an additional fee).

Other kid-friendly programs running October 11-November 22 span the gamut from tours, to "get wet" workshops, to an interactive ocean-based CSI murder mystery, to Breakfast With the Animals, and more. For a detailed calendar of these events — all of which require advance registration — call 718-265-3448.

A Wildlife Conservation Society park, the New York Aquarium is located on Surf Avenue at West 8th Street in Coney Island. 718-265-FISH; www.nyaquarium.com.


QUEENS

Down on the Farm

From their always juicy Apple Festival (held this year on October 5) to their Children's Fall Festival (October 26), the Queens County Farm Museum is known for being a family-friendly home to super swell fall events. At the Apple Festival, for example, you can check out the nation's largest apple cobbler, observe apple pressing demonstrations and watch the kids take part in a whole bunch of children's games. Moving on to the Children's Fall Festival: more games plus hayrides, pumpkin picking, scarecrow building and pony rides, along with a couple of well-timed overlaps, such as their Haunted Farmhouse (October 25, 26, 31; admission $4) and the final night of the farm's Amazing Maize Maze, open Saturdays and Sundays through October 26.

Speaking of the Maze (all three acres!), on October 18 and 25, when it remains open until 9pm, it becomes the backdrop for "Moonlight Nights," an event in which participants use flashlights to navigate their way out. (The Maze is $8 adults, $4 ages 4-11).

Just in case you can't make it to the museum for the festivals, keep in mind that on weekends during the fall there are hayrides every half hour ($2 per person) and pumpkin picking October 4-26. And, of course, the farm is home to numerous animals including goats, sheep chickens, pigs, peacocks, rabbits and a cow. You can even feed the animals ($2 per cup of feed).

The Queens County Farm Museum is located at 73-50 Little Neck Parkway in Floral Park. 718-347-3276; www.queensfarm.org.

Music, Art, Shoes and a Birthday Bash

The Long Island Children's Museum (LICM) turns 15 this November, which means fall 2008 is going to be a celebration from beginning to end. The official "birthday party" will last an entire weekend (Saturday, November 22, and Sunday, November 23, noon-5pm) with birthday-themed events galore and a sing-along involving mountains of confetti. And if your birthday falls on the November 21 – the day LICM opened in 1993 – be sure to bring proof of your birth date for free admission.

The good times start rolling waaayyy before November 22 though, with the LICM Theater lighting up with Seussical!, a singing, dancing feast-and-a-half of beloved Dr. Seuss characters, from The Cat in the Hat, to Horton the Elephant, to oodles of Whos. October 3-18. For kids ages 3 and up, tickets run $20 and can be purchased at www.ovationtix.com/trs/pr/65542 or 866-811-4111.

Artistically speaking, on display at the museum's KaleidoZone Gallery is Children of the World, paintings of children's faces from a variety of cultures by artist Betty LaDuke. On the more interactive side is Global Shoes, a unique exhibit featuring authentic footwear from more than 40 countries that invites children to "be the first to slip on reindeer boots from Finland and embroidered mules from Morocco." To kick off the arrival of the show, the weekend of October 4-5 has been dubbed the Global Footwear Festival, which means special workshops, pop-up programs and live performances.

And back again by popular Halloween demand, LICM's Ghostly Gala, where eerie music, creepy crafts, gallery trick-or-treating, and the opportunity to meet and greet live bats add up to a spook-tacular time! October 25, 6-9pm. $9; added charge for bat program.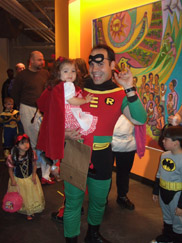 Finally, on November 9, LICM hosts its 6th Annual Friends Around the World Festival, a celebration of the diverse cultures and families that make up Long Island. A global banquet of music, dance and ethnic foods awaits. $15, free to children under 2. Tickets go on sale October 7 and can be purchased by calling 516-222-1770 or at www.licm.org.
The Long Island Children's Museum is located at 11 Davis Avenue, Garden City. 516-224-5800. www.licm.org.