Many parent-run businesses have a limited life span.  On the other hand, Cozy's Cuts for Kids, which predates owner Cozy Friedman's children, keeps expanding. 
    Friedman, who worked in retail before opening her first salon, at 1125 Madison Avenue (84th Street), went into business after hearing about a bad haircut experience.  She designed her salon to be as kid-friendly as possible, with amenities that are now industry standards:  a race car seat, a huge selection of movies so kids can be distracted while they are in the chair, and an integrated toy store, so youngsters look forward to visiting.  Most importantly, she said, "I hire very talented people and specially train them to work with children.  Once you reach a certain point, the talented people seek you out and we have our 'pick of the litter'."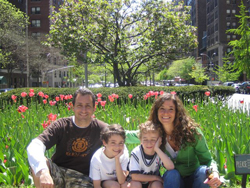 Cozy Friedman with husband, Joe, and boys Shane and Riley

   Although Friedman is not a stylist, she is licensed.  "I felt that as a small business owner, it was very important to know how to do everything in the business. Although I am able to cut hair, I have never cut anyone's hair in my salon," she says (and admits too often forgetting her own kids might need a trim!).  But she is a constant presence, greeting old and new customers at each of her three salons (the other locations are 448 Amsterdam Avenue at 81st Street, and 1416 Second Avenue at 74th Street).

   Friedman, who has two sons, Shane, 9, Riley, 7, turns to her kids and their friends for inspiration.  "That's how I found out about Webkinz before most retailers," she says.  "I realized it was the hot new toy and that the kids weren't able to find them anywhere. I placed a huge order and got really lucky — we were the only ones in NYC with a giant selection throughout the holidays and even now."  Her kids also named a new product line, "Boo", that repels lice and ticks.  The tea tree oil-based shampoo and leave-in conditioner naturally 'scare away' lice, she contends.

   Cozy's has been expanding; Friedman says her motto is "You are either green and growing or ripe and rotting.  We are green and growing!"  To that end, she has been extending the salon's reach through her So Cozy Hair Care Product line, wholesaling it to high-end pharmacies, apothecaries, drugstores and other children's salons nationally (you can also buy it from the website, www.socozy.com).

   And Cozy's has just introduced a pre-detangling treatment that you apply in the bathtub and comb through.  Kids can also have a treatment done at the shop, before a haircut, or can just come in for that treatment, which Friedman explains, smoothes the hair cuticle, and has quinoa and wheat protein to nourish the hair.  A salon treatment is $15; the 8-oz. container for at home use is $13.95.