The Jewish Museum has two great new exhibits for families
:
From
The New Yorker to Shrek: The Art of William Steig,
and
Archeology Zone:  Discovering Treasures from Playgrounds to Palaces.
  The latter is designed specifically for young visitors ages 3-10 and offers a hands-on experience where kids become archeologists.  They use the 4 Ws to discover where an object came from, what it is, when it was made, and why it was made.  Artifacts such as a clay jug, a Greek helmet and a mosaic are examined, and kids are encouraged to compare ancient objects with modern ones. In a model of a home from 1900, kids can don costumes. There are also puzzles, magnifying glasses and drawing materials to engage.  
   In this children's exhibit, the museum relates to its permanent collection, which is an intriguing way to draw children into the 'adult' portion of the museum.  Here, a zodiac mosaic is a reproduction of one found in the exhibit, Culture and Continuity.  
  The William Steig exhibit is not strictly designed for children, but kids who've seen the movie Shrek, read Sylvester and the Magic Pebble, or drawn their own cartoons, will want to check out this show.  A local boy — born in Brooklyn, raised in the Bronx and a Manhattanite in his adult years — Steig was the first cartoonist to do both drawings and captions.  For those of us who read The New Yorker today, it is startling to realize that he was with the magazine nearly from its beginning; he began drawing for them in 1930.  Steig had a 'Small Fry' series of cartoons that focused on children, influenced by his immigrant Jewish background.  
  This exhibit has colorful couches where you can sit and look at the art; the couches are placed on painted floors that give the whole exhibit area a cartoonish quality.  Best of all is the Sylvester, Shrek & Friends Reading Room, where you can read all of Steig's books.  Steig didn't start writing children's books until his was 60 years old (the exhibit, by the way, celebrates the centennial of his birth), but he was still able to relate to children's concerns of emotional struggle and survival.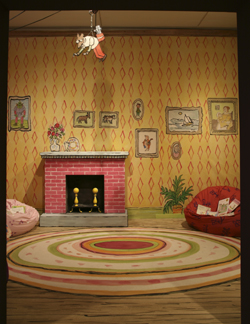 Kids will also get a kick out of the wall of faces; some of these open to reveal an object to be found in the exhibit, like a teakettle or a ship.  There is also a jungle wall in The Zabajaba Jungle Room, where kids can rearrange magnetic animal pieces.  
  Movie fans will enjoy the models from Shrek, which is being made into a Broadway musical.  'Shrek' means fear in Yiddish, but the movie softened the ogre Steig created.  There are models of the swamp, Donkey and Shrek himself, from Dream Works.  
  This month, the museum has a plethora of family programs, including a celebration on December 25 with live music and drop-in arts and crafts projects. There are also special Winter Vacation Celebration Days, December 26–27, with activities related to the archeology exhibit.  
  Archeology Zone
is at the museum through June 15, 2009;
William Steig
is there until March 16, 2008.
Info:

Where:
The Jewish Museum, 1109 Fifth Avenue at 92nd Street
When:
Saturday–Wednesday, 11am–5:45pm; Thursday, 11am–8pm
How much:
$12 adults; $10 seniors; $7.50 students.  Free for kids under 12, and free for everyone on Saturdays; however, the archeology zone is closed on Saturdays.
For more info:
www.thejewishmuseum.org
or (212) 423-3200