On the Battery Park City Ballfield on a sunny Saturday afternoon, the air smells of cut grass and perspiration. Kids in cherry red and royal blue baseball uniforms take their turns at bat, learning how to give it a proper swing with the gentle guidance of Paul Colliton. Colliton is the manager of the
Downtown Challengers
, the newest team to join the Downtown Little League, one of the fastest-growing leagues in New York. The team is unique in that it is comprised of autistic children of various ages and functions. "Swing, Billy!" Colliton urges his curly-haired, robust, 10-year-old son Billy, who didn't speak until two years ago. After he gives it a good bunt, Billy smiles and runs while everyone cheers. Eventually getting to home plate, he snuggles in his father's proud arms. The children and their families break and walk hand-in-hand across the street to P.S. 89 to pose for team photos.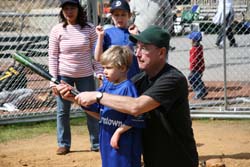 Downtown Little League president Mark Costello helps out

Colliton, a portrait photographer, and his wife Jackie, an interior designer, already lead busy lives. Like other parents of autistic children, when they aren't working to earn a living, their time is devoted to providing the best life and education possible for their child. Yet, when Colliton got an email from the Downtown Little League's president Mark Costello about starting a league for kids with learning disabilities, he leaped at the opportunity, envisioning a typical ball game where two teams play against each other.
"We quickly realized that couldn't happen," remembers Colliton, a lifelong baseball fan who holds season seats at Yankee Stadium. "Some of these kids are lacking in communication skills; they don't get certain aspects. They need parental supervision. Now, it's about everybody having fun, and grasping the idea of a team sport." While most of the participating 13 players are primarily from the Downtown/Tribeca area, the team is open to ages 6-16 from any borough, and there are still spaces open.
"This is an amazing opportunity for these kids . . . I might start crying talking about it," says Christine Kiebert-Boss, cheering her son Cole, 9, as he walks across home plate. "It's all worth it for that." Cole was diagnosed at age 2 1/2 and doesn't speak. "I heard about the team through the Collitons — my son goes to the same school as Billy, Hawthorne Country Day School." By his third game, "he's starting to get it," says Kiebert-Boss. "They're getting the joy of it. They're batting with intent, running to the bases."
This team is comprised of primarily autistic children (and one with cerebral palsy) because "it just happens this group of parents were excited and invited their friends," explains Downtown Little League's Costello, whose daughters (not autistic) sometimes attend the games to help and cheer the players. "You're breaking down walls in a way that's appropriate, promoting interaction, and that's a big thing for autistic children. There was a boy the first day — Jacob — who just kept circling the bases. He never spoke. My daughter and her posse just wouldn't let him be, and he started talking to them. His dad told me that was a very big deal because he doesn't speak with others."
"It gives the opportunity for the children to do something that's normal. There are so many things they do on an individual basis," explains Jackie Colliton, "that the team thing is very good. It's important to have socialization and also a sense of self-esteem and accomplishment. In three weeks, there's already been a big improvement. They went from never hitting the ball, to understanding that you have to go base to base — and stay on a base until the next person swings, hits the ball and runs."
The benefits are not just having social interaction and a sense of team spirit, but also physical conditioning. "A lot of these kids have poor motor skills, their bodies are tensed up," explains Natesha Lamont-Lewis, an autistic counselor at Hawthorne Country Day School who joined as one of the team's umpires. "Baseball gets the kids running, jumping, skipping." As each player runs to her base, Lamont-Lewis offers them a "high-five". "They know they did something right when they hear that," she says.
"Baseball is a part of our world, a way to socialize," adds Todd Lanchart, a sports teacher with S.N.A.C.K. (Special Needs Activities Center for Kids) on the Upper West Side and a pitcher for the team. Filled with endless energy, Lanchart psyches up the spirits of each child at bat, offering words of encouragement.
Exorbitant costs for children with special education needs can often drain families of disposable income that could be spent on other activities. One year's tuition for a child with a learning disability can cost more than $30,000. Costello pitched Friends of Lower Manhattan for financial support. "He gave us a proposal, and we wanted to give out some community grants," says Madelyn Wils, chairwoman of Friends of Lower Manhattan, who also helped secure funds to convert the Battery Park City Ballfield back
into
a ballfield after it was used as an emergency vehicle parking area after 9/11. "My own three boys were Downtown Little Leaguers growing up. I think the idea for this team is great."
Aside from Costello's daughters, other children will sometimes come out to help with the game. Grade schoolers from P.S. 234 sometimes act as "buddies" to encourage the players. "I think it's very important for kids to see other kids, to value where you're at and to learn compassion," says Costello. "Baseball is about competition, striving and winning. But it is also about being a part of the mix."
Kiebert-Boss agrees. "Typical kids have special things they like to do. So do autistic children. But they need a mix. They need to be with typical kids, and typical kids need to get used to being with other children who are different."

When asked if he'll manage Downtown Challengers next season, Colliton firmly enthuses, "Oh, yeah!" Costello is hopeful that more Challenger teams will form in other boroughs. "Someone has to get excited. Someone has to get fired up."

For more information on Downtown Challengers, visit www.downtownlittleleague.org.



Billy Colliton smiles after hitting the ball at the first Downtown Challenger game.

Photos: Patrick Loy