Dr. Lily Eng of Chatham Green Dental Care in Manhattan ran a "Good Deed Contest" for kids and awarded the winner a new computer.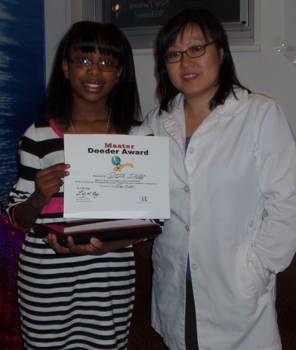 At Chatham Green Dental Care, Dentist in New York, Dr. Lily Eng cultivates smiles through more than braces and check-ups. She also encourages local children and teens to channel their inner good Samaritans and do good deeds, from small, one-time acts to large ongoing gestures.
For one local child, that good deed merited a brand new computer. Dr. Eng started the Good Deed Contest last September to promote daily positive decision making and increase the occurrence of morally right acts. She encouraged kids and teens to enter by submitting an essay about a time they performed a moral act. The winner, announced November 30, was 10-year-old Deja Irby, who impressed Dr. Eng with her essay about teaching a younger boy to ride a bike. "It was especially worth it to see the excitement in his eyes," Irby says of the experience. "To see how he was able to accomplish his goal of learning how to ride a bike was also a great experience for me."
Dr. Eng says she hopes to make the contest an annual event. "The contest rewards good deeds done by children and teenagers to encourage them to make the right choices in life," she says.
Dr. Eng also fosters a community of caring and helping one's neighbors by hosting community events like holiday food drives. For more information about Dr. Eng or her services, call 212-842-5300 or visit www.dentistinnewyorkny.com.