East Side Training is a new fitness facility on the Upper East Side that offers boot camp programs and group fitness classes in mixed martial arts, kickboxing, zumba, and more, for kids and adults.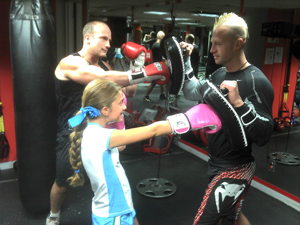 Michael Margulies, owner of Core Fitness at 12 E. 86th Street, has been a personal fitness trainer for more than 20 years and has spent the last 15 working with children-from serious athletes to those with special needs. Margulies offers one-on-one training at Core, but he knew he had more to offer. About a year ago, when his own teenaged daughter came home raving about her kickboxing instructor, professional kickboxer Joseph Stritmatter, Margulies found his partner in crime. The two will open East Side Training on September 6.
The new 1,200-square-foot facility on the Upper East Side will offer a roster of group classes for kids and adults, including martial arts instruction (kickboxing, Brazilian Jiu Jitsu, tae kwon do, wrestling, etc.), boot camp conditioning, Zumba, and TRX suspension training. The most important factor, says Margulies, will be the center's welcoming environment, where people can come to have fun while they get fit.
Classes for kids will be offered after school, while adult classes will be offered in the mornings and evenings. The center will form its schedule around client demand, Margulies says. To request a class (and for 10 percent off on your first class package), visit www.eastsidetraining.com.
East Side Training is located at 960 Madsion Avenue (at 75th Street). For more information, call 212-510-7260 or visit www.eastsidetraining.com.