Young students of the East Village Dance Project made their own instruments from bamboo to play at a Lincoln Center concert commemorating the earthquake and tsunami that hit Japan last year.
On March 4, 13 young students of East Village Dance Project participated in a bamboo instrument-making workshop led by Japanese musicians at Avenue C Studios. The workshop was a preliminary event to a March 6 anniversary concert at Lincoln Center, Overcoming the Disaster: Gratitude from Japan to the World, which commemorated the one-year anniversary of the 8.9 magnitude earthquake and subsequent tsunami that caused widespread destruction in Japan last spring.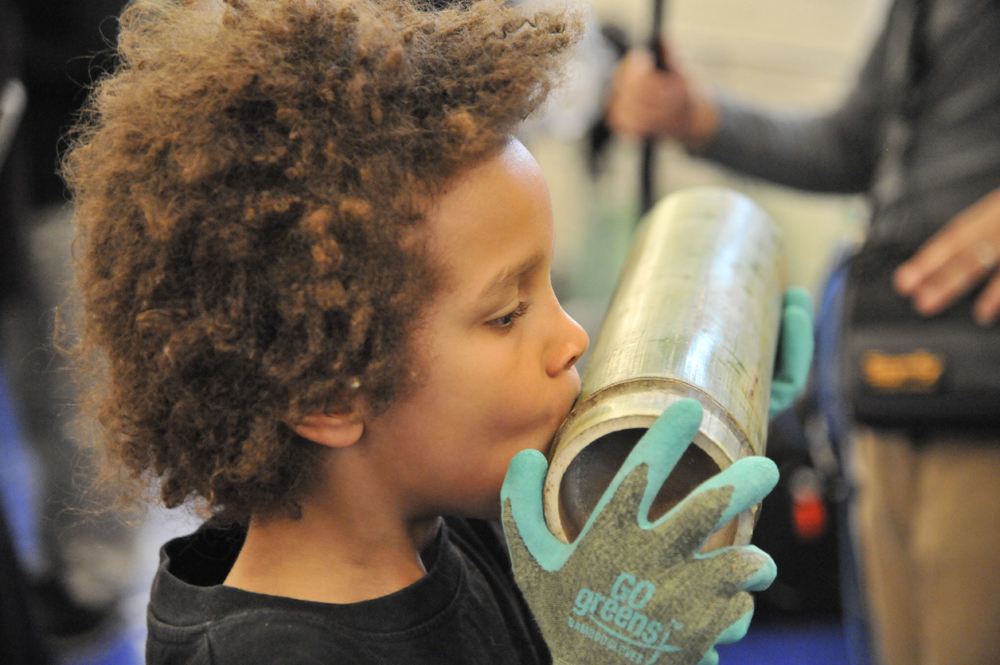 "Man, this is going to drive my mom crazy!" exclaimed Safouane Chestnut, 8, celebrating his newfound ability to make tones on the hora.
Workshop participants, ages 6-13, made the very instruments they would play at the concert alongside 30 Japanese performers, including the musicians of Ondekoza, Japaen's premiere taiko orchestra, and Kimihiro Kitamura, originator of Bamboo Orchestra and master bamboo instrument-maker. It was Kitamura, dressed in a denim shirt, who primarily instructed the kids, translated by Kanako Hiyama, a translator born in Japan who now lives in Brooklyn. Bamboo from Japan was flown in for the job. The kids had seen bamboo before (in the zoo, most said), but none could say they had touched it. Kitamura explained that each piece of bamboo is an individual, and its tone changes as it ages. It was the young musicians job to give voice to the bamboo.
The students first created take bera, or musical sticks, from the bamboo, which are knocked together to make a sound like the wooden blocks heard in Western orchestras. Nine-year-old Lainey Macken plays the piano, but she had never played anything like bamboo sticks before. "I liked it best when we were all playing fast," she said. Lila Meretzky, 13, said she felt like there was a "big connection in the room" as the students played together.
Next, the students created a bamboo hora (or "conch"), a large wind instrument played like a trumpet. Finally, they rehearsed on their new instruments for their concert debut.
Mitsuo Tamura, the concert director, explained that when kids play music, there is no right or wrong way, just as there is no right or wrong in music. Sometimes music is an emotion; sometimes it is a prayer or a yearning.
The concert, organized by The Japan Foundation, was one of a worldwide series of free concerts on the anniversary of the Japanese earthquake and tsunami meant to convey the Japanese people's sincere gratitude to the global community for its support. For more information on the concert series, visit overcoming-disaster.jp/en.