Blue Sky Girls raises awareness for Rett Syndrome, a severe neurological disorder on the autism spectrum, with families affected by the genetic disease on the steps of Tweed Building in Lower Manhattan.
On Oct. 13, more than 60 local families gathered on the steps of the Tweed Building in Lower Manhattan to participate in the second annual Blue Sky Girls event and raise awareness for Rett Syndrome, a severe neurological disorder on the autism spectrum. The participants, along with 50 New York City firefighters, supported young girls with Rett syndrome as they climbed the steps of the courthouse, a symbolic act that represented the girls' will to keep going, even through the difficulties they face each day.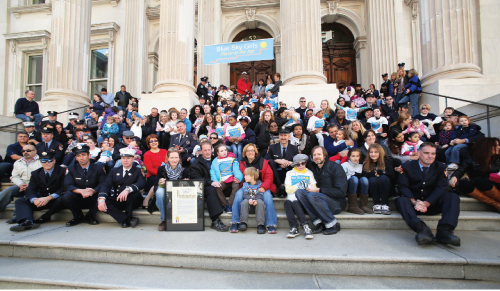 Courtesy Montefiore Medical Center
Rett syndrome, which affects approximately 16,000 girls in the U.S., is a neurological disorder that leads to development reversals, especially in speech, hand use, and, in most cases, walking. The disorder is caused by a genetic mutation and often leaves girls aware and alert without the ability to express themselves in any way.
"Our research has shown that these girls are 'locked' in their bodies. They are aware and alert but have difficulty communicating and so their intelligence and abilities are underestimated," says Aleksandra Djukic, M.D., Ph.D., director of the Tri-State Rett Syndrome Center at The Children's Hospital at Montefiore. "It is our moral obligation to increase public awareness of the burden of isolation these children face due to their inability to communicate. The core of our philosophy is that, like any other individual, children with handicaps have their weaknesses, but their strengths too."
While Rett syndrome affects one in 10,000 girls, many people are unaware of the condition. The Blue Sky Girls event was held during Rett Syndrome Awareness Month, and the Manhattan participants were joined by families in 24 states across the U.S. and various countries around the world, all of whom gathered to show that, despite severe motor impairments, girls with Rett syndrome can reach the top with the help of community and family support.
Also read: