SEE OUR MOST RECENT GUIDE TO HALLOWEEN EVENTS IN THE NYC AREA
---
With all the Halloween events happening throughout New York City in October, you can easily make it a month-long celebration. Following are a few of our favorite activities for families, from pumpkin-filled parties to spooktacular shows and frighteningly fun festivals.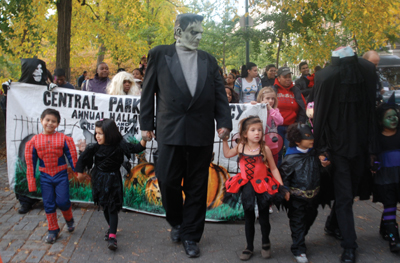 Concerts and Shows
HalloWHOA!: This interactive Halloween gift from those creative wizards known as the Story Pirates poses the peculiar question: What do secret passages, mind-bending puzzles, and ballet-dancing Frankensteins have in common? The answer: a hands-on, kid-controlled haunted house experience. Will the wolfman howl at the moon and gnash his teeth, or will he pour everyone tea and tell a story about his grandma? And how will you ever get out of this room? It's up to you and your kids to solve puzzles that move you through the house and decide just how silly or spooky it will be. All proceeds benefit the Story Pirates' literacy programs in low-income schools, so you'll want to dive in fangs first to this mysteriously preposterous adventure and a half.
October 11-31; Fridays at 9:30am; Saturdays at 5:30pm, 6pm, and 9:30pm; Sundays at 1:30pm and 2pm; tickets are $40. Manhattan Youth Downtown Community Center, 120 Warren Street; 347-878-6798; www.hallowhoa.com.
Nightmare: Superstitions (Kids Day): On two special days, Nightmare: Superstitions, the normally very scary haunted house for big people, will turn into a Halloween treat just for kids. The lights will be turned on and the meanies will be replaced with friendlies: clowns, jugglers, balloon-animal artists, and other not-so-scary performers. All the fun, cool stuff that make Nightmare the most popular haunted attraction in the city will still be there, just with none of the BOO! All in all a super alternative to trick-or-treating, as candy will be given out in every room.
Saturday, October 23 and Saturday, October 30, 10am- 3pm; ages 2 to 8; tickets are $12 (children under 2 are free). The NOHO Event Center, 623 Broadway; 212-352-3101; www.hauntedhousenyc.com/kidsday.php.
'Lumpy Bumpy Pumpkin': Through plenty of comedy, compassion, pumpkins, and puppets, this Halloween story teaches audience members that everyone has a special talent - you just have to find it. The energy and spirit of the storyteller and guitarist help bring Farmer Joe's pumpkin patch to life. October 13-29. Show times vary (see website). $15 in advance; $20 at the door. 45 Bleecker Street Theater, 45 Bleecker Street. 212-724-0677. www.shadowboxtheatre.org.
Erin Lee and the Up Past Bedtime Band: A Not-So-Spooky Halloween Concert: Dress up in your favorite costume and celebrate Halloween with a not-so-spooky musical celebration. Reservations recommended. October 24 at 4pm. $20 per child in advance. City Treehouse, 129A W. 20th Street. 212-255-2050. www.citytreehouse.com.
Halloween: A Monster Musical Adventure: The Central Park Conservancy presents a family-friendly musical produced by Joe Pospisil (author of the children's book by the same title). October 30; every hour on the hour, 12-3pm. FREE. Belvedere Castle, Central Park at 79th Street. 212-772-0210. www.centralparknyc.org/events.
Halloween 'Magic-Lantern' Show: Watch an 1890s visual extravaganza projected on a full-sized screen, featuring spooktacular stories like "The Raven," animated comedy, and songs dramatized on screen by a live showman and singer/pianist. To learn more, visit www.MagicLanternShows.com. October 29, 6:30pm and 8pm. $20; $10 children under 12. Mount Vernon Hotel Museum & Garden, 421 E. 61st Street between First and York Avenues. 212-838-6878. www.mvhm.org.
Fairs/Festivals and Parties
Día de los Muertos Celebration: Get your calaveras out of the closet and celebrate this 3,000-year-old Mexican tradition that commemorates friends and relatives who have passed away. October 16, 11am-8pm. FREE. El Museo del Barrio, 1230 Fifth Avenue at 104th Street. 212-831-7272. www.elmuseo.org.
Brownstone School's Halloween Fun Fair: This fair is also the school's largest annual fundraiser. Attractions include bouncy rides, a life-sized Candyland course, pumpkin and cupcake decorating, games, music, and food. October 23, 11am-4pm. FREE. PS 87 School Yard, Amsterdam Avenue and W. 77th Street. 646-522-3050. www.brownstoneschool.com.
Halloween Party at the Police Museum: Walk through a spooky haunted house and enjoy hands-on activities for kids, including making 'slime' and decorating trick-or-treat bags. There will be trick-or-treating and giveaways, as well as Halloween safety tips for parents. October 23, 11am-2pm. FREE. The New York City Police Museum, 100 Old Slip. 212-480-3100. www.nycpm.org.
PS 166's Fall Festival: Big Extreme Halloween: This festival with an eco-friendly message features carnival rides, live entertainment, crafts, baked goods, healthy food, and a costume contest, as well as the return of the Cake Walk and the Haunted House. October 24, 10am-5pm. FREE. West 89th Street, between Columbus and Amsterdam Avenues. 212-678-2829. www.ps166.org.
From Parlor to Grave: 1865 Funeral Reenactment: The parlors will be draped in black crepe for the recreation of the 1865 funeral of Seabury Tredwell. After the service, mourners are invited to follow the coffin to nearby New York City Marble Cemetery - rarely open to the public - for a tour; 19th-century mourning attire encouraged. Preregistration recommended. October 24, 3-5pm. Recommended for teens and adults. $20. Merchant's House Museum, 29 E. 4th Street. 212-777-1104. www.merchantshouse.org.
Halloween Costume Party: Be entranced at the Creepy Chem Show, then work on a special Halloween project. Pizza and Halloween treats will be provided. October 25 at 5pm. $50. 74th Street Magic, 510 E.74th Street. 212-737-2989. www.74magic.com.
Halloween is Happening: Wear your best costume and enjoy games, treats, crafts, and stories from some of the churchyard's famous inhabitants. The Haunted Hamilton Happy Hour starts at 5pm with a toast to churchyard resident Alexander Hamilton. Non-alcoholic beverages will also be available. At 7pm, the silent film classic, "The Cabinet of Dr. Caligari" (1920), starring Lon Chaney, will be screened inside Trinity Church with live organ accompaniment by Robert Ridgell. October 29 at 4pm. FREE; donations accepted. Trinity Church, Broadway at Wall Street in Lower Manhattan. 212-602-0731. www.trinitywallstreet.org.
Community Healthcare Network's Halloween Health Fair: A Halloween health fair with giveaways, a face painter/clown, candy, and free health screenings: Sexually Transmitted Infections (STI's), blood pressure, and glucose levels. October 29, 10am-1pm. FREE. Helen B. Atkinson Health Center, 81 W. 115th Street. 212-426-0088. www.chnnyc.org.
Wonderween: Catch a monstrous movie, have some haunting hands-on fun, and go home with gobs of ghoulish goodies. October 30-31, 12-4pm. FREE. SONY Wonder Technology Lab, 56th Street and Madison Avenue. 212-833-8100. www.sonywondertechlab.com.
Little Club Heads Halloween Party: Enjoy dancing, face painting, clowns, cartoon characters, and free snacks. Prizes will be awarded for the best costumes. October 31 at 12pm. $15. La Pomme, 37 W. 26th Street. 917-327-3268. www.littleclubheads.com.
Applause NYC Halloween Spooktacular: A Halloween celebration for the whole family (1-3pm), featuring a "Monster of a Show" at 2pm. October 31. $45-$55 per family in advance; $70 at the door. St. Jean's Community Center, 184 E. 76th Street. 917-593-3574. www.sjbrcc.net.
15th Annual Halloween Celebration at AMNH: Trick-or-treat among the dangerous dinosaurs, eerie elephants, and other-worldly planets. Kids' favorite characters will wander the halls greeting and entertaining visitors. There will also be spooky arts and crafts and live performances. October 31, 2-5pm. $10. American Museum of Natural History, Central Park West at 79th Street. 212-769-5100. www.amnh.org.
The Wizard of Oz Halloween Event: Meet, sing, and dance with Dorothy, Cowardly Lion, Tin Man, and Scarecrow. Visit the Witch's Castle kitchen and sip healthy witch's brew and prepare creepy healthy treats. Make a mask of your favorite character from The Wizard of Oz and join in the Follow the Yellow Brick Road parade. October 31, 6-8pm. $10; $7 seniors; FREE children under 1. Children's Museum of Manhattan, 212 West 83rd Street. 212-721-1223. www.cmom.org.
Haunted House
7th Annual Inwood Hill Haunted Forest and House: Tour the forest, journey past the "Indian Caves," encounter aliens, meet "The Lord of Darkness," and enjoy storytelling at the fire pit. Then visit the nature center's haunted house, if you dare. October 31, Dusk till 10pm. FREE. Inwood Hill Nature Center, Inwood Hill Park, Dyckman Street and Hudson River. 212-304-3401. www.nycgovparks.org.
Parades
Halloween Parade and Pumpkin Sail: Enjoy spooky storytelling, mini-pumpkin decorating, pumpkin carving demonstrations, and more on October 24, 4-7pm. Costume parade begins at 5:45pm. Bring your own 5- to 10-pound jack o'lantern by 5:30pm to participate in the pumpkin sail. FREE. Charles A. Dana Discovery Center, Central Park at 110th Street, between Fifth and Lenox Avenues. 212-860-1370. www.centralparknyc.org/events.
Community Healthcare Network's Halloween Parade: Show off your Halloween costume and get your face painted. October 26, 1-4pm. FREE. Community League Health Center, 1996 Amsterdam Avenue. 212-781-7979. www.chnnyc.org.
Story Hours
Story Time with Barnes and Noble: Peek a BOO!: Kids can enjoy a special Halloween storytelling hour with treats. October 12 at 10:30am. FREE. Gerald W. Lynch Theater at John Jay College, 899 Tenth Avenue. 212-279-4200. www.jjay.cuny.edu/theater.
Jack-o-Lantern Storytime: Listen to stories about pumpkins and jack-o-lanterns, and visit the museum's kitchen to see the pie-making display. Then make a jack-o-lantern toy to take home. An optional tour of the period rooms will follow. October 15 at 10:30am. Museum admission: $8; $7 students and seniors; free children under 12. Mount Vernon Hotel Museum & Garden, 421 East 61st Street. 212-838-6878. www.mvhm.org.
Spine Tingling & True: Ghost Stories of the Merchant's House Museum: Ghost storyteller Anthony Bellov will read selections from 19th-century horror classics and recount highlights from his ongoing research into the strange and supernatural occurrences at the museum. Preregistration recommended. October 31 at 7pm and 9pm. For teens and adults. $25. Merchant's House Museum, 29 E. 4th Street. 212-777-1104. www.merchantshouse.org.
Walking Tours
Edgar Allan Poe and His Ghostly Neighbors of Greenwich Village: On this spooky walk, participants go in search of the spirits of Eleanor Roosevelt and her pet dog Fala, Aaron Burr, the ghosts of the New York University Library, and several Edgar Allan Poe sites. RSVP requested. October 1-2, 8-9, 15-16, 22-27. 9:30pm. $25; $20 in advance. Fire Patrol Station No. 2, 84 West Third Street, between Thompson and Sullivan Streets. 718-591-4741. www.nycwalks.com.
Peter Stuyvesant and His Ghostly Friends of the East Village: On this tour, you'll go in search of Peter Stuyvesant and his ghostly friends, including Edgar Allan Poe, Washington Irving, and Harry Houdini, as well as the first jogging ghost, Theodore Roosevelt. RSVP requested. October 9, 16, 23, 28-31. 7:30pm. $25; $20 in advance. Meet in front of the lion sculpture, in front of St. Mark's in the Bowery Church, northwest corner of 10th Street and Second Avenue. 718-591-4741. www.nycwalks.com.
From Ghost Busters to John Lennon: The Ghosts of the Upper West Side: This walk starts with "the Ghost Busters building" and ends with the ghost of John Lennon. Participants can relive the haunted experiences of Mae West, Irving Berlin, and Babe and Romain Polanski's "Rosemary's Baby" in the Dakota. RSVP requested. October 9, 16, 23, 30. 3:30pm. Best suited for tweens, teens, and adults. $25; $20 in advance. 'Ghost Busters Building,' 55 Central Park West between 65th and 66th Streets. 718-591-4741. www.nycwalks.com.
Eleventh Annual Midnight Madness Ghost Walk: Keep a look out for ghosts as it approaches midnight on this spooky walking tour. October 30-31 at 10:30pm. $25; $20 in advance. Recommended for tweens, teens, and adults. Meet in front of the lion sculpture, in front of St. Mark's in the Bowery Church, northwest corner of 10th Street and Second Avenue. 718-591-4741. www.nycwalks.com.