Related: cma, children's museum of the arts, art island outpost, governors island, family, kids, children, art workshop, circus, september, 2010, activities, events, calendar highlights, manhattan, new york, nyc, ny,




The Children's Museum of the Arts (CMA) hosts its Art Island Outpost on Governors Island throughout the month of September, with circus-themed activities for kids and families.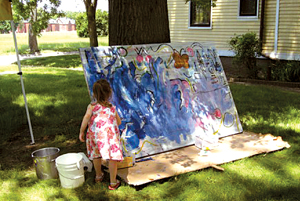 Throughout the month, the Children's Museum of the Arts (CMA) will host a series of free family art workshops at its Art Island Outpost on Governors Island. CMA teaching artists will lead outdoor workshops in painting, drawing, collage, sculpture, installation, and much more every Friday, Saturday, and Sunday in September. Each weekend has a different activity within the monthly theme, with new projects for the whole family. All weekend activities include an art project that participants can take home, as well as large-scale collaborative projects and organized music time and performances.
September's theme is "Circus." Workshops are scheduled as follows:
September 3-5: Circus Tent and Collaborative Canvas Making. Make a circus tent out of recycled materials, and throw paint balloons at canvas.
September 10-12: Wire Sculptures. Get inspired by Alexander Calder and create your own animal wire sculpture.
September 17-19: Costume and Mask Making. Create your favorite circus character.
September 24-26 (closing weekend): Circus Mayhem Party. Help CMA create its own circus with face painting, dancing, music making, and more.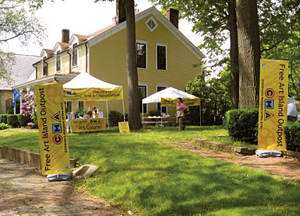 If you're on the island September 12, head to Building 20 in Nolan Park, where CMA will host an exhibit opening for "Beyond the Refrigerator Door." Now in its 7th year, this exhibit is the culmination of work created by student artists in the more than 40 total Summer Art Colony classes held at CMA and on Governors Island. In addition to the students' collaborative work, this show also features original work by CMA Teaching Artists. The event, which will be held 11am-3pm, will also feature film screenings and free art workshops.
Art Island Info
What: CMA's Art Island Outpost Family Art Workshops
Where: Governors Island (take the ferry from 10 South Street)
When: Each Friday, Saturday, and Sunday in September; 11am-3pm
How much: FREE
For more information: 212-274-0986 or www.cmany.org

---
Get Your FREE Indoor Activity eGuide!
---
More Recreation/Outings Articles
2010 Nassau Coliseum Fair in Uniondale, NY
DanceAfrica 2011 at BAM: Viva Cuba!
Brooklyn May Calendar Highlights: Family Activities
Spring 2011 Bird Watching Events in Westchester County, NY
Westchester County, NY, May Calendar Highlights: Activities for Families

Be a good fellow parent and share this with a friend who would be interested
Local Recreation/Outings Sponsors
See Our Recreation/Outings Directory