Former NBA star Kareem Abdul-Jabbar read his new book, "What Color is My World?" to a group of kids at the Children's Museum of Manhattan to celebrate Black History Month on Feb. 8.
In celebration of Black History Month, the Children's Museum of Manhattan got a visit from 19-time NBA All-Star Kareem Abdul-Jabbar, who stopped by to read and discuss his new book "What Color is My World?: The Lost History of African-American Inventors"
At 4pm on Feb. 8, the museum's executive director Andrew Ackerman introduced the NBA's all-time leading scorer by saying, "I watched him play basketball for many years, but the real thing I admire about this gentleman is his devotion to study, history, and learning."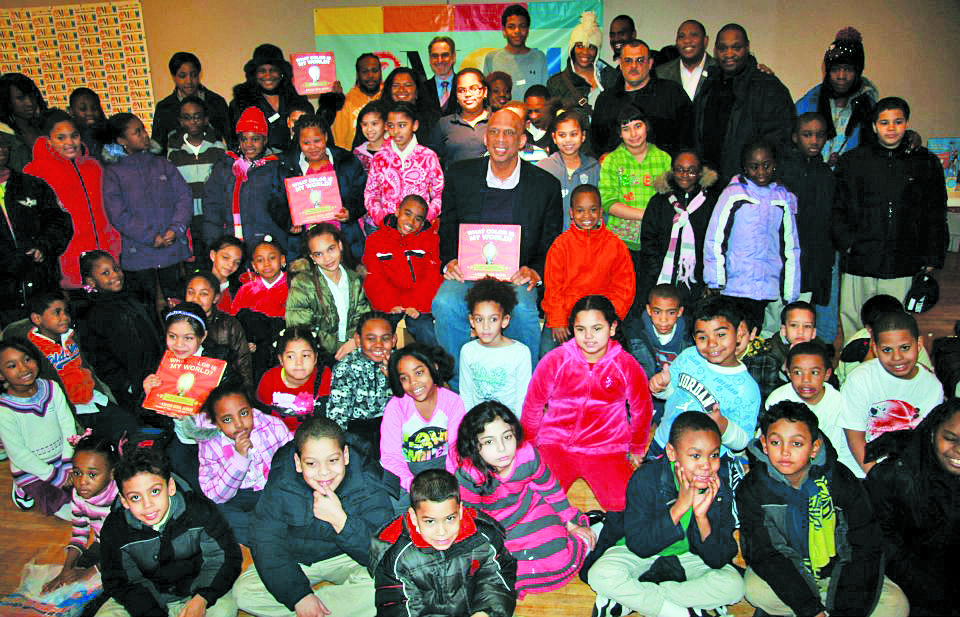 Former pro basketball player Kareem Abdul-Jabbar, read an excerpt from his new book "What Color is my World" at the Children's Museum of Manhattan. Courtesy CMOM
The 7-foot-2-inch Abdul-Jabbar, surrounded by several dozen pint-sized fans, explained his motivation for writing the book: "When I was in grade school none of our history books had anything about black Americans that didn't have to do with slavery or civil rights and the black experience is so much more that. I felt like a book like this was necessary just to give our children an idea of what is possible and what they can aspire to."
Abdul-Jabbar then read an excerpt from his book about how George Crum invented the potato chip in 1953. Following the reading, he opened the floor to questions. One child asked, "What's better, playing basketball or writing books?" To which Abdul-Jabbar answered, "I really enjoyed playing basketball, but that was for me personally…but writing books is a lot more fulfilling because I get to share knowledge and by sharing knowledge, everybody benefits."
After the Q&A, Abdul-Jabbar signed copies of his book and encouraged his young fans to keep reading. "It's the one thing that will lighten your life and take you places that you couldn't go any other way," he said.