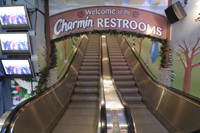 If you've ever been in Times Square during the holiday season, you know how difficult it is to find a clean and accessible public restroom. However, for the third consecutive year, Charmin is offering a solution. The Charmin Restrooms, family-friendly, hygienic and comfortable, are located at 1540 Broadway in TimesSquare, between West 45th and West 46th Streets, on the main level (for "relief").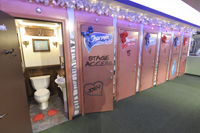 There are 20 restroom stalls, all serviced by attendants who clean them after every use. The entire floor has a winter wonderland theme, complete with a fireplace and a tree house featuring a Charmin Ultra Strong swing and Charmin Ultra Soft slide. You can also have your picture taken in a Santa sleigh with a life-size Charmin bear. Your photo is printed for free on the spot and also available as a free download on Charmin's website. Additional amenities include baby changing stations, stroller parking, seating areas, and flat screen televisions.
On the second level is the Duracell Power Lodge, where you and your family can "recharge." Plug in and power up all of your electronics, including cell phones, iPods, Blackberrys, digital cameras, electronic games and MP3 players for free. While you're waiting, you can interact with this season's hottest toys from Mattel, and play with one of the numerous Wiis and Nintendos available. Furthermore, visitors to the Power Lodge will have the opportunity to ride specially designed Snowmobikes, which generate electricity that is routed into the Duracell Battery Center where it will be stored until New Year's Eve and used to power the iconic 2-0-0-9 numerals that will light up as the New Year's Ball drops at midnight in Times Square.
The Charmin Restrooms and Duracell Power Lodge are open to the public through December 31, Sunday-Wednesday 10am-9pm and Thursday-Saturday 10am-11pm. The location will close at 6pm on Christmas Eve and remain closed on Christmas day. The restrooms will be open on New Year's Eve till 2am, for the millions in Times Square to use after the ball drops for 2009. For more information, visit www.charminrestrooms.com.