Disney Channel star Jason Earles, best known for playing Miley Stewart's (Miley Cyrus) older brother Jackson Stewart in the Hannah Montana series, stopped in New York City for a one-day Hannah Montana-themed workshop at A Class Act NY, the award-winning acting studio for kids and teens.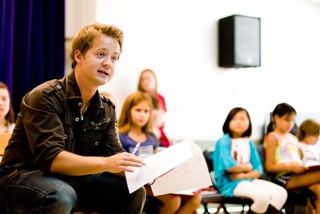 Earles worked with workshop participants on scenes from Hannah Montana. He also gave direction and feedback, offering students tips about comic timing, how to make bold choices, and sitcom acting versus drama acting.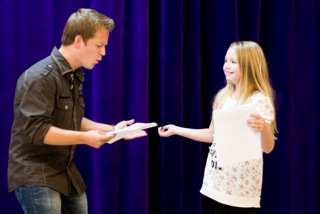 During a question-and-answer session, Earles talked to kids about his journey as an actor. He discussed how he became one of Disney Channel's biggest stars on its most popular show, answered questions about his new hit series Kickin' It, and spoke about what it was like to work with mega-star Miley Cyrus.
"Jason is so humble. He serves as a great example for our students," says Jessica Rofé, A Class Act NY's artistic director. "He gave great direction and feedback. He literally jumped to his feet and began working with the kids, which was, of course, a thrill for them and an experience they will certainly never forget."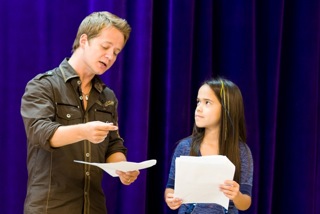 Earles also brought students pictures signed by all of the cast members of Kickin' It, autographed headshots, and took individual pictures with each child. "As you can imagine, the kids were so excited to have the opportunity to work with one of their most beloved television stars," Rofé says.
A Class Act NY offers one-day workshops with Broadway and television stars, casting directors, agents, and managers as well as ongoing classes, agent/manager showcases, private coaching, and Broadway camps. For more information, visit www.aclassactny.com.