Related: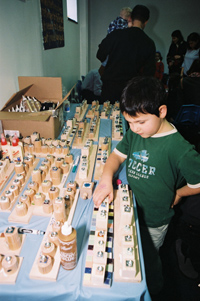 The 92nd Street Y is the place to be for Hanukkah celebrations this month. The Hanukkah Festival on December 14 at 10:30am allows children to "travel around the world" and experience international foods, stories, arts and crafts, and performances. They'll enjoy African drumming and a Hanukkah puppet show in Prague, and make menorahs and press their own olive oil with Judah the Maccabe in Israel. Children light the menorah and Shabbat candles and eat latkes and challah at a special Hanukkah Dinner on December 19, beginning at 6pm. From December 21-28, at 4:30pm, they can dance and sing for the annual Hanukkah Lights with Karina in the main lobby, and enjoy a Winter Lights Concert by the children's band Shir-La-La on December 21 at 1pm. Hanukkah Festival: $20; $15 children; under 2 FREE. Hanukkah Dinner: $20; $8 children; under 2 FREE. Hanukkah Lights with Karina: FREE. Winter Lights Concert:  $15. The 92nd Street Y, Lexington Avenue and 92nd Street. 212-415-5500. www.92y.org. 
More Winter Articles
How to Stay Safe on Your Snow Day: Winter Safety Tips for Kids and Parents
Family Travel: Skiing at Smugglers' Notch in Vermont
Westchester County, NY, Activities for Kids and Families - January 2011
Winter Weather Gift Ideas for Kids
Winter Olympics: Figuring Out Figure Skating

Be a good fellow parent and share this with a friend who would be interested
Local Winter Sponsors



ThoughtGallery.org

New York, NY
212-315-0800

ThoughtGallery.org has been created for intellectu...



SKI Butternut
380 State Road - Route 23
Great Barrington, MA
413-528-2000

SAVE ? Get $20 LIFT TICKETS every Mon., Tue., Wed....
See Our Winter Directory