For kids, back talk is often a developmentally normal method of asserting independence from parents. We asked the experts on child discipline in Manhattan how parents can discourage this bad behavior.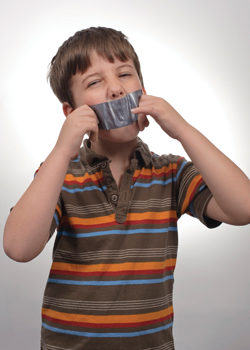 "Nooooooooo!!!"
"You just don't understand."
"It's NOT fair!" (Pout.)
(Sneer.) "What's the big deal?"
If you've got a child in your home older than, well, one, you've heard it, too: Back talk, persistent and strong, is a standard rite of passage. And depending upon a child's age, it's often characteristic of a developmental milestone - it signifies a child trying to exercise more control over his or her own life, and to designate clear boundaries, assert independence.
But not matter how many times you read about the "why's" for the bad behavior, you surely still need help with how to handle it. As Marina Doulova, a Queens psychiatrist, indicates, "If this is a new behavior, it is essential to determine the triggers for these behavioral changes." That will often inform how to deal with the behavior.
For some general direction, we asked local experts to answer:
What advice or words of wisdom can you offer a parent who is dealing with a child who back talks?
"Behavior modification is the key. What we have found to be an effective tool in our classroom at FasTracKids is something that can be used by parents at home. We use the green, yellow, and red light (or card) system. Everyone starts out in green, but if a child doesn't obey class rules then he gets a warning and a yellow card. If the poor behavior persists, then a red card - in our case, a red card means that we will talk to the parent. At home, I would suggest that if your child talks back or uses curse words, you should give them a warning (a yellow card). If the behavior persists, then there needs to be a consequence - taking away a Gameboy or some other favorite toy for a period of time should do the trick!"
- Bharti Malkani, FasTracKids, with locations in the Upper West Side and Upper East Side
"There are different behavioral techniques applied to children according to their age groups. Younger children 2-5 years old can be managed simply by setting limits. It is important not to respond back. Be a role model for your child by staying in control of your own emotions. Give a warning prior to punishment (in the form of time outs) if behavior continues.
For children 5-12, initially try to point out the negative behaviors to the child. A reward or punishment system can be implemented for specific behaviors to improve outcomes. If a child uses curse words, label the word(s) as inappropriate, and then provide examples of how to express the feeling by using appropriate words instead. Do not forget to evaluate your own and other family members' behaviors at home as well as other contributory factors.
Children older than 12-13 years of age can be managed by providing specific time for complaints and requests. Use negotiation techniques if it is possible."
- Dr. Marina Doulova, ABC Psychiatric Services, Forest Hills