Even when you've planned and prepared till the cows come home, hosting your child's birthday party can have its moments of stress - especially when a guest becomes unruly or disruptive, threatening the fun for everyone. We've compiled advice from party experts in the Manhattan area on the best way to deal with a rude party guest, so you'll be prepared to save the day when the time comes.
Party Poopers, No More!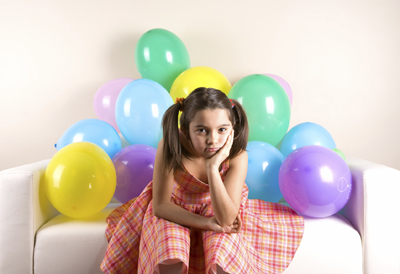 Even when you've planned and prepared till the cows come home, hosting a birthday party for kids can have its moments of stress. Remember that the occasion is marking another of your child's milestones (one year older, one year wiser, and one more candle on the cake!) - so don't let something as inconsequential as a whiny or unruly child ruin your day, and especially your child's.
All your prep will go far in creating an environment conducive to fun and peace: Pick age-appropriate activities and party places, know your guests (and their parents' expectations), etcetera, etcetera. And then be prepared for anything. As Natalie Swatz, a restaurant manager with 10 years of party entertaining experience under her belt, says, "Not every four-year-old likes hot potato or balloons. By having clear plans in place, you've certainly won half the battle."
To prepare you for the other half, we asked her and other local experts - who've seen it all - for their advice:
How can parents deal with a young guest who is being disruptive at their child's party?
"The best way to deal with a rowdy or unruly child is to keep him/her busy. Parties should include many games and activities that allow children to work with partners. When a rowdy child gets the opportunity to be part of a team, that child will often want to contribute to the game instead of misbehave.
Hiring a company that works with children in their school environment is a good idea because the party staff will be able to learn and apply the discipline techniques used by the school. Parents can find peace of mind knowing that an unruly guest will be dealt with in the same way as an unruly student."
-Laura Brown, director, DramaZone, class locations throughout New York City
"What I've learned: Getting kids involved makes a party fun for the kids and the parents, and keeps everyone engaged. Take a child who is being rude under your wing, and give him attention and something to do. For me, that means making the child a d.j.! First I would put on the headphones and let the kid see how the music is being played. Next I'd ask if he wanted to say something on the microphone. Then I'd announce, 'Ladies and gentlemen, please welcome our new d.j., Mike!' Before you know it, the individual who was minutes ago the problem child is now the center of attention and having fun! It doesn't really matter what age the kids are at a party - the secret is really keeping them involved!"
-Mike Annunziato, d.j./owner, M.A. Music presents..."Karaoke for Kids," Yonkers
See more advice from experts in your area on how to handle an unruly party guest