Co-founder of NYC Dads Group Boot Camp for New Dads and father of one, Lance Somerfeld shares how he came to create a dads group, the best parts of raising a child and family in Manhattan, and clears the air on stereotypes about stay-at-home dads.
Name: Lance Somerfeld
Age: 38
Parent in: Upper East Side, Manhattan
Parent of: Jake, 3
Latest non-parent endeavor: NYC Dads Group Boot Camp For New Dads…uh, what were we saying about non-parent endeavors?

Lance Somerfeld, founder of NYC Dads Group, has a theory about dads: "Dads don't like to ask for directions, and they don't like to read manuals!" That mentality carries over when it comes to parenting, and it's why Somerfeld started his meet-up group, a community that strives to be the destination for active, engaged, and involved fathers as they navigate parenthood. Somerfeld, a businessman-turned-teacher-turned-stay-at-home-dad, seems to have made all the right turns. He credits a strong partnership with his wife, connections and play-dates with other stay-at-home parents, and his son's "inquisitive, brutally honest nature" with making the stay-at-home dad gig a delight.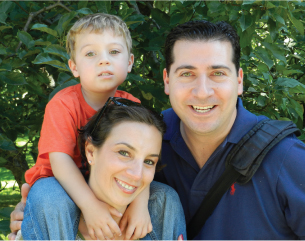 Lance with his wife, Jessica, and son, Jake.
1. What's the best thing about raising a child in Manhattan?
We have access to so many resources for our children. My son can name 10 or 12 playgrounds in our area. I'll say, "Let's go to the playground with the tunnel," and he says, "No, I want to go to the one with the fountain!" It's so nice that within one block we have three different playgrounds at our disposal. It's pretty awesome to have that luxury.

2. What's your favorite NYC activity to do with your son?
I find so much entertainment from just taking the public bus with him crosstown. There's nothing sexy or special about it, but it's such a learning opportunity, and we just have a blast doing it.

3. Do you guys have any father-son traditions?
I'm a big sports fan, so on Sundays I love to dress him in his NY Jets or Giants football gear, and proudly in his "Melo" Knicks jersey now during the playoffs.

4. What's your favorite kids' TV show?
Honestly, we don't really watch TV. The only movie my son has seen is "Cars," so that's his favorite movie!

5. What's the worst parenting advice anyone has ever given you?
The worst parenting advice tends to come from strangers who think they're experts. I dislike getting parenting advice from complete strangers. I also dislike it from my parents.

6. What's your best discipline tactic?
I wish I were an expert on this one! One thing I'm learning: The less expression and anger you show, the better off you'll be. If I handle things as calmly as possible, it usually diffuses the situation.

7. What's the most annoying stereotype about stay-at-home dads?
Sometimes dads are looked at as the assistant parent, so the bar is very low. If I'm on the subway with my son, I often get comments like, "Wow! You're really brave to do that with your child!" but there are moms with their babies and no one says anything to them. If a guy's doing something that should be considered equal parenting, it's almost considered being a hero.

8. Do you and your wife have date nights?
We do. We make sure to get a babysitter once a week, and we've been doing it since Jake was born. It's really important in the parenting relationship to keep things alive, and how nice is it to go to dinner at 8 o'clock! My wife loves dessert, so we often end up at Serendipity, 16 Handles, or Dylan's on the UES.

9. What is your most important hope for Jake?
I hope he becomes an independent person who realizes he's loved and can show that love and respect to others. I hope that he enjoys life. I have a very positive outlook on life, I really live life, and I hope he does the same.

10. What's something you think all parents have in common?
I believe the goal everyone has is to be the best parent they can be.

Fittingly, NYC Dads Group's most recent venture is aiming to help all expectant and new fathers realize their potential to become "the best parent they can be." Teaming up with Tribeca Parenting, an independent parenting education center, the 92nd Street Y and Parenting Center, and Boot Camp for New Dads, a nationally acclaimed program that has worked with more than 300,000 dads in the past 20 years, NYC Dads Group hosted their first Boot Camp last Oct. 29 in Park Slope, and it was a hit. In fact, the response was so positive that the group currently hosts three workshops in NYC every month, in Tribeca, Upper East Side, and Fort Greene, Brooklyn.
Boot Camp features a group of expectant fathers and a group of veteran fathers and their kids; the goal is for the veteran dads to pass on knowledge, alleviate some fears, and encourage practical application. Activities include learning to change a diaper, practical ways dads can support their partners, and at the most basic level, simply holding a baby for the first time. Somerfeld encourages all expectant dads to attend, whether they will be the primary caregivers or not. "It's an awesome experience," Somerfeld says. "It was one of the most invigorating parenting experiences I've ever had, and I wasn't even an expectant dad!"
For more information about New Dad Boot Camps or NYC Dads Group, check out nycdadsgroup.com, and read a guest post from Somerfeld about his son's first-year milestone at nymetroparents.com/lance.