Adventurous world travelers are often slowed down when they marry and have kids, but Manhattanite Kourosh Mahboubian merely changed course. After a childhood spent traveling, he co-founded an adventure travel company, Mad Dog Expeditions. Now the father of three, he recently pioneered an adventure club for children, Wild Blue.

The club is a family affair and a labor of love. Mahboubian says his daughter, Nilou, 9, and son, Julian, 6, are contributors, and his wife, Sara Green, the mother of Dylan, 4 months, is an "unofficial partner". (Green is the founder and executive director of Art for Refugees in Transition, a non-profit organization that helps refugee communities).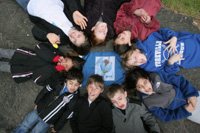 Mahboubian's goal is to enrich the lives of kids, offering them unique first hand experiences. Many of the participants in Wild Blue's classes are from the Upper East Side, where the company is headquartered, but he wants kids to travel further afield, whether in actual adventures or simulated trips. For example, one class, "Around The World In 8 Weeks", takes youngsters on an imaginary hot air balloon ride to a different weekly locale. Kids 'travel' to India where they smell and taste different spices; in Africa, they learn traditional dances and drumming. "Fairy Tales Around the World" uses myths as a starting point to explore different cultures; costumes are a big part of this class.

For older kids, there are classes in documentary filmmaking, photojournalism and news writing. A class for preteens, "Pop Culture Planet", introduces kids to their peers around the world, using celebrities, sports, music and movies as the hook to expand horizons beyond text messaging the cute boy in math class.

There are also special weekend events for families, with field trips to parks and museums. The Wild Blue space has computers that kids use to learn about different cultures, huge maps on the wall, and a multi-purpose room where they might engage in crafts from other cultures, science experiments, cooking classes or other messy projects. There is even a small outdoor space where children can learn adventure skills such as knife safety, shelter building and fire making. While this might sound like the Boy Scouts, Mahboubian stresses that his classes have an emphasis on world culture and exploration.

Wild Blue encourages families to embark on adventures. Its Piccadilly Circus weekend drop-in events teach families about geography and world cultures. And Mahboubian plans several major family expeditions a year — trips where families can explore the world together.

Wild Blue is at 401 East 76th Street. To find out more, call (212) 628-3582 or go to www.wildbluekids.com.