Mondays are technically "dark" days at Broadway's Marquis Theatre, currently home to the Sinatra-inspired musical Come Fly Away. But on Monday, June 28, at 7:30pm, the lights dimmed over a packed audience and the stage lit up for a special performance: A glimpse into the future of Broadway.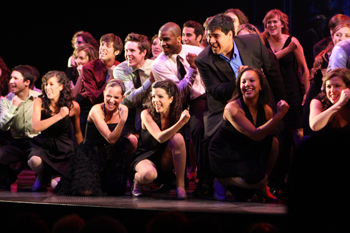 The event was the 2010 Jimmy Awards, or National High School Musical Theatre Awards, a program that celebrates the spirit of James M. Nederlander, distinguished Broadway producer, and recognizes outstanding achievement in vocal, dance, and acting performance by high school students. The nominees were 44 high school students from across the country, and to simply call these teens talented would be tantamount to describing Times Square as a busy neighborhood.
Each student earned his or her nomination by winning a regional theatre award for an outstanding performance in a high school play. As nominees, they were each in the running for a four-year scholarship to the professional theatre training program at New York University's Tisch School of the Arts, where they lived and rehearsed during the week leading up to the awards show. During that time, the students had the opportunity to meet several key players on Broadway, including actors, choreographers, and coaches.
The awards show itself served as the last leg of the competition for these teens. During the first act of the show, the students performed together on stage, showcasing the roles that merited their nominations, from Beauty and the Beast's Belle to Footloose's Ren. During intermission, the judges deliberated to produce seven finalists (three actresses, four actors), who went on to perform solos in Act II of the show.
The Finalists
Actresses:
Alexandria Payne of Tri-Cities High School in Atlanta, GA
Katie Sapper of Academy of Our Lady of Peace in San Diego, CA
Stephanie Styles of Episcopal High School in Houston, TX
Actors:
Alex Field of Central Catholic High School in Pittsburgh, PA
Matt Hill of Archbishop Mitty High School in San Jose, CA
John Jorge of Amity High School in Norwich, CT
Kyle Selig of Huntington Beach High School in Long Beach, CA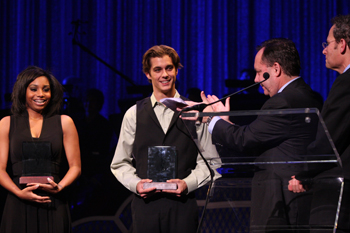 Of the 44 semi-finalists and seven finalists, two walked away with a four-year scholarship to NYU and a $10,000 check to further their education: Kyle Selig of Huntington Beach High School in Long Beach, CA; and Alexandria Payne of Tri-Cities High School in Atlanta, GA.
Future winners may be a bit closer to home - the Jimmy Awards have been expanded to include students from the five boroughs of Manhattan, who will be eligible for nomination next year.
Other Awards of the Night
Outstanding Performer in an Ensemble: Sarah Schultz of El Dorado High School in Fullerton, CA
Most Improved Performer: Arsalan Akhavan of Atlanta International High School in Atlanta, GA
Spirit of the Jimmys: Claire Gerig of Maize High School in Wichita, KS