BOWLING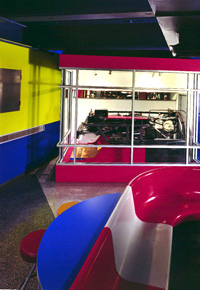 Kids can check out the pin resetting machine at Bowlmor Lanes


Bowlmor Lanes
110 University Place
(212) 255-8188
www.bowlmor.com
Hours: 11am till the early hours
Prices: $8.95-$9.45 per person per game
Bowlmor Lanes is a bowling alley gone glam. With a sophisticated, ritzy interior, it has been described as "an art gallery you can bowl in." It even claims to have had high-profile guests like Richard Nixon, the Rolling Stones and Cameron Diaz. Take the kids here for an experience they won't forget, but it's best to go during daylight because at night it transforms into quite the hotspot for the 21-and-over crowd.

AMF Chelsea Piers Lanes
62 Chelsea Piers, Between Pier 59 & 60
23rd St & the Hudson River
(212) 835-2695
www.chelseapiers.com/amf01.htm
Call for hours
Price: $6-$8.75 per person, per game
AMF Chelsea Piers Lanes offers 40 lanes of bowling fun. With special features such as bumper bowling for kids, food, automatic scoring, and Xtreme bowling at night, you and your kids will forget all about those ugly shoes you're wearing!

Harlem Lanes
Sports & Recreation, Bowling Alley
2116 Adam Clayton Powel Jr. Blvd (corner of 126 St.)
212-678-BOWL (2695)
Prices range from $5.50-$7.50 per person per game; shoe rental is $4.50
www.harlemlanes.com
One block from # 2, 3 trains, three blocks from D train. This bowling alley offers 24 lanes divided into two floors. The first level is dedicated to family fun and features a private party room, kid-friendly activities, and even kid food like mini burgers, mini grilled cheese sandwiches, and mac and cheese. Upstairs is more sophisticated entertainment including a modern café, a fully equipped sports bar, arcade, a deluxe lounge, and a private party room. For families on a budget, Tuesdays is college/family night where bowling is $5.50 per game per person all day long.

Leisure Time Bowl
625 Eighth Avenue/Port Authority Building, 2nd floor
(212) 268-6909
M-Th: 10am-midnight, F: 10am-1am, Sat: 11am-1am, Sun: 11am-midnight
Weekdays before 5pm: $6 per game; all other times and Holidays: $9 per game shoe Rental: $5
Lane rentals available $40-$65
www.leisuretimebowl.com
Leisure Time Bowl has 30 bowling lanes with automatic scoring, cocktail lounge, a bistro menu, two video arcades, and a wait staff to guarantee you have a leisurely time. Too bad they can't guarantee you'll bowl strike after strike!


SKATING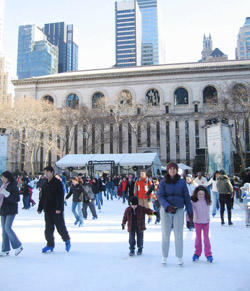 Skating The Pond at Bryant Park

Lasker Rink
Central Park at 107th Street
(917) 492 3856
www.wollmanskatingrink.com/main_lasker.htm
Overlooking Harlem Meer, Lasker Rink keeps a low profile and so is far less crowded than Wollman Rink. Boasting a generous deck area and concession stand, the large rink is actually a free public pool in the summer.
Public skating hours are from 10am-3:45pm Monday through Thursday (reopens at night from 8-10pm on Tuesdays); 10am-10pm on Friday; 1-10pm on Saturday; and 12:30-4:30pm on Sunday. Costs: $4.50 adults, $2.25 seniors and youth. Skate rental is $4.75, while lockers are $2.75, plus a $4 refundable deposit.

The Pond at Bryant Park
Between 40th and 42nd Streets at Fifth and Sixth Avenues (behind the New York Public Library, main branch)
(866) 221- 5157
www.bryantpark.org/amenities/thepond.php
Free ice skating at the Pond is the centerpiece of Fetes de Noel, which also features the fifth annual Holiday Shops at Bryant Park. Skate solo or with friends, and then you can either grab a bite at the Pond Snack Shop, or at the full-service bar at Celsius: A Canadian Lounge.
Skate rentals are $8.75 and locks are $9. Bag checking is also available. The Pond is open 8am-10pm, Sunday through Thursday; till midnight on Saturdays. After January 15, the Pond will close at 7pm.

The Rink at Rockefeller Center
Fifth Avenue between 49th and 50th Streets
(212) 332-7654
www.therinkatrockcenter.com
The Rink at Rockefeller Center is the quintessential New York ice skating experience. After a casual meal at one of the nearby cafés, circle the spacious rink with family or friends while enveloped by the city lights of Rockefeller Center, a stunning reminder that you are in the midst of Manhattan. Holiday costs are a bit steep and vary by week — generally $13.50 adults on weekdays, with weekend increases, so the pricing schedule on the website should be consulted in advance. After January 7, the rink adopts steady rates of $10 adults Monday-Thursday, $14 Fridays or Sundays; and $7.50 for children ($8.50 Fridays and Sundays). Skate rental is $8.50, The rink is open every day: 9am-10:30pm, Monday through Thursday; 8:30am-midnight. Friday through Saturday; and 8:30am-10pm Sundays and holidays

Sky Rink at Chelsea Piers
23rd Street and the Hudson River
(212)336-6100
www.chelseapiers.com/sr01.htm
Sky Rink is the only rink in New York providing year-round ice skating. With two full-size indoor ice skating rinks frequented by casual skaters and professionals alike, Sky Rink also has a variety of party spaces available for booking large groups. Home to adult and youth hockey leagues and a skating school, public skating sessions are limited to a few hours in the afternoon: 1:30-5:20pm on Mondays, Wednesdays, and Fridays; 1:30-4:50pm on Tuesdays and Thursdays; and 1-3:50pm on weekends.
Costs are $11 adults, $8.50 youth, and an additional $6 for rental skates. Helmet rental is also available for $3.25.

Wollman Rink
Central Park at 63rd Street (East Side)
(917) 439-6900.
www.wollmanskatingrink.com
Skating at Wollman Rink is the stuff is like being on a movie set — go for a spin around the ice at your own pace while gazing at the breathtaking New York skyline, or enjoy a hot drink and snack from the informal café adjacent to the rink. Cost is $12 adults ($9.50 on weekdays), $5 children, $8.25 seniors ($4.75 on weekdays), while skate rental is an additional $5. Locker rental is available for $3.75, plus a $6.25 refundable deposit.
Open at 10am every day; Wollman closes at 9pm on Sunday, 2:30pm Monday-Tuesday, 10pm Wednesday-Thursday, and 11pm Friday-Saturday.


INDOOR PLAYSPACES

There are several parenting centers around town that have indoor playspaces, but the following do not require a membership to drop in for play: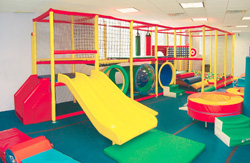 The Toddler Adventure Center at Chelsea Piers


A-Ha! Play & Learning Center
1624 First Avenue, between 84th & 85th Streets
(212) 517-8292
www.AhaLearning.com
Hours: 9am-6pm
This site is for parents intent on a playspace designed to foster development rather than merely avoiding an afternoon trapped at home. The 3,000 square foot space is equipped with open-ended toys for children's creative growth. Admission: $18 per child (parents/caregivers no charge). Ages infant-5.

Early Childhood Resource and Information Center
66 Leroy Street, between Hudson and Seventh Avenue South
(212) 929-0815
Hours: Family room available 1-4:30pm (except Sunday)
Admission: Free
The Family Room of this branch of the New York Public Library is at the heart of the center, holding a collection of toys and learning tools, as well as an expansive play space, with slides.

Sydney's Playground
66 White Street in Tribeca, between Church and Broadway
(212) 431-0789
www.sydneysplayground.com
Hours: 10am-6pm (closed from 1:30-2:30pm for cleaning)
Sydney's Playground, at 6,000 square feet, is designed to resemble a small town. Kids can enjoy the endless passageways and rooms for $12.50 apiece for the first child, $5.95 each additional child. Parents and caregivers can sip coffee in Blake's Café, and nursing mothers and infants can watch the older ones play from "The Womb", a clean and sound-proofed room with glass windows. Ages 5 and under.

The Nest NY
36 North Moore Street, between Hudson and Varick
212-219-3130
www.thenestny.com
The Nest NY is another great choice to watch your child grow through play, challenging the imagination through open-ended props and in an environment set to nurture creative development. The play space is "open to interpretation" — which means you may play for as long as you like. $15 for two hours; $10 per sibling. Ages infant-4.

The Toddler Adventure Center at Chelsea Piers
23rd Street and the Hudson River
(212) 336.6666
Email: [email protected]
www.chelseapiers.com
Appropriate to its focus as a top sports and fitness facility, Chelsea Piers' Toddler Adventure Center offers an open play environment with focus on fun through movement as youngsters crawl, roll, jump, and explore. Parents/caregivers participate. Cost is $10 session. Call for daily toddler gym times.