Imaginocean, the Off-Broadway play for tots and families directed by John Tartaglia, submerges audiences in a whimsical world of saltwater and seaweed, where they'll learn the importance of friendship.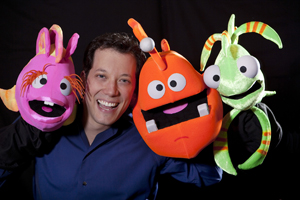 Something fishy is going on at Off-Broadway's New World Theatre in a good - make that most excellent - way. And it's all thanks to ImaginOcean, a whimsical, piscatorial romp created by kid show mastermind John Tartaglia.
If there are preschoolers orbiting your family galaxy, chances are you're familiar with another Tartaglia brainchild, the Disney Channel's popular Johnny and the Sprites - or you might have seen him on Broadway as Lumiere in Beauty and the Beast, Pinocchio in Shrek the Musical, or flexing his puppeteering muscles (albeit in a tot-free zone), in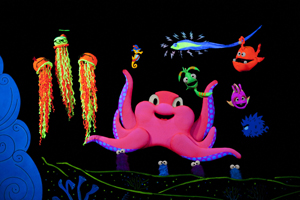 his Tony-nominated performance as Rod and Princeton in Avenue Q.
At the moment, though, Tartaglia has turned his talents to the musical adventures of three finned friends - Dorsal, Bubbles, and Tank - who discover a treasure map and set out to uncover the keys (literally) to its secret. Along the way, they encounter several endearing oceanic creatures, including some scene-stealing jellyfish, a seahorse named Ripple, and a lovable octopus, Leonard, who turns out to be everyone's BFF.
"We've created a theatrical experience that's a perfect first show for kids," Tartaglia says, adding that the cool black light effects, catchy score, and puppet choreography (by director Donna Drake), "will certainly capture the imagination of all ages."
Meet the Characters
Dorsel: The youngest of the traveling trio, he looks up to Bubbles as a big sister. He's pretty much scared of everything - that is, until he's called upon to tap into his inner hero!
Bubbles: A spunky optimist "who dreams of ponies and clouds and magic," Bubbles has a special gift for tapping into her imagination and sharing it with others. Plus, she is always up for a challenge. You go girl!
Tank: Friendly Tank, the oldest and biggest of the treasure hunters, has a huge heart. While he's somewhat gruff (and eloquence isn't his strongest suit) he's really..."a big softie."
Ripple: A small seahorse with a substantial job: He's the captain of "kelp and seaweed special units" and protector of Seaweed Scuttle (an important stop on the treasure map). The only character to sport a snappy hat, Ripple teaches all of us to keep our imaginations in good working order.
Leonard: The last character introduced in ImaginOcean, Leonard is a large, pink, irresistible octopus - a little goofy, but always kind-hearted - who embodies the true treasure tucked away in the show's ultimate message: the importance of friendship.
Indeed, the show's kid-to-adult appeal hits the ground running - make that "swimming" - even before composer William Wade's eclectic music (we're talking everything from swing and R&B to big band and Motown), officially transports audiences to a whimsical world of saltwater and seaweed. In a clever intro, the faux proscenium arch comes to life via Whipper and Snapper, a couple of sassy fish "carvings," who exchange puns and banter laced with generous amounts of Catskill humor - rim shots included.
Then, with a rush of bubbles (the real deal!) and an electrifying visual pop of undersea life forms, the show takes off and both kids and adults find themselves completely (dare I say it?), hooked. Cheers, giggles, applause, guffaws, and random bursts of small-fry feedback were all par for the course during the packed Wednesday matinee I attended. The people behind the puppets, who, dressed in black, are virtually invisible as they instill their characters with aquatic life, were handpicked by Tartaglia. Cast members include Ryan Dillon (Dorsel), Stacey Weingarten (Bubbles), James W. Wojtal, Jr. (Tank), and Lara MacLean (Ripple/Leonard).
"This is an amazingly talented cast of puppeteers whose credits include Johnny and The Sprites, Sesame Street, and Avenue Q," says Tartaglia, who hit the big leagues himself at the age of 16 as one of Sesame Street's youngest puppeteers.
On the technical side, ImaginOcean shines under its black light umbrella, from Robert Kovach's deceptively simple set design offering lots of little iridescent surprises along the way, to the fab fish folk - a feast of fabric and fluorescence - from The Puppet Kitchen.
In the final analysis, ImaginOcean rates a bona fide thumbs-up for preschoolers and the grown-ups who love them. Variety rules (with bonus points going to the off-the-charts delightful Jellyfish Jive number) - which makes it an ideal show for a generation that's spent quality time trolling the deep with Sponge Bob Square Pants and Disney's The Little Mermaid.
Diving Into ImaginOcean
Where: New World Stages, 340 West 50th Street (between 8th and 9th Avenues)
Play Schedule: Wednesdays at 11am, 2pm, and 7pm; Saturdays at 11am; Sundays at noon
Tickets: $39. Order through Telecharge: 212-239-6200 or www.telecharge.com or pick up tickets in person at the New World Stages box office. For groups of 12 or more, call 800-223-7565 or visit www.bestofbroadway.com.
Birthday Parties: Plenty of perks and two-party packages to choose from. For further information or to book a party, contact Katrin at [email protected] or call 1-866-642-9849.
Fan Club, Games & Other Cool Stuff: Visit www.ImaginOceanTheMusical.com