Sibylle Ouwerx, mom of four, had a rough week recently — three of her kids were sick simultaneously, each with different symptoms. "The idea of getting them all to the doctor's and sitting in the waiting room — what a pain," laments the transplanted Belgian.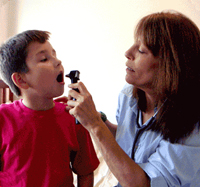 Stephanie Kaster, mom of three, remembers her daughter getting sick at 3pm on a Friday in the height of the summer, and more recently, her son developing a severe cough as the weekend loomed. "Each time, we missed the doctor's hours," Kaster recalls.
But both Upper East Side moms had their children diagnosed and treated in the space of an hour and in the comfort and convenience of their homes. They called Naomi Friedman, who has been making house calls for a while, but because of the demand, just expanded her practice to include children.
Friedman is a physician associate (PA), licensed to evaluate, diagnose, and treat a range of common illnesses. She is also able to write prescriptions; treat burns, cuts and do sutures; and do on-the-spot blood tests. PAs work under the supervision of licensed MDs.
Expanding to pediatrics, Friedman has brought on board well-known, Mt. Sinai-affiliated pediatrician, Dr. Katherine Grimm, who says, "I think it's a great idea. PAs are very careful in their assessments. This kind of service shouldn't be a substitute for continuity of care from one's own doctor — but it's great when it's difficult to get to the doctor's office, and you don't want your child sitting in a waiting room with other sick kids." Friedman, she says, is trained to evaluate and treat the sicknesses common in childhood that keep pediatricians on the phone well after hours: coughing, vomiting and diarrhea, unexplained crying, earaches, pain, and the one Dr. Grimm says crosses all cultural divides, the one all parents are fearful of — fever.
Friedman and her associates are available seven days a week, 6am-11pm. They cover only Manhattan, and dependent on traffic, aim for arrival within the hour. "I called at 8:15 in the morning, and Naomi was there by 8.45," says Ouwerx, who adds that she is thrilled to have found the house call alternative — something that she says is common in Europe and that she was disappointed not to find when she and her family arrived in New York two years ago.
Both Ouwerx and Kaster say they have been hugely relieved to find Friedman's service, which always includes a phone call the next day to check on all patients. "Fabulous!" declares Kaster.
Friedman had worked in hospitals and then private practices for several years, and says she thought about the house call service while observing the time constraints that are usual in most doctors' offices. "There was never enough personalized time," she says. "Medical staffers are always rushed. There are constant interruptions. I figured: There has to be a better way!
"And what better place to do this than in Manhattan?" she continues. "We just hop on a subway or in a taxi, and we're there."
Friedman's service is Sickday Medical House Calls. You can check out her website at www.sickdayhousecalls.com, or keep this number handy: (212) 327-1900. She charges $250 per visit, cash or check.