Kmart marked the debut of its new online community, Playdate Parents, with NYC families during a Playdate Picnic at Hudson River Park. The event celebrated the new website's resources to help parents plan successful play dates.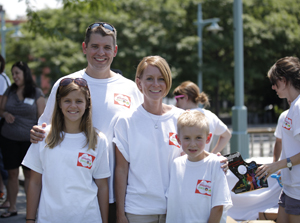 On July 16, Kmart invited NYC families and kids to a Playdate Picnic at Hudson River Park's Pier 46 in Greenwich Village. Attendees interacted with the latest toys to hit the market while mingling with other local families. The event is part of a national series hosted by Kmart, to celebrate the company's new Playdate Parents, an online community where customers can find advice from leading bloggers and access plenty of knowledge guides to help plan successful play dates all year long.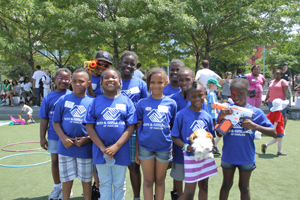 The community is part of Kmart's Playdate Place, a website launched in late 2010 that offers both parents and children a fun, inspirational, and practical resource for all things play date, to help nurture the need for more play dates and to take the burden of planning away from parents. Because planning the perfect play date is more than just child's play, with issues ranging from coordinating with other parents and selecting the appropriate toys to adult and child etiquette.
Play dates serve as a platform for parents to help their children acquire basic cognitive and socializing skills through new games, and play dates allow children to see new settings. Play dates also help parents get together to discuss tips, recommend new toys, and socialize with other adults who, by having kids of the same age, share some of the same interests and concerns.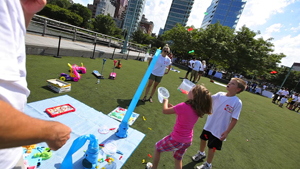 The latest lineup of Kmart Playdate Parents reflects the diversity of parents today -- there are moms and dads, singles, and couples. The mom bloggers are Isabel Kallman of AlphaMom.com, Migdalia Rivera of LatinaOnAMission.com, Kim Danger of MommySavers.com, Jodi Grundig of MomsFavoriteStuff.com, and Liz Thompson of thisfullhouse.com. The dad bloggers are Clay Nichols and Brad Powell of DadLabs.com, Jason Avant of DadCentric.com, Mike Johnson of PlaygroundDad.com, and Lamar and Ronnie Tyler of blackandmarriedwithkids.com blog as a team.
The newly redesigned Kmart Playdate Place also offers customers the opportunity to win Kmart Playdate Perks weekly and monthly prizes. Currently, there's a chance to win the Ultimate Playdate Picnic Package, worth $250.
Check out this video by Kmart featuring playdate tips from parents and play experts.