One month after Hurricane Sandy, Léman Manhattan Preparatory School and The FiDi Association hosted "Light the Night" to welcome the holiday season and to raise money for the Downtown Alliance's "Back to Business" grant program, which funds small businesses in Lower Manhattan that were damaged by Hurricane Sandy.
Léman Manhattan Preparatory School and The FiDi Association hosted "Light the Night," an evening of family-friendly activities, on Dec. 4 at Léman's 41 Broad St. ballroom in conjunction with the New York Stock Exchange Christmas tree lighting and the prestigious private school's annual book fair. The event brought together families, neighbors, and local businesses who gathered just one month after Hurricane Sandy to support Downtown's recovery efforts by raising $2,000 for Downtown Alliance's "Back to Business" grant program, which funds small businesses in Lower Manhattan that were scathed by Sandy.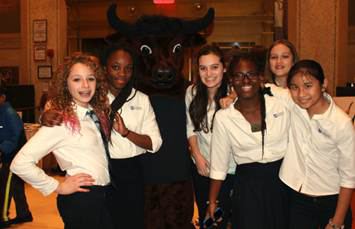 Léman students pause for a moment at Light the Night for a photo with their mascot. Courtesy Léman Manhattan Preparatory School
"Every time the Financial District is put to the test, we come back stronger than ever," said Melissa Andreev, FiDi Association President and manager of La Maison du Chocolat. "Light the Night is a perfect example of the strong sense of community our neighbors have, as they came together in the spirit of the holidays to rebuild downtown."

The historical ballroom was transformed into a winter wonderland with sparkling snowflakes hung from the ceiling and the school choir setting the mood with spirited holiday tunes. Guests enjoyed delicious Parisian hot chocolate from La Maison du Chocolat, as well as treats prepared by Léman's celebrated chef Jenny Gensterblum. Children participated in craft-making and educational activities as parents perused the book fair and browsed local vendor pop-up shops. Author Lenae Madonna also offered signings of her latest book, "Lost and Found: A Book About Diversity."

Participating vendors included Pickett's Press, Greenwich Jewelers, Maiden Lane Dental, Wild Child Jewelry, La Maison du Chocolat, Love Cup Cakes, Anne Kothari, and Two New York and provided an opportunity for party-goers to purchase holiday gifts locally, which is especially important this holiday season as downtown retailers are striving to make up losses suffered from Sandy's wrath.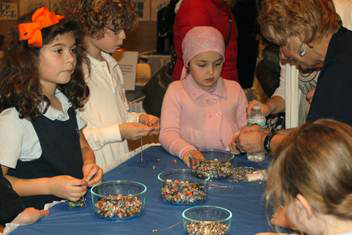 Children enjoy a beading activity sponsored by Greenwich Jewelers. Courtesy Leman Manhattan Preparatory School
The $2,000 raised for Downtown Alliance's "Back to Business" grant program came from a silent auction featuring gifts from Tiffany & Co., Bobby Van's Steakhouse, Downtown Cellars and Maiden Lane Dental, among others. Additionally, all vendors donated 15 percent of their profits from the evening to the Léman Community Association, a fund that benefits teacher development and financial aid.

"It was such a pleasure to host our downtown neighbors for Light the Night," said Drew Alexander, Head of School for Léman Manhattan. "It was a wonderful evening that reminded all of us just how fortunate we are to be surrounded by a compassionate, caring community."
About Léman Manhattan Preparatory School
Léman Manhattan Preparatory School – a member of the prestigiousMeritas International Family of Schools – offers the highest-caliber academics to grow the next generation of courageous, critical thinkers. Located in the Financial District, Léman Manhattan's state-of-the-art campuses house a truly unique learning community, where an exceptional faculty (many of whom hold advanced degrees) inspires students in grades pre-K through 12 to view the world as their classroom. Léman Manhattan's rigorous, interdisciplinary curriculum stresses critical thinking, personalized learning that addresses each student's strengths as well as areas for improvement, and prepares young minds for the global 21st Century. Programs such as Touchpoints engage students from around the world in conversations about complex global issues while Léman Manhattan's international boarding program – the only one of its kind in Manhattan – illustrates the school's rich and diverse culture. Léman Manhattan is setting a new standard for elite private school education in New York City and beyond.

To learn more about Léman Manhattan Preparatory School, visit lemanmanhattan.org or call 212-232-0266.
About The FiDi Association
The FiDi Association was formed by luxury brands, retailers, and hotels that operate in the Financial District of Manhattan and contribute to the transformation of this neighborhood from a business district to a vibrant residential community with fine dining, high-end retail, cultural establishments and expansive parklands. As a nonprofit association, The FiDi Association donates all proceeds to The Downtown Alliance's "Going Green" program, to beautify Lower Manhattan parklands. For more information, visit FiDiny.org.