In the hit movie, Night at the Museum, Ben Stiller works as a night security guard at the American Museum of Natural History, where the exhibits come to life after dark.  The museum, which has seen a tremendous attendance spike since the movie's release, now has launched "A Night at the Museum" sleepovers.  This is Nirvana for kids, who get the museum to themselves (and about 300 others). But parents, who will likely not sleep much, and will probably have an overtired child on their hands the next day, may feel differently.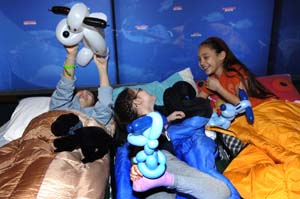 The museum sleepover (I use that term lightly) is for children ages 8-12, and there has to be one parent for every three kids.  The program starts at 5:45, and while you can get there later, you may want to take advantage of arriving promptly; cots are set up in the Hall of Ocean Life (you bring your own sleeping bag and pillow), and you'll want to choose a bed quickly.  Judging by the few cots left by 6:15pm, most people arrive early and choose the choicest locations (back by the squid where it is darker and a little bit quieter, or in a corner).  But, let's face it, you pretty much know going into this that sleep is the last thing on everyone's minds.


   At first, everyone giddily runs around the museum, delighting in the empty exhibits.  Not everything is open — the Gold special exhibit, for example, was closed — and even where sections are open, the interactive screens are shut off.  But this makes you see the museum in a whole new light.  Touch screens and buttons have their place, but often kids are happy to just bang on a button and move on.  Now, you are forced to look at exhibits, and read the accompanying text.

   The museum provides a program which includes carts where you can examine bones or other specimens, and time in The Butterfly Conservatory; the winner was the fossil exploration of the Dinosaur Halls.  There are loaner flashlights, and booklets for kids to fill out.  They have to answer such questions as "name two animals that have tusks and lived during the Ice Age" and draw different dinosaurs. A word search and glossary are included. 

   All visitors to the museum now get a sheet, "If you liked the movie Night at the Museum, you'll love the real thing."  We had fun searching for artifacts like the bison diorama, giant sequoia, and African Mammals (which did not chase us through the halls).

   At 10:30pm, everyone can see the planetarium show, Cosmic Collisions; then there is the dolphin movie back at the Hall of Ocean Life.  During these, it became clear that the idea of selling 'survival packs' — explorer's helmet with miner's headlight, water bottle, light-up fan, compass/whistle in a backpack, for an additional $40 — was misguided.  Although there were plenty of upbeat museum educators on hand, no amount of pleading could get kids to turn their flashlights off during the planetarium show (and apparently the parents whose kids kept their flashlights on were oblivious).  During the dolphins' movie, in what should have been a wind-down time, many kids ran around the hall flashing their lights and blowing their whistles — while other kids burrowed into their sleeping bags, trying to catch some shut-eye.

   Another misstep: The cafeteria was open until 7:30pm, and most people went for dinner, but many of the sandwiches and salads were sold out and only one cashier meant very long lines.  There was, however, a very nice snack, with fresh fruit, cookies and hot chocolate, and the breakfast of fruit, yogurt and mini muffins was also good.

   We were promised a 7am "Rise and Shine!", but wake-up came much earlier, with some kids up and running with their flashlights well before dawn.  Luckily, that breakfast included coffee.

Info
   "A Night at the Museum" sleepovers are $79 person.  The initial dates are sold out, but more are promised.  For more information, call (212) 769-5200 or go to www.amnh.org.