It may be a microcosm — a language learning group in just a couple of Manhattan locations. But when you consider that what is now a school, was, in effect, just a playgroup two years ago, and that about 15 percent of the children who attend have no familial connection to the actual language being taught, it's easy to see that Chinese could very well, as predicted, become the global language of the future.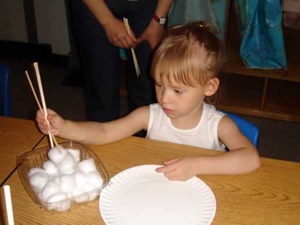 Parents sending the.ir youngsters to The Mandarin Treehouse would attest that it's never too early to learn a language, and as a result, classes are expanding this month — to an Upper East location as well as the West Side one.

The Mandarin playgroup started by Upper West Side moms in 2004 has grown to a full schedule of classes for kids from 6 months to 7 years. And they are now now planning to offer an Adult Beginners Class as well, focusing on conversation skills and an introduction to the Mandarin phonetic system, hanyu pinyin.

For children, the emphasis is on play. In its beginnings, the group met at different homes in the area, and children learned while they sang Chinese songs and ate Chinese food. Though the learning is more codified now, with three native Mandarin speakers leading the classes, the interactive approach includes art, science, music, movement and gym, conducted in Mandarin. As kids get older, they learn how to write Chinese characters.

The immersive atmosphere means that Mandarin is spoken most of the time. Parents are given take-home materials so they can continue the practice with their kids at home.

"When I decided to stay home after having my first child instead of pursuing a post-MBA career in banking or consulting, I kept wondering if I made the right decision," remembers founder Shuh Lan Tong. "I'm very glad that this program — an incidental offshoot of my children's playdates — is paying off. Not financially, but from a personal fulfillment standpoint. It's wonderful to be able to grow this program and do something meaningful while staying involved in my children's lives, reaching out to families and bridging cultures, and hopefully, making a difference." Tong has three children — ages 5, 3, and 6 months; her two oldest went through the program.

The Mandarin Treehouse has baby and toddler playgroups, for kids 6 months to 3 years, and 'early learners' groups for 3- to 5-year-olds and 5- to 7-year-olds. Classes for the youngest kids (with a parent) are 90 minutes, longer than most classes for kids that age, but a snack and gym time help tots focus on the Mandarin stories and art projects. For the older groups, classes are two hours, and include an introduction to Chinese calligraphy and brush strokes.

Classes are held at Rutgers Church, 236 West 73rd Street, and DramaZone, 220 East 86th Street, between Second and Third Avenues. There is also an afterschool program held at the Ethical Culture Fieldston School.

Tong says the program attracts a mix of Chinese and non-Chinese children; about 30 percent are children from Chinese families, 30 percent have one Chinese parent, a quarter are adopted from China, and the rest are non-Chinese. These families have slightly different goals for the most part, says Tong. "The Chinese parents' focus is on getting their children to not only speak, but also to be able to read and write in Chinese. Half-Chinese families share a similar goal. The wish to please or appease grandparents is key, as well as the desire to impart 'Asian' values such as 'respect for elders' to their children. Families with adopted children from China want their children to understand their roots and culture, and acquire the right native intonation at an early age. Non-Chinese families are just curious about the whole race, language and culture, given China's emergence as a significant global power."

She adds that though it is a challenge to cater to all these different interests, "We do it. We like the idea of maintaining diversity within the group — after all, this is New York. We use games and quizzes to build reading and writing skills, and Chinese fables, customs and celebrations to provide glimpses of the Chinese culture." The children stage a performance at the end of the semester; last fall featured an adaptation of Goldilocks, Xiao Mei and The Three Bears.

The immersion approach and CDs provided to listen to at home help children speak with accurate intonation. Tong notes that if you pronounce "jiao zhi", the word for dumplings with a slightly different accent, you are actually referring to your toes.

The Mandarin Treehouse plans to add, says Tong, an introduction to Chinese geography and history "in a child-friendly format as a backdrop to better understand the roots of the language."

For more information, call (917) 385-6886 or go to www.mandarintreehouse.org.