Check out some great activities and events for kids and families scheduled during the month of April in Manhattan. Whether you're looking to celebrate Earth Day, catch a kid-friendly show, or enjoy the great outdoors, we've got all the information a family in NYC needs.
Welcom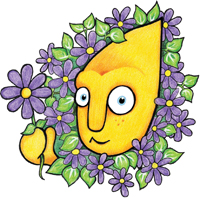 e the Sun
Catch Gustafer Yellowgold's show, Welcome Springtime!, a multimedia "musical moving storybook" concert experience that celebrates the melting of this year's record-breaking snow and welcomes the coming of the sun. April 17 at 11am. All ages. $25; $27 day of show; $15 children. Symphony Space, 2537 Broadway (between 94th and 95th Streets). 212-864-5400. www.symphonyspace.org.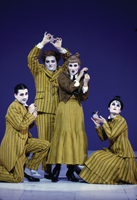 Opera for Families
On Saturday, April 3, at 1:30pm, City Opera will present a special Family Matinee of L'Étoile - a 60-minute abridged version of the show sung in French with English dialogue.
La Belle Époque meets Broadway razzle-dazzle in Mark Lamos's production of this rare operatic gem. The matinee gives families a chance to introduce children to the music and characters of L'Étoile, Chabrier's hilarious opera about a madcap king, his inept astrologer, and one unlucky peddler.
The performance will be preceded at 12pm by a concert on the Promenade by the City Opera Children's Chorus and the Interschool Orchestra of New York. City Opera general manager and artistic director George Steel will then lead an interactive workshop featuring the New York City Opera orchestra and select singers to introduce the story, characters, and music of L'Étoile.
Special family pricing is available for this performance only, ranging from $6-$50. Lincoln Center for the Performing Arts, David H. Koch Theater, 20 Lincoln Center. 212-721-6500. www.nycopera.com.
Classical Music Meets Gymnastic Feats
The worlds of classical music and acrobatics meld into one at Aerialists, Athletes, and Arpeggios. Part of the Peabody Award-winning Happy Concerts series, this concert includes narration designed to enhance an appreciation for music. With trained athletes from AntiGravity flying through the air and tumbling on stage as world renowned conductor Dino Anagnost leads his orchestra, this production promises to show children how exciting classical music can be. Appropriate for ages 6-12. April 17 at 11am and 1pm. $10-$50. Avery Fisher Hall at Lincoln Center Plaza, West 63rd Street and Columbus Avenue. 212-971-9500. www.littleorchestra.org.
Celebrate Earth Day
Pay homage to Mother Earth this month with these family-friendly programs and activities near you.
Natural Art
April 3 at 4pm marks the opening reception for "Paper Passion: An Earth Day Art Celebration 2010," a showcase of 2-D and 3-D creations made from substances that were once plant fibers, wasp nests, and other unique found and natural materials. The event will feature a meet-and-greet with handmade paper artists Katrina Jeffries and Celeste Morris, who will discuss the environmental potential of handmade paper.
On April 18 at 3pm, Jeffries and Morris will demonstrate paper making at the Earth Day Arts Celebration: Artists' Talk. Attendees can then try their hand at their own creative paper designs.
Both events: FREE for all ages. Casa Frela Gallery, 47 W. 119th Street. 212-722-8577. www.casafrela.com.
Green Fun in the Garden
During the New York Botanical Garden's "Earth Day is Everyday" celebration on April 22, families can plant their own sapling, recycle old magazines into colorful necklaces and bracelets, make their own water-recycling terrarium, and explore the Children's Adventure Garden using a nature field notebook. Kids can also participate in "Earthworms on Earth Day," where they can learn all about these slimy friends and the work they do in the garden. Activities start at 1:30pm. Garden admission: $20, $18 seniors and students, $8 children 2-12, FREE children under 2. Bronx River Parkway (Exit 7W at Fordham Road), Bronx. 718-817-8700. www.nybg.org.
April 24 is Bartow-Pell Mansion Museum's "Volunteer Garden Cleanup Day," when visitors can provide hands-on help in making the garden and grounds look beautiful. Light breakfast available. Bring gloves and wear sturdy shoes. FREE; registration requested. 895 Shore Road, Pelham Bay Park, Bronx. 718-885-1461. www.bpmm.org.
Sustainable from Sea to Sky
Stop by the Intrepid Sea, Air & Space Museum on April 24 and 25 for "Earth Weekend at Intrepid," and learn about the ways you can preserve our precious Earth through a variety of hands-on activities and demonstrations. 10am-6pm. $22, $18 seniors, $17 children 3-17, FREE children under 3. Intrepid Sea, Air & Space Museum, Pier 86, West 46th Street and 12th Avenue. 212-245-0072. www.intrepidmuseum.org.
Party Time
The Museum of Jewish Heritage will host its "Earth Day Family Program" on April 25, when families can enjoy hands-on craft activities that explore the themes of Earth Day. 10am-3pm. Museum admission: $12, $10 seniors, $7 students, FREE children 12 and under.
Tots and their grown-ups can then join kiddie rocker ShirLaLa in "Earth Worm Disco" to celebrate the wonders of growing up green (1pm). $10, $7 children 12 and under.
Museum of Jewish Heritage, 36 Battery Place. 646-437-4202. www.mjhnyc.org.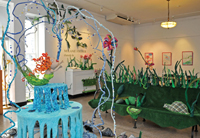 Central Park, Indoors
The Arsenal Gallery's Outside In exhibit portrays an animated version of Central Park. The exhibit is an interactive installation by Melanie Fischer that creates an imaginative world using materials that would not exist without technology. Visitors can use the exhibit's coloring books and sheets, draw on fabric coins, and make wishes in a mermaid fountain.
The exhibit is open 9am-5pm Monday-Friday through April 22. All ages. Admission is FREE. Central Park at Fifth Avenue and 64th Street. For more information: 212-360-1324 or www.walesinny.com.
Shirts, Skirts, and Socks for Tots
Get into the spring cleaning spirit and tackle those closets! Enlist your little ones to lend a hand by trying on old clothes and figuring out what fits and what doesn't. Once you've collected your pile of giveaways, bring them to the Prenatal Yoga Center's Annual Clothing Drive to Benefit Room to Grow. The center will be accepting new or nearly new clothing in excellent condition appropriate for children under the age of 3. Donations are tax deductible. (Have more old clothes for a higher age range? Bring them to your local Salvation Army thrift store; search www.use.salvationarmy.org for locations.)
The Prenatal Yoga Center will accept clothing donations April 21-23, 9-10am, and April 24, 1-3pm. 251 West 72nd Street, 2F. 212-362-2985. www.prenatalyogacenter.com.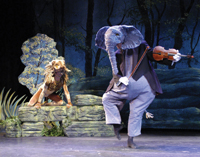 Interactive Ballet
New York Theatre Ballet (NYTB) presents two colorful, hour-long shows for the price of one at Florence Gould Hall this month.
Carnival of the Animals is set in a magical forest filled with colorful creatures, including a dancing lion, fiddle-playing elephant (pictured), and a mama kangaroo and her joey, who befriend a pair of lost children.
The Firebird, based on a Russian fairytale, is the story of a firebird who is captured by a young prince but ultimately wins back her freedom.
Both are part of NYTB's "Once Upon a Ballet" series, which presents storybook ballets specially tailored to a young audience (recommended for children ages 3-12). Before the shows start, artistic director Diana Byer fills children in on what happens behind the scenes of a professional performance. Children also learn basic dance steps and are presented with a free gift prop from the show, which they can try out while watching the performances.
Show times: April 24 at 11am and 1pm; April 25 at 11am, 1pm, and 3:30pm. $35; $30 children (plus a $1 facility fee). 55 E. 59th Street. 212-355-6160. www.nytb.org.
At the Museums: Sounds of Freedom
At the Voices of Liberty Exhibit (pictured), at the Museum of Jewish Heritage's Keeping History Center, visitors can experience a soundscape composed of diverse voices reflecting on arriving in America for the first time, including those of Holocaust survivors, Soviet refuseniks, and others. Visitors of all ages are also invited to add their own responses to the exhibit by expressing what this country means to them or sharing a story about their ancestors starting a new life in the U.S. You can do so at the museum, or once you get home by visiting www.mjhnyc.org/khc/voices.
Also on view at the Keeping History Center is Timekeeper, an interactive exhibit that uses a time-lapse camera to record each moment in the life of Andy Goldsworthy's "Garden of Stones," a memorial built by the artist, Holocaust survivors, and their families. "Garden of Stones" demonstrates the effect of time on humans and nature. Visitors can watch tree growth in the garden through time and across seasons, and can also view footage of Goldsworthy's process in creating each element of the memorial.
Open through 2010. Sunday-Tuesday and Thursday, 10am-5:45pm; Wednesday 10am-8pm; Friday 10am-5pm. $12, $10 seniors, $7 students, FREE children 12 and under. Museum of Jewish Heritage, 36 Battery Place. 646-437-4200. www.mjhnyc.org.
For even more family activities in Manhattan, check out our Online Calendar.